Silverburn: Ice-Class AHT for Caspian Ops
Cummins Vessel Reference #685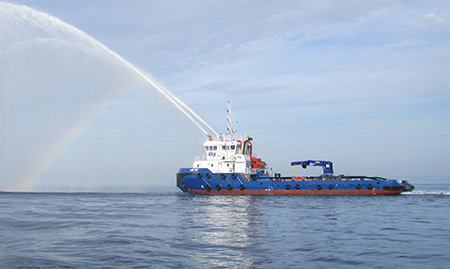 The Arctic tests her firefighting capabilities in November 2012.
With a fleet of 25 tugs and 17 barges, London-based Silverburn Shipping is a major player in the Caspian Sea and surrounding waters. In 2009 they built a pair of 42×12.5-meter Ice Class 1B tugs. These were each powered by three 1700-HP Cummins KTA50-M2 engines to deliver 50 tons of bollard pull.
Following on the success of these vessels, the company had designed a larger 49.6×15.8 Ice Class 1A anchor handling tug. Interestingly this larger tug has a draft of 3.5 meters for sea-going operations that can be adjusted to only 2.5-meters to allow operation in very shallow waters of the Northern Caspian Sea. Powered by two 2200-HP Cummins QSK60-M Tier 2 engines (1,641 kW @ 1800 RPM) the 4400-HP tug also delivers a 50-ton bollard pull; equal to the two earlier 5100-HP vessels. The engines will turn through Reintjes gears to four-blade CP propellers in nozzles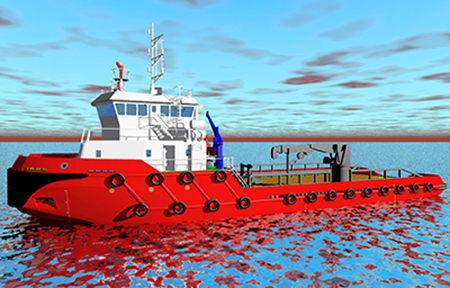 The rendering has become reality.
Named the Arctic, it was, like the 2009-built Tarpan and Tur, also built at a Turkish yard, this time the Sefine Shipyard. Design work for such an advanced and complex tug included tank model testing at Aker Arctic to affirm, prior to construction, that the hull form was capable of performing to Finnish and Swedish Ice Class 1A Super standards. The tug can operate in ice up to 80 centimeters thick.
In addition to the 60-liter Cummins mains, the new tug has two Cummins KTA19-Cps (335 kW) generator sets providing electrical power to, in addition to ship needs, the electro-hydraulic cranes and winches. The harbour genset is a Cummins 6CT-UCM (113 kW) and emergency power is from a Cummins 6C-CS (w26 kW) genset. All generator sets are fitted with Newage alternators, produced by Cummins Generator Technologies.
Two 650 kW firefighting pumps for the vessel's Fi-Fi-1 System are each powered by a clutch-connected PTO to the front of the main engines.
Alexey Gribachev, Technical Superintendent of Silverburn, reported that, "We currently have 12 Cummins engines on board our vessels. For our service engineers it is easier to operate, maintain and order spare parts for a vessel that is powered by one engine brand. This way, we can transfer our Cummins-experienced engineers to these new vessels, where their experience is used most effectively."
The Cummins global network is also an asset for a vessel that could be chartered worldwide. Applications engineer Baran Kucukkara, from Cummins Turkey, provided support to the Sefine Shipyard (http://www.sefine.com.tr/haber8.html) during construction. "We have shared out knowledge and experiences as well as Cummins requirements about the total sub-systems including mounting, electrical, fuel, lube oil, cooling and related design criteria," he explained, "This included sharing of data sheets, installation drawings, wiring diagrams and various instructions."
While operating in the Caspian Sea, service and parts support will be provided by the Cummins service locations in Kazakhstan and Russia.
The Arctic's full Class is: BV HULL MACH TUG FiFi I AUT-UMS Iceclass 1A Unrestricted Navigation
For more information:
Silverburn Shipping (I.O.M.) Ltd.
Oak Suite
Heston Court
19, Camp Road
Wimbleon
London SW19 4UW
Phone: 44 0 20 8946 3489
Fax: 44 0 20 8879 9893
E-mail: [email protected]
Sjoerd Spronck
Communication & Media Coordinator – Europe
Cummins Distribution Europe
Cummins Holland B.V.
Olivijn 800
3316 KH Dordrecht
The Netherlands
Tel: 31 78 6530 927
Mobile: 31 0 6 110 11 075
E-mail: [email protected]
Web: www.cummins.com | www.cummins.nl