Serodino Builds to Own Account
Cummins Vessel Reference #592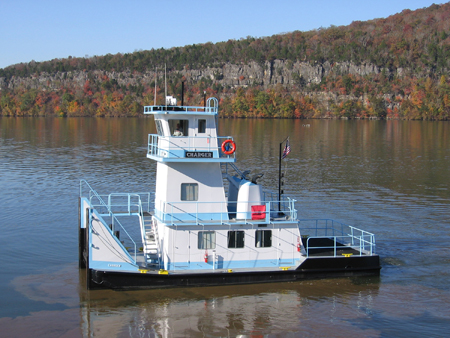 Tennessee's Serodino, Inc. recently built one of their popular Tiger class push boats for their own use. The M/V Charger, like others in the class, is 51.5 by 22.5-feet with a 5-foot 6-inch draft. The hull is constructed of 3/8-inch plate with 1/2-inch plate over the propellers and bilge knuckles. Designed in house, the boat is a sister to a number that the company has built over the years.
A pair of updated Tier 2 compliant QSK19-M main engines each powers this most recent version of the vessel. The engines each deliver 600 hp into Twin Disc MGX-5222-DC gears with 4.03:1 reduction. The two 52 by 40-inch four-blade Nibral props are mounted on 4.5-inch shafts. Pilothouse levers control the four flanking and two main rudders all of which are powered by hydraulics off the main engines.
The superstructure is constructed of 3/16-inch plate with 2 x 2-1/2 x 1/4-inch angle framing. Doors are metal and windows are aluminum with safety glass panes. Quarters for two are insulated, paneled, heated and air-conditioned and have rubber floor covering.
The first deck is 15 by 23 feet and contains basic quarters including a built-in stove, sink and refrigerator; a modest head with shower, and a U.S. Coast Guard approved marine toilet with Owens Septic System for up to a four man crew.
The second deck is 8' x 8' with bunks. The pilothouse is the same dimension with full instrumentation, vessel control, and remote alarm systems. There is a 42-inch mechanical room between the second deck and the pilothouse that creates a 27-foot eye level. The Charger has two 40 kw John Deere-powered gen sets.
Tankage is provided for 5800 gallons of fuel, 1800 gallons of water and 155 gallons of lube oil.
Established in 1933, Serodino Inc. is a privately held corporation, which, with its related companies covers all aspects of the inland marine field.
For further information:
Mr. Pete Serodino
Seadino, Inc.
100 Hamm Road,
P.O. Box 4539
Chattanooga, TN 37405
Phone: 423 266 1855
E-mail: [email protected]
Web: www.serodinoinc.com