Seacor Marine Takes Delivery of 10,800 HP Crew Boat
Cummins Vessel Reference #744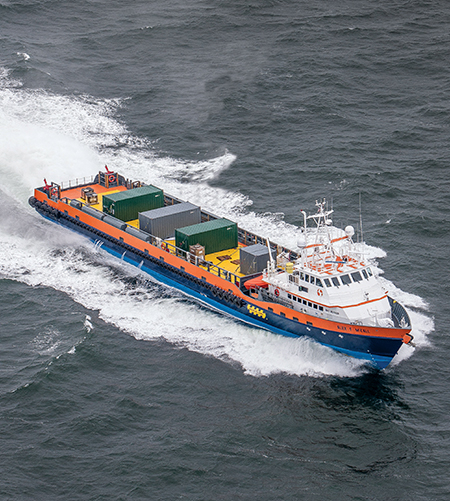 The Alex F. McCall at speed.
As reported in October 2013 (http://www.haigbrown.com/hotips/?p=1696), Seacor Marine is building ever larger and more powerful mono-hull crew/supply boats. The first of these to be delivered is the 202×34-foot Alex F. McCall with some very impressive statistics.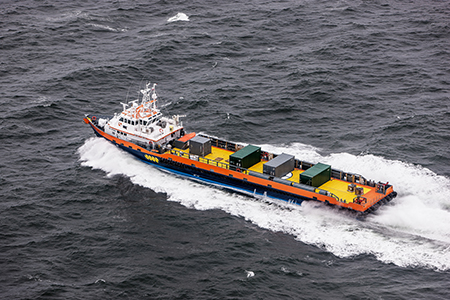 Alex F. McCall maximum speed 32 knots and cruise at 26 knots.
With a length between perpendiculars of 186 feet and a 13-foot molded depth the new vessel has a light ship displacement of 277 long tons (281.45 mt). Interior capacities include 92,418 US gallons of fuel, (349.8 cubic meters), 10,848 US gallons of drill /fresh water (41.1 cu. met.) and 3,200 US gal. of potable water (12.1 cu. mt.). Discharge rates are: for drill water 300 gallons per minute at 380 feet, for fuel oil 354 gpm at 394 feet.
The 132 by 27 foot (40.2×8.2 m.) cargo deck is estimated to have a 400-long ton (406.4 metric ton) capacity. Crew accommodation includes eleven berths in six cabins. Seating is provided for 64 passengers.

Four Cummins QSM60-M mains 2700 HP each @ 1900 RPM
The Alex F. McCall is equipped with three Cummins QSM11 powered 290-kW main generators. In addition to pumping and general ship's needs these also power the three electric-operated 200 HP Thrustmaster tunnel bow thrusters for the DP-2 certified crew-supply boat.
Main engines are four Cummins QSK60-EPA Tier 3 (IMO Tier 2) compliant diesels each delivering 2700 HP at 1900 RPM. Each engine drives a Hamilton HT810 water jet to give the boat a 32-knot maximum speed. At a cruising speed of 26 knots (1800 RPM) the mains burn 366 gallons per hour. At the economy speed of 22 knots (1500 RPM) this drops to 264 gallons per hour.
For complete specs with metric equivalents and general arrangements, please see: http://www.seacormarine.com/pdf/200_PSV_SEACOR_Alex_F_McCall.pdf
Aerial photos courtesy of Seacor Marine.
Photo of the four engines in the Alex F. McCall courtesy of Cummins Marine. (all available in larger size)
For further information:
Joe McCall
Senior Project Manager
SEACOR Marine LLC
7720 Gulf Highway
Lake Charles, LA 70607
Phone: 337 656 4597
Mobile: 985 397 2314
E-mail: [email protected]
Michael Aufdermauer
Marine Sales & Engineering Leader
Cummins Mid-South LLC
Office: 504 648 8601
Mobile: 504 220 0799
Fax: 504 734 3097
E-mail: [email protected]