A River Life: Hard Start & Big Rewards
Cummins Vessel Reference #640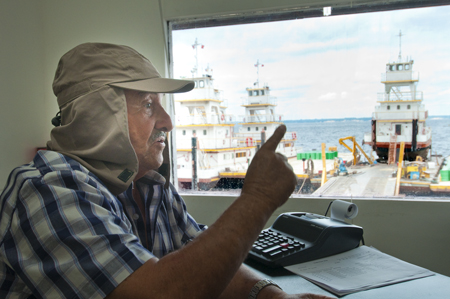 Oziel Mustafa dos Santos tells river stories.
Seventy-five year old Oziel Mustafa dos Santos began his work life on the Amazon River system 53 years ago. "I had an eleven-meter wooden boat with an 11-horsepower Swedish engine with a long shaft over the stern," he explained. "Long-tail" engines are still common on smaller Amazonian boats. It was a store boat and, with a crew of two, he traveled for up to 30 days up river stopping off at villages and isolated rubber camps. His boat was their marine general store. At each stop he would leave some of the supplies that he carried. The mosquitoes were so bad, he recalled, that they often had to wrap themselves in blankets. In spite of these precautions he suffered from attacks of malaria. Travelling nearly to the border with Peru they would empty the boat of its original cargo. With the little boat empty of supplies, he picked up rubber, dried meant and skins in trade for the supplies delivered on the up-river voyage, on the way back down river.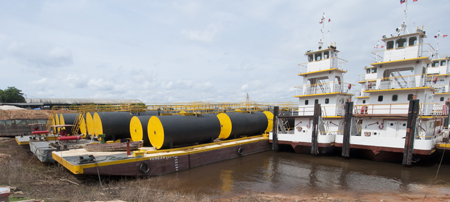 Diesel tanks on barges.
In the decades since, Mr. Oziel has proven that it doesn't take a fancy education for a real entrepreneur to build a successful marine business. He got his first towboat in 1968. An army contract took him into every navigable waterway in the Amazon watershed. Twenty-five years ago a license to transport oil products on the rivers made it possible to expand the fleet. Today the fleet has 15 towboats and "a lot" of barges. All the towboats use the now standard Amazon power package of two 600 HP Cummins KTA19-M3 engines.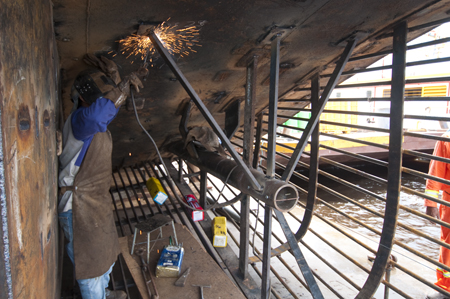 Cages for the props.
Mr. Oziel's experience in the upper reaches of the Amazon has lead to the use of a complete enclosure of the propellers with a cage of heavy steel bars to protect them from drift logs and the river bottom.
Perhaps the greatest reward for a lifetime of work is the joy of seeing one's work continue in the family. In that Mr. Oziel is well served with two daughters and one son now taking care of the day-to-day operations. In addition, there are now two grandchildren working in the family firm. Asked how many employees the company has, Mr. Oziel laughs, "I don't know, my kids look after that."
Haig-Brown photos courtesy of Cummins Marine
For further information on Cummins Marine in Brazil:
Waldemar Marchetti
Marine Business Manager
South America and Mexico
São Paulo, Brazil
Phone: 5511 2186 4778
E-mail: [email protected]
And for Cummins Marine in Manaus:
João M. N. Mendonça
Marine Business Manager
Powertech Comercial Ltda.
Av. Efigênio Sales, 1717-P.10
Manaus, Amazonas
69.060-020, Brazil
Phone: 55 92 2121 8000
Cell: 55 92 8116 5613
E-mail: [email protected]
Web: www.powertech-am.com.br