Revisiting The US Army's Bridge Erection Boat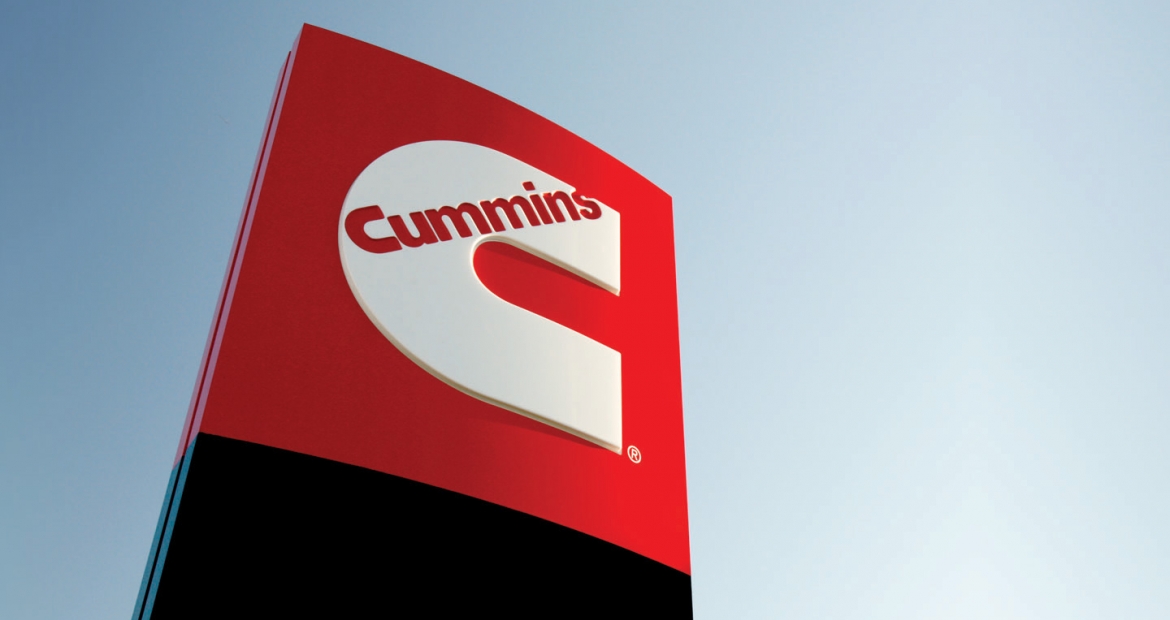 Series II Birdon Bridge Erection Boat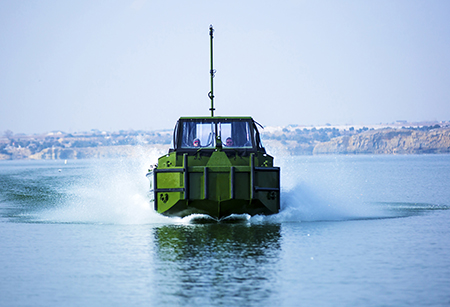 The US Army Bridge Erection Boat.
Quick assembly floating bridges have been a military standby for the US Army since, at least, World War II. Improvements over the years have allowed for ease of transportation and rapid deployment. In the early 1980s, specially designed Bridge Erection Boats (BEB) were developed. They could be transported by road and launched from their transport trucks. Once in the water they could maneuver the ribbon bridge segments into place and, if required by strong river currents, stabilize them while wheeled or tracked vehicles crossed.
After three decades of use, the Army invited bids to update the BEB to take advantage of improvements in technology over that time. The BEB would be required to meet some challenging criteria including operations in fast running silt laden rivers. They would be launched in less than five minutes from trucks or helicopters and would then maneuver sections of the Integrated Ribbon Bridges into place. They would also be capable of holding the bridge in place against river current as required or providing alternate personnel and cargo transportation.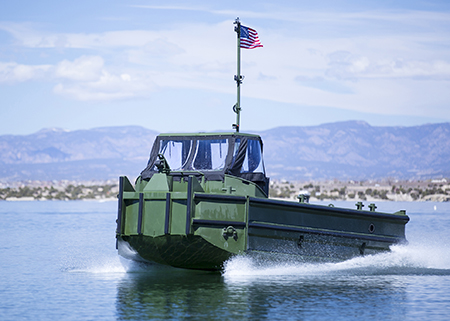 A speedy and nimble pusher.
Birdon America, a subsidiary of Birdon Australia, proposed a 23 by 11-foot vessel that had been accepted for a similar application in Australia. The US Army version has significant improvements including the installation of two NAMJet TJ38IHH jets. These differ significantly from the conventional water jets in that they pump more water at lower revolutions. This allows increased propeller tip clearance to allow the jet to operate in more severe water conditions while allowing a higher bollard pull. The Birdon BEB was chosen over other major competitors, including General Dynamics, primarily due to the NAMJet propulsion solution.
Power for the twin jets in the Birdon BEB is provided by a pair of Cummins QSB6.7 liter engines each rated at 248 HP turning into ZF gears with 1:2.76 reduction. These 6-cylinder engines are EPA Tier 3, RCD and IMO2 rated. This combination of engine and jets give the boats a top speed in excess of 25 knots. Birdon America's President Jim Ducker has said, "Birdon is proud to be the provider of the US Army BEB and Cummins is a major part of this success. We look forward to a great relationship."
Following an extensive testing process, the US Army chose the Series II Birdon Bridge Erection Boat. Birdon America has been granted a contract to deliver 374 of the BEBs for the US Army.
Photos courtesy of Birdon America
For further information:
Jim Ducker
President
Birdon America
Denver, Colorado USA
Phone: 303 373 4203
E-mail: [email protected]
Jonathan James, PMP
North America Defense Markets
Cummins Marine
4500 Leeds Ave
Ste 301
Charleston, SC 29405
Work: 843 745 1134
E-mail: [email protected]