Reducing Emissions in Southern California
Cummins Vessel Reference #634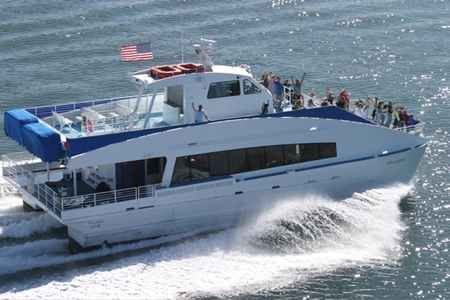 M/V Christopher
In the ongoing work at reducing emissions in California and especially in the Long Beach/Los Angeles Ports, there have been a number of innovations. These have ranged from shore power for visiting ships to regulations of container trucks and container handling equipment to the Cummins-powered hybrid Foss docking tug.
In keeping with the agenda, Dan Salas at Long Beach Cruises recently repowered his 2005 Kvichak-built whale watch catamaran name Christopher. Originally powered by a pair of Cummins KTA19-M engines, the boat received a set of new EPA Tier 2 complaint QSK19 engines. The original engines were mechanical controlled while the new engines are electronic controlled fuel injection with a modular common rail system.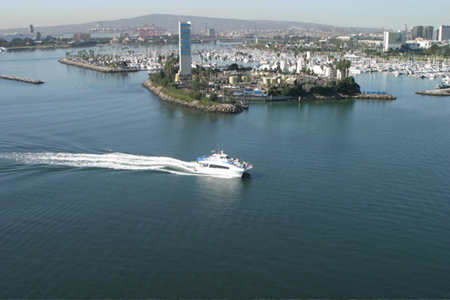 Port Angeles/Long Beach
Owner Sales says that the original engines had about 20,000 hours each and "never missed a beat." He is looking forward to the same service from the new engines, which are each delivering 700 HP at 2100 RPM to ZF 350A gears with 1.5:1 ratios. This allows the Christopher to make 22 knots. The 75-foot catamaran has capacity for over 100 guests and is operated by a crew of three.
Photos courtesy of Long Beach Cruises
For further information:
Dan Salas
Long Beach Cruises
Harbor Breeze Corp
100 Aquarium Way, Dock #2
Long Beach, CA, 90802
E-mail: [email protected]
Bill Shephard
Cummins Cal Pacific
1939 Deere Ave.
Irving, CA 92606
Phone: 940 253 6070
E-mail: [email protected]