Pushing on Brazil's Rio Madeira
Cummins Vessel Reference #639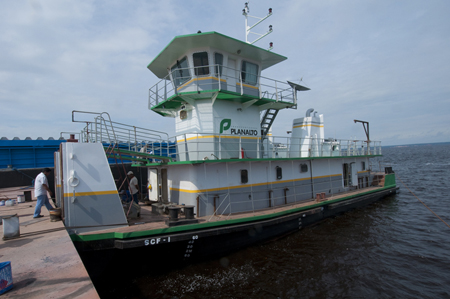 The pushboat SCL 22 ready for delivery to her owners.
Flavio Silveira does design work for the Beconal shipyard where he continues to upgrade the Amason's basic pushboat design. This September the yard delivered a 1200 hp pushboat to Planalto. As do most Amazon pusboats, the hull of the M/V SCL 22 has a slight dead-rise at the bow with a two deck winches for making up to the tow mounted on the foredeck. Push knees are designed to accommodate barges at various drafts. A walkway from the top of the main deck house to the top of the push knees will provide safe access to the deck of high barges.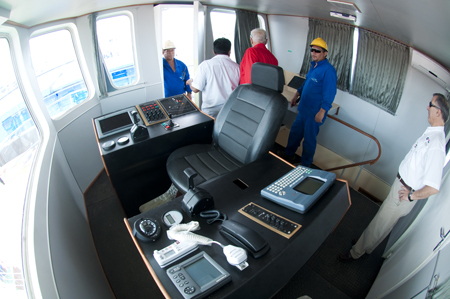 A well designed and outfitted pilot house on the SCL 22.
The owners of the new vessel will use it to transport oil products between Manaus and Porto Velho on the Rio Madeira a major tributary of the Amazon. Pushing up to three barges, the trip up-river takes four to five days. In the rainy season deep-sea vessels can navigate the 1000 kilometers to Porto Velho but once the river drops 15 meters in the dry season, navigation is restricted to shallow draft towboats and barges.
The M/V SCL 22 should have no trouble handling the strong currents of the Rio Madeira with the twin KTA19-M3 engines, each delivering 600 HP through TwinDisc 6:1 gears to 1.7-meter propellers. In the wheelhouse the operator will have remarkable visibility fore and aft from the modern fully-glassed design. The operator's ability to move right up to the forward windows for a better view of the crew on the foredeck is facilitated by the walk-through console with joystick controls similar to those on a modern ship-docking tug.
Flavio Silverira and the crew at Beconal Shipyard have put a towboat onto Brazil's inland waterways that would do them proud on any inland waterway in the world.
Haig-Brown photos courtesy of Cummins Marine
For further information on the vessel design:
Flavio Silveira
Gerente Industrial
Beconal Construção Naval Ltda.
Rua Raimundo Nonato de Castro, 21
Bairro Santo Agostinho
Manaus – AM
CEP: 69037-140
Manaus, Brazil
Phone: 92 2125 1095
Fax: 92 3671 3352
Mobile: 92 8111 0476
E-mail: [email protected]
For further information on Cummins Marine in Brazil:

Waldemar Marchetti
Marine Business Manager
South America and Mexico
São Paulo, Brazil
Phone: 5511 2186 4778
E-mail: [email protected]
Cummins Marine in Manaus:
João M. N. Mendonça
Marine Business Manager
Powertech Comercial Ltda.
Av. Efigênio Sales, 1717-P.10
Manaus, Amazonas
69.060-020, Brazil
Phone: 55 92 2121-8000
Cel: 55 92 8116 5613
E-mail: [email protected]
Web: www.powertech-am.com.br