Purpose Designed Dipper Dredge
Cummins Vessel Reference #577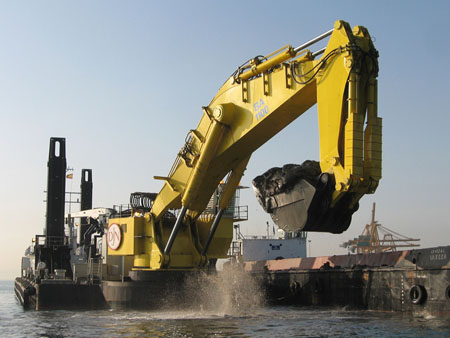 The Backacter 1100
In the past dipper dredges have often been cobbled together with machinery designed to work in a terrestrial environment. When working in a marine environment their useful life is severely limited by the saltwater environs. Now the Netherlands's Yard De Donge have designed and built a powerful machine perfectly suited to the marine environment.
An important feature of the improved design of the Backacter 1100 for the marine environment is the placement of the hydraulic pump engines in the vessel's hull. In addition to keeping the engines away from salt water, the fuel tanks are also located in the barge's 65 by 20 by 4-meter hull. As a result it is not necessary to stop the machine while fueling tanks located on the machine, as is the case with terrestrial backhoes mounted on barges. Designing the dipper as an integral part of the barge allows the barge spuds to be operated from the digger's cabin. Operator fatigue is reduced by a shock-absorbing elastic foundation, integrated in the dredgers' deck.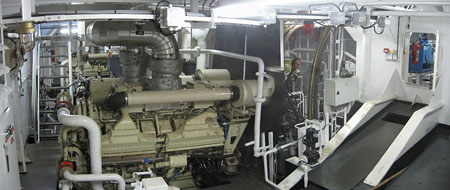 Backacter 1100 Engine Room
Without needing to stop for refueling or to ease an aching back, the operator of this innovative dredger can be more productive. The folks at De Donge caution that their productivity predictions can be influenced by factors such as resistance of the bottom, barge availability and operator experience. At the same time they estimate that the type 1100 "Donge Backacter" working at 20-meter depths can dredge 810 cubic meters per hour and at 17-meter depths this can increase to about 1012 cu. m. per hr.
At the heart of this productivity is a pair of highly reliable IMO compliant V-16 1900 kW (2547 HP) at 1800 RPM Cummins QSK60-(D)M diesels. The engines turn eight Rexroth double variable displacement axial piston pumps through water-cooled gears. The dredge is classed by Bureau Veritas and is capable of working in seas up to 2.5-meter wave heights.
The attached detailed specifications sheet explains that the dredge can be supplied with a number of options including five different boom and bucket sizes as well as self-propulsion.