Philippine Fleet Builds for Reliability
Cummins Vessel Reference #667
The M/T Jewel Faith nearing completion.
Earlier this year, Swordfish Marine of the Philippines, launched a new coastal tanker the M/T Jewel Faith. The new vessel is 69 meters in length with a 12.8-meter beam and a 2.8-meter draft.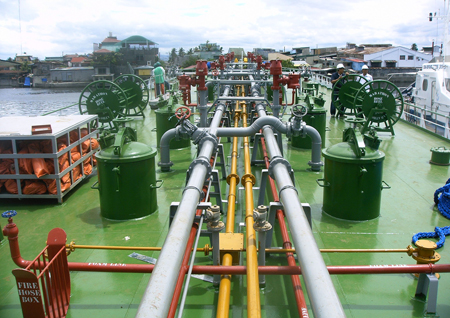 Looking forward over the main deck of the tanker.
To assure reliable propulsion on a vessel carrying petroleum products the owners chose a pair of dependable six cylinder Cummins KTA19-M3 engines. Delivering a total of 1200 hp through ZFW650 gears with 5:1 reduction to a pair of 1574 m/m propellers, they give the tanker a speed of ten knots.
The Jewel Faith was built by and launched from the Josefa Slipways in Navotas City.
Photos courtesy of Cummins Sales & Service Philippines, Inc.
For further information:
E.P. Crisostomo
Swordfish Marine Services Corp.
70 Tenth Ave., West Grace Park
Caloocan City, Metro Manila
Philippines
Phone: 63917 829 2938
Josefa Slipways Inc.
1326 M. Naval St.,
San Roque,
Navotas City
Philippines
Phone: 632 2837586 | 632 2838488
Web: http://josefaslipways.com/
Antonio M. Corona, Jr
ESG Application Engineer or Aris T. Articulo
ESG Sales Staff
Cummins Sales and Service Philippines Inc.
Lots 1&2, Block 15, LIIP Avenue,
Laguna International Industrial Park, Mamplasan,
Binan, Laguna 4024
Philippines
Phone: 02 717 8100
Cell: 63917 527 3137
Fax: 6328430703
Web: cummins.com
Email: [email protected] | [email protected]