One More Z-Drive on the Job
Cummins Vessel Reference #773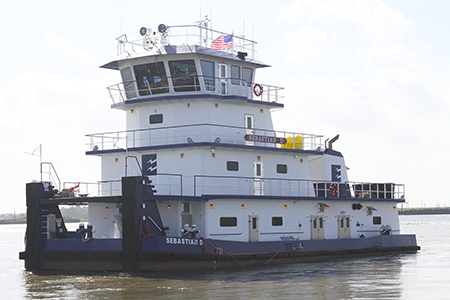 The Sebastian D ready for work.
Houma, Louisiana-based Enterprise Mariner Services, LLC (EMS) operates with the motto "Safe, Efficient, Reliable". With the addition of their eighth Z-drive towboat and the fourth from Sneed Shipbuilding, the goal of maintaining that excellence is ever more assured.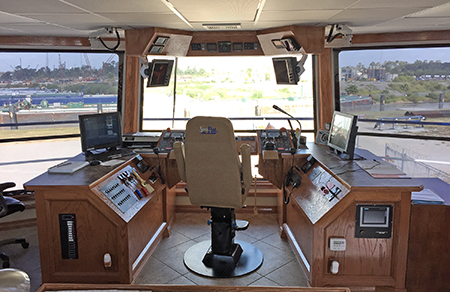 The wheelhouse: Sebastion D
As with the previous three, the 87 by 34-foot Sebastian D, with an 11.5-foot molded depth, was built by Sneed Shipbuilding of Channelview Texas. This makes them well suited for working the Gulf Intracoastal Waterway where they routinely push two 30,000-barrel petroleum barges. Propulsion power is provided by a pair of Cummins QSK38M Tier III diesel engines coupled to the ZF Marine AT 5111 WM-FP Z-Drives fitted with 66-inch diameter propellers mounted in Kort nozzles. With these drives, the boats draw only 8.5 feet of water. At 1000 HP each, the QSK38M engines have earned a dominant place in towboats with conventional propellers. As with the conventional boats, they also give these very maneuverable Z-Drive boats plenty of power to safely handle the currents of the Mississippi River.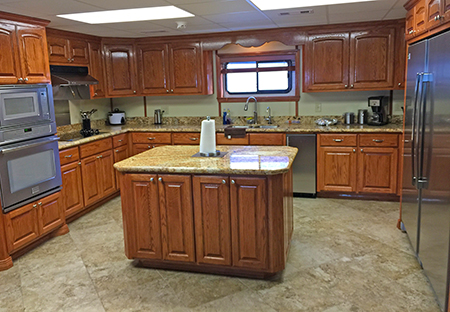 Galley: Sebastian D
As a subsidiary of Enterprise Products Partners L.P., one of the nation's largest midstream energy service providers, EMS is an important component in the company's extensive integrated value chain. Adequate power and maneuverability of its marine transportation fleet are the highest priorities in assuring safe, efficient and reliable service has the highest priority. As with earlier vessels from Sneed, the new towboat has a pair of 85 kW, Cummins QSB7-powered generators to meet the electrical needs. Tankage of these boats include: 30,000 gallons for fuel, 16,000 gallons for water and 500 gallons for lube oil.
Mitch Jones photos courtesy of Sneed Shipbuilding
For further information:
Mitch Jones
President
Sneed Shipbuilding, Inc.
17112 Market Street, ,
Channelview, TX 77530
Phone: 281 862 2266
E-mail: [email protected]
Charles Handly III
Director, Marine Maintenance & Repair
Enterprise Marine Services, LLC
141 Bayou Dularge Road
Houma, LA 70363
Phone: 985 858 5660
Mobile: 713 594 2819
E-mail: [email protected]