One Hundred New Fishing Boats
Cummins Vessel Reference #651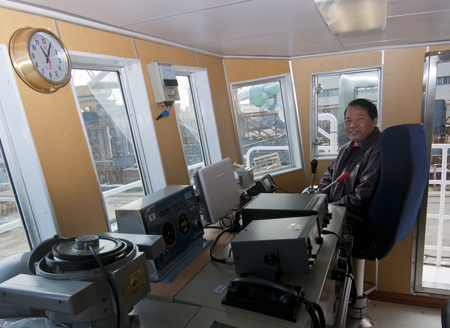 Capt. Li, originally from Guangdong Province, ready to sail from Shandong.
On Christmas Day 2011, Capt. Li Jin Chao, and three other Chinese skippers will be well along in a 23-day voyage of over 5000 miles from Shandong Province in China to Fiji. Their four vessels were delivered from the Hunghai Shipbuilding Company Ltd. the name of which translates as Yellow Sea Shipbuilding in recognition of the body of water into which the yard launches its newly built vessels.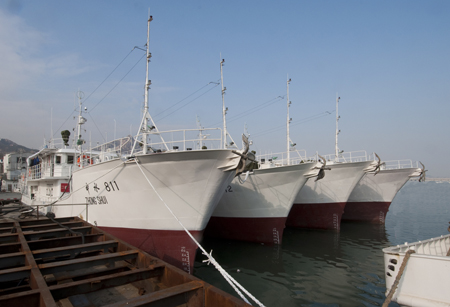 Ready to sail for Fiji from HungHai (Yellow Sea) Shipbuilding Co. Ltd.
In 2011 there has been a reduction in tonnage of vessels delivered from the yard. Although tonnage of deep-sea ships may be down, the hull numbers are more than made up for with about 100 fishing boats launched. Unlike the four Fiji-bound tuna long liners, most of the new builds are trawlers for local waters.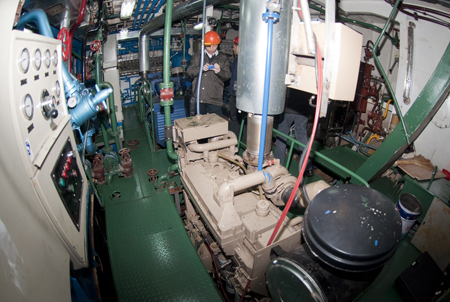 Cummins KTA19 for main propulsion.
The four identical long-liners are 39.6-meters overall with 6.8-meter beams and a molded depth of 6.8 meters. With accommodation for 15 crewmembers in three cabins, in addition to the captain's cabin just aft of the bridge, these are spare but functional vessels. Set up for fishing trips of up to 60 days the boat has capacity to stow 196 tons of frozen tuna. Depending on the grade of tuna they can be stowed in one of the ship's two –50-degree holds or, for the lower grades, in one of the vessels two –25-degree holds. A blast freezer has a capacity of 2-3 tons per day. Frozen bait is stowed in a ten-ton hold under the after deck.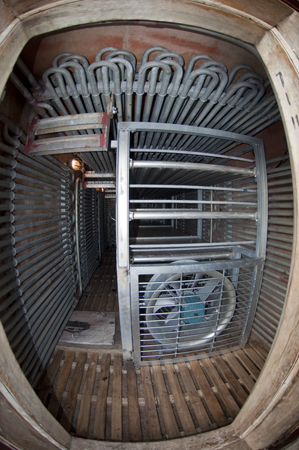 The blast freezer can handle 2-3 tons per day for storage at -25 or -50 degrees
To provide power for the freezer compressors, a pair of local-brand diesels drive 150 kW generators. For the more demanding role of main propulsion, a reliable Cummins KTA19 engine delivers 600 HP to drive the boat at about 10.5 knots at 85% power. Fuel capacity of 88.8 cubic meters gives the vessels a range in excess of 5500 miles.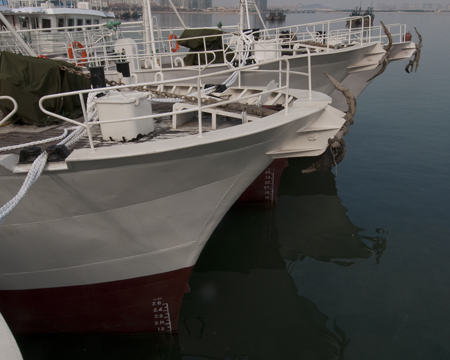 Fine bows to eat up the sea miles.
In the wheelhouse a functional set of electronics includes a Marol autopilot, Garmin and Simrad GPS/plotters, Furuno radar, I-Com VHF and SSB. When the tuna boats have navigated their way to Fiji thay will pick-up their longline gear there before they head off on their first fishing voyage.
Haig-Brown photos courtesy of Cummins Marine
For further information:
Mr. Wen Tao
Huanghai Shipbuilding CO.,LTD
No. 18,Huanghai Road(M),Shidao,Rongcheng City,Shandong Province,China
Postcode: 264309
Web:
http://www.huanghaiship.com
Mr. Jin Xiang Ming
General Manager Assistan
Shandong mingyang Marine Co. Ltd.
Room 1 No.8 Wuhan St. Bajiao
Development Zone Yantai City
Mobile Phone: 13685355113
E-mail: [email protected]
Simon Leng
Marketing Manager
Cummins Shanghai Office
Shanghai, China
Phone: 86 0 21 6085 2701
E-mail: [email protected]