Onan sound shields streamline repower on Weaver 70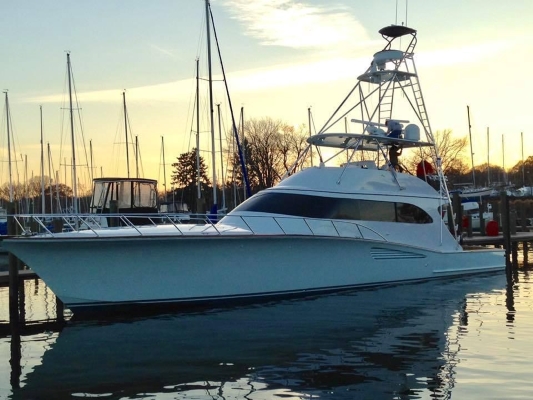 "Builders choose Onan generators because of the ease of using Onan, and it is backed by Cummins, so the supply chain should be better, too."
---
Fishermen appreciate quiet Onan gensets
Custom-built pleasure crafts represent the ultimate vessel in luxury design, naval architecture and craftsmanship. As the epitome and vision of a discriminating, private yacht owner, one-off dreamboats demand premium marine equipment, only the very best. That's why this 70-foot Weaver built in 2017, is outfitted with twin Onan 21.5 kW generators.
Certainly, Onan generators are so quiet that fighting, trophy fish are not threatened by her whisper-quiet purr as they orbit this competitive sportfishing boat with her anglers stalking the next big catch. Naturally, the ease of finding parts and service work for an already reliable generator is appealing. Perhaps even more appealing, is Onan's sound shielding, whose engineered design makes it easier to service the engine room.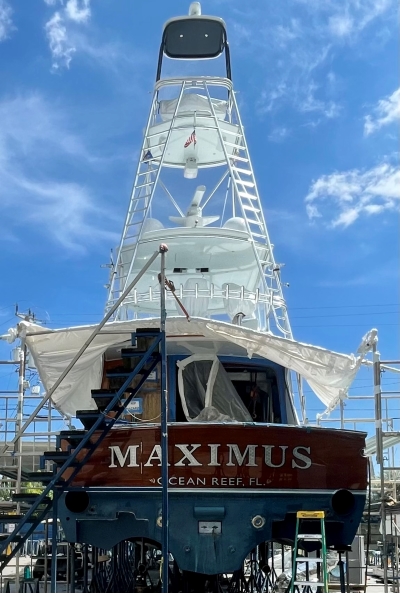 This privately owned vessel is currently undergoing a repower and retrofit at Rolly Marine Service in conjunction with Scott Marine Power in Fort Lauderdale, FL, the yachting capital of the world. Her Onan 21.5 kW generators were quickly removed and reinstalled, making it much simpler to switch out her propulsion package, easily making room to connect the starboard engine to its gearbox and Vulkan couplings.
"There are two Onan generators in there right now," said Robert Scott, president of Scott Marine Power. "They were moved out and the second one went back in boat today," he said, adding the generators had to come out to get the gearboxes and engines.
"The rigging part of a repower, to me, is the most fun," said Scott. "However, rigging is arguably the most dangerous part and should be done in very small steps with everyone choreographed together. With a heavy engine where you're doing at least four different lifting points, you want to make sure everyone knows their job and what their operation is, with only one guy calling the shots, saying 'Raise the front, lower the back, etc.'"
The team at Rolly Marine repowers about 20 yachts and sportfishing boats from 40 - 140 feet every year; their dedicated rigging team and gantry crane system lifted the motors weighing several tons.
"Once we married up the engine and gear box, we put the generator in," Scott said. "It is a really nice Onan generator, original equipment. The 21.5 kW is one of my favorite units, actually."
The Onan genset took less than an hour to remove due to its design and engineering set-up.
"A lot of more thought went into the Onan package compared to other groups," said the vessel's build captain. "There are ways to reroute hookups left versus right, it is neater and a more versatile set-up, just unbolting stuff from outside, you hook the hoses and go!"
"I ran a boatyard for 12 years," said the captain. "Builders choose Onan generators because of the ease of using Onan, and it is backed by Cummins, so the supply chain should be better, too. A lot of generator companies are not backed by any parent company, so with Onan you know you're not just talking to some guy in a garage somewhere, as with some small generator companies."
70 Weaver specifications

Engines
Twin MAN V-12 2000HP
Gear Box
Twin Disk
Generator
Twin Onan 21.5 kW
Hull
Cold Molded Mahogany
Builder
2017 Weaver Boatworks / Refit 2021 Rolly Marine Service
LOA
70'0"
Beam
21'3"
Displacement
97,000 lbs
Fuel

2,000 gal

Water

300 gal