New Tug for Harbour Administration
Cummins Vessel Reference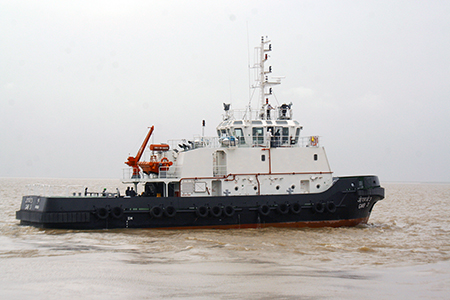 The GMB 3 ready for work.
Since its inception in 1982, the Gujarat Maritime Board (GMB) has been charged with managing and coordinating the efforts of the minor posts along the state's 1600 kms of coastline on India's west coast. There are currently 41 such ports involving both private and public funding. (http://www.gmbports.org/)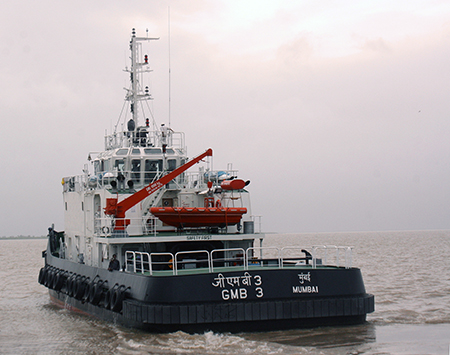 A stern view of the new tug.
The GMB's mandate includes planning the integrated development of new ports, along with the required road and rail links. The Board also owns a number of vessels in support of port operations. This year they took delivery of the tug GMB 3 from Shoft Shipyard in Bharuch, Gujarat, India. (http://www.shoft.in) The vessel, with accommodation for a crew of 16 and ten passengers, was designed by Win Marine Consultancy Services.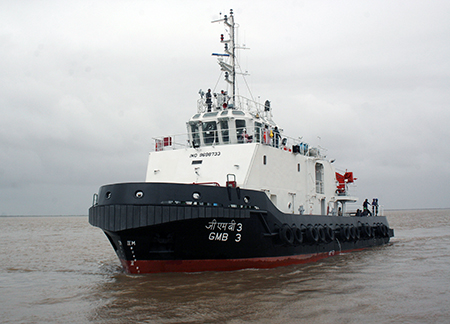 Built as Shoft Shipyard's Yard No. 248, the 33 by 10.5-meter tug was delivered August 23 of this year, well within one year of the keel laying. It is powered by two Cummins QSK60-M diesels each delivering 2000 HP at 1800 HP. Propulsion is through a pair of Azymuthing Schottel Propulsion System Z-SRP 1012FP drives. This combination gives the big tug a bollard pull of 41 tons at 85% MCR. The 16-cylinder 60-liter engines were supplied by Cummins India.
The GMB 3 is fitted with two 150 kW gensets an one 60 kw set made by Kirloskar.The 437 GRT tug is classed with the Indian Register of Shipping as +SUL TUG +IY.
Photos courtesy of Shoft Shipyard
For further information please contact:
Girish Uttamchandani
Business Leader – Shipyard
Cummins India Ltd
Mobile: 91 99 2295 6359
Office: 91 20 3023 3716 |  Extension: 3716
E-mail: [email protected]
Shoft Shipyard Private Ltd
Kaladhra, Off Dahej Road
Bharuch, Gujarat, India
Tel: 91 2641 255283.
Fax: 91 2641 255247
E-mail: [email protected]
Admin office: Plot no.A.365,
Road No. 26, Wagle Indtl Est,
Thane, India-400604
Tel: 91 22 258 00116 | 30112,
Fax: 91 22-2580 0108
WIN MARINE CONSULTANCY SERVICES
C-1, Ville Royale Prince Apartments,
Siripuram, Visakhapatnam-530 003
Web: http://www.winmarine.in/