New Trawler for Argentine Family
Cummins Vessel Reference #766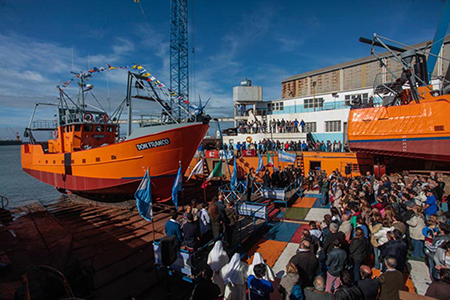 The FV Don Franco ready for the water.
With 4,989 kilometers of Atlantic coastline, Argentina looks to commercial fishing as an important contributor to the Argentinian economy. The promotion of the maritime resources is dependent on quality boats capable of delivering quality product.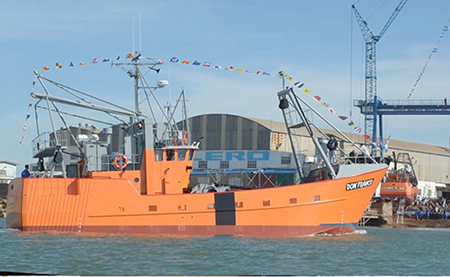 And ready to take on her fishing gear.
This spring just such a vessel joined the Argentine trawler fleet. The 20.8 by 6.6-meter FV Don Franco was designed and built by the Contessi Shipyard at Mar del Plata, Argentina's largest fishing port 400 kilometers south of Buenos Aires. Owned by the Galeano family, the new vessel is classed by RINA and will replace their older boat the Galme I. The new trawler will make just under ten knots with a 600 HP, six-cyliner Cummins KTA19-M main engine. At 1800 RPM the engine will turn a propeller in a nozzle through a ZF 1800 marine geat with a 6:1 ratio. The nozzle will assure good power for towing a midwater trawl. The boat is also capable of being rigged for purse seining. The two gear types will allow for the catching of a wide variety of species including, besugo (sea bream), merluza (hake), bonito and anchovita.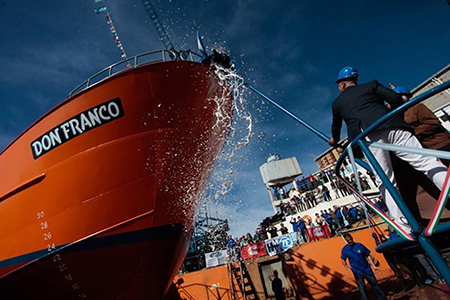 A proud moment for both builders and the owners.
Tankage in the 3.2-meter deep hull includes 20,500 liters of fuel and 4,000 liters of water. The vessel's hold is a healthy 87 cubic meters. Accomodation is provided for up to ten fishermen. Auxiliaries for powering generators and hydraulics include a Cummins 6 CTA8.3G and a 4BT3.9-iiter Cummins.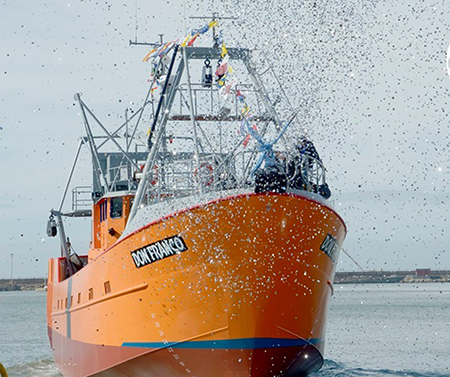 A good launch boads well for the boat's future.
The launching of the FV Don Franco was accompained by traditional and appropriate fan–fare with sheets of sliver paper exploding over the vessel's bow as she slipped down the ways to meet her natural element.
Photos courtesy of Cummins Argentina
For further information:
ASTILLERO NAVAL FEDERICO CONTESSI Y CIA SA
Calle "B" Espigón 4 Puerto – (B 7603BHP)
Mar del Plata – REPUBLICA ARGENTINA,
Phone: 54 0223 489 0314
E-mail: [email protected]
Armando Tavarozzi
Marine Engine Sales Leader
Cummins Argentina
Phone: 54 11 4736 6428
Cell: 54 91 13280 8713
Web:  cummins.com.ar | marine.cummins.com
E-mail: [email protected]
Maria Ines Andres
Marketing Assistant
Cummins Distribution
Phone: 54 11 4736 6404
Cell: 54 11 5597 3752
E-mail: [email protected]