New Towboat Honors Structural Engineer
Cummins Vessel Reference #774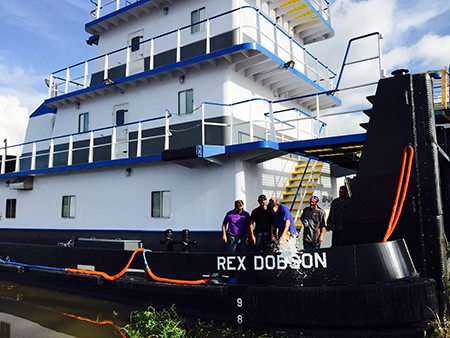 Rex Dobson breaking the traditional bottle over his name sake.
Joe Gregory, owner of New Generation Shipbulding of Houma, Louisiana, reports that his firm's latest delivery will join the La Porte Texas-based Martin Marine fleet of 29 inland push boats and 54 inland marine tank barges. Martin also operates four offshore tug/barge units. (http://www.martinmidstream.com/marine-transportation)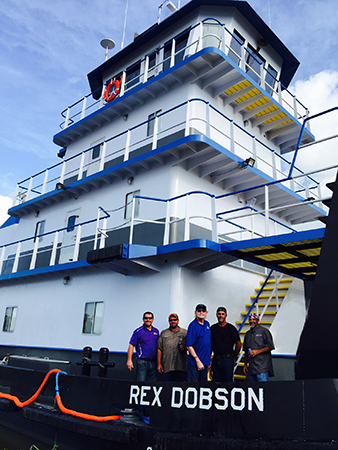 At the commissioning, (l to r). Jason Adams Owner Raymond Louviere Field Foreman, Donald Baudoin shipyard superintendent, Rex Dobson shipyard structural superintendent, Bart Foret Field Foreman.
The latest delivery, one of New Generation's popular 75 X 30 X 10-foot pushboats, is the Rex Dobson. With an operating draft of 8.5-feet these towboats have a 32-foot eye level from the wheelhouse. The wheelhouse has huge windows extending to the deck level forward and a full walk around exterior deck extension. The elevation is gained by having the wheelhouse sit atop three lower decks. These contain five crew cabins providing accommodation for up to seven crewmembers. A well-appointed galley, with granite counter tops, and mess, with large flat-screen TV, occupy the forward part of the main deck cabin with the aft part or fiddly providing storage over the main engines.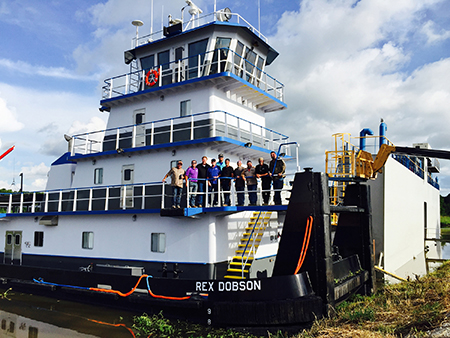 The New Generation crew on the upper deck of the Rex Dobson, following the commissioning.
The main engines, as has become the norm on this class of towboat, are a pair of Cummins QSK38-M each of which develop 1000 HP at 1800 RPM. The engines are fitted with Twin Disc MG5321 gears with 6.39:1 reduction turning open stainless-steel five-blade Kahlenberge 74- by 53-inch propellers on seven-inch shafts. Each propeller has two forward mounted flanking rudders with a single steering rudder behind. The props and rudders are protected by stump-jumpers fabricated from six-inch square ½-inch tubing.
Main deck equipment includes two 40-ton electric winches mounted forward. Auxiliary power is provided by a pair of Cummins 6BTA5.9- liter powered 85 kW generators.
The vessel's owner, Jason Adams, named it for New Generation's structural superintended Rex Dobson who survived a bad stroke last year. And so it was he who broke the mandatory bottle of bubbly over the bow that bares his name.
Photos courtesy of New Generation Shipbuilding
For further information:
Joe Gregory
Owner
New Generation Shipbuilding
440 Browning Court
Houma, LA 70363
Phone: 985 868 4088
Mobile: 985 859 5232
E-mail: [email protected]
Mr. Mike Lee
Territory Sales Manager
Cummins Mid-South, Inc
Kenner, Louisiana
Phone: 504 734 3075
E-mail: [email protected]