New Generation Supply Boat
Cummins Vessel Reference #722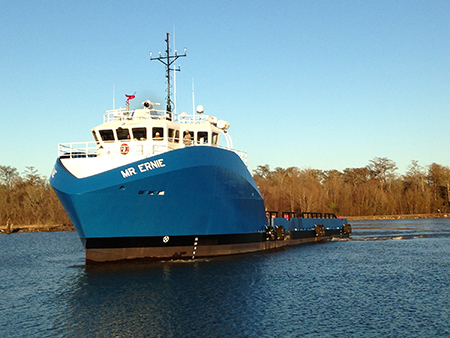 Mr. Ernie: A New Generation in the GOM.
The latest delivery from Houma, Louisiana-based New Generation Shipbuilding is representative of the New Generation in supply vessel design. The distinctive bow and focsle profile on the 171 by 36-foot Mr. Ernie is reminiscent of some of the progressive International designs. This can be attributed to additional super structure design work by the Lafayette, La. based office of Incat-Crowther although the design and engineering support team also included Parfait Maritime, Mino Marine, LLC and Farrell and Norton Naval Architects.
Design work that carried the raised focsle deck well forward and right to the side shell allows for roomy accommodations with bunks and mess room for 32 people. This provides a variety of 6, 4 and 2-person cabins for the four crew-members and 28 other workers. This allows for versatility for charterers doing offshore servicing or support work. At the same time, the aft deck provides an impressive 112 by 30 feet of clear cargo space with a 375 LT capacity.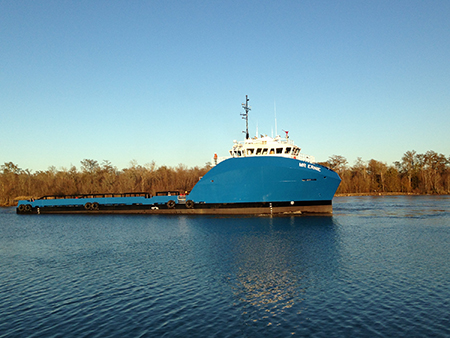 Mr. Ernie: A distinctive profile and accommodation for 32 people.
Below deck there is extensive tankage including dual-purpose tanks for fuel or liquid mud.. In addition to a dedicated 13,460 US-gallon potable water tank, there is also a 92,328-gallon ballast or potable water tank. This will give the supply vessel great flexibility with a total deadweight of 707 LT.
A 13.0-knot speed is delivered by a pair of Cummins K38M Tier 2 diesels delivering a total of 2000 HP through Twin Disc MGX-5321 gears to 72×65-inch Bird Johnson 4-blade propellers. A 350 HP Cummins QSM11 engine powers the Bruvoil bow thruster. A pair of Cummins QSM11 powered 300 kW gensets meet the ship's electrical requirements.
A Crane Deming 5063 fire monitor pumps 2200 gallons per minute at 260-feet. Beier Radio supplied the vessel's DP system. The DP 1 vessel is USCG inspected and classed ABS load line.
Joe Gregory, owner and managing member of the firm, explained that the boat is named for his partner Mr. Ernest Vicknair Jr. Mr. Ernie is owned by Joe Gregory ad Ernie Vicknair, operating arm New Generation Marine Services has been hired to work in the GOM on long-term contract.
Photos and GA (available on request) courtesy of New Generation Marine
For further information:
Joe Gregory
Owner
New Generation Shipbuilding
440 Browning Court
Houma, LA 70363
Phone: 985 868 4088
Mobile: 985 859 5232
E-mail: [email protected]
Mr. Mike Lee
Cummins Mid-South, Inc
Kenner, Louisiana
Phone: 504 734 3075
E-mail: [email protected]