New Ferries for Clyde Crossing
Cummins Vessel Reference #705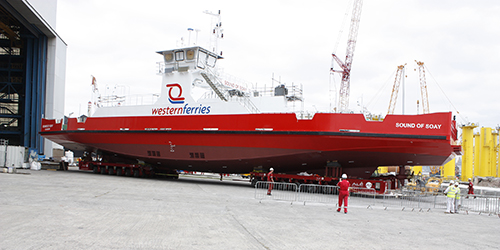 The Sound of Soay ready for launch.
Their bright red hulls add emphasis to the pride expressed by the Cammell Laird Shipyard in the construction and launch of the sisters into the River Mersey at Birkenhead. The pair of 45-car ferries are heralded as the first complete vessels built at the yard in 20 years. Built on competitive bids and to the standards for which the historic yard is well known, the pair are expected to attract a good deal of attention from European and international customers.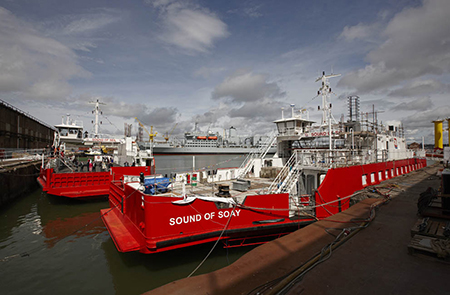 The Western Ferries vessels fitting out at the Cammell Laird Shipyard.
The MV Sound of Soay and her sister the MV Sound of Seil continue the tradition of their owners, Western Ferries, of naming vessels after Scottish Sounds. Once interior details are finished and sea trails completed, the twin ferries will enter service on the company's 2.2-nautical mile Firth of Clyde route between Gourock and Dunoon.
The double-ended ro-ro ferries are each 49.95-meters overall with 13.5-meter beams extended over the sponsons to around 15 meters. The molded depth from the car deck is four meters while the ferries will operate with a draft of 2.5 meters. With capacity for up to 220 passengers each ferry will be powered by two IMO and EU emission compliant Cummins QSK19-M diesel engines producing 600 HP (447 kW) at 1800 RPM. Each engine will power an independent Rolls Royce Aquamaster azimuthing thruster mounted fore and aft.
Attached photos courtesy of Cammell Laird
For further information:
Graeme J Fletcher
Technical Director
Western Ferries (Clyde) Ltd
Hunters Quay
Dunoon
Argyll
PA23 8HJ
Tel: 01369 704452
Fax: 01369 706020
E-mail: [email protected]
Rob Mcburney
Cammell Laird Shipyard Campbeltown Road
Birkenhead
Merseyside
CH41 9BP
Tel: 44 0 151 649 6600
Fax: 44 0 151 649 6699
E-mail: [email protected]
Sjoerd Spronck
Communications & Media Coordinator – Europe
Cummins Distribution Europe
Cummins Holland B.V.
Olivijn 800, 3316 KH Dordrecht
Postbus 520, 3300 AM Dordrecht
Netherlands
Mobile: 31 0 6 110 11 075
Tel Direct: 31 0 78 653 09 27
Switchboard: 31 0 78 618 12 00
E-mail: [email protected]