Cummins Vessel Reference #693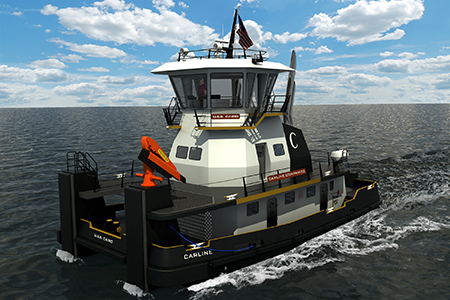 A new look for the Lower Mississippi.
Ship docking tugs now take the Z-drive for granted, but it has found only limited acceptance for river towboats. That is about to change with a new boat being built for The Carline Companies at Raymond and Associates in Bayou LaBatre. One of the Carline companies is the Burnside Fleet located at Mile 169 on the lower Mississippi River between New Orleans and Baton Rouge.
When the big tows of up to forty 195 by 35-foot barges come down river, it is the fleeting tug's job to take selected barges off the tow and "park" them in the riverside fleet. A fleet is a string of barges moored along the river for which smaller towboats provide switching and shifting duties.. Later they will take the barges to nearby docks or ships moored in mid-stream for off loading. This is a job that requires a power and agility in the towboat that moves these barges around. It is a high demand job in which time and timing are all important. When Carline's new 68 X 34-foot boat, M/V USS Cairo, goes to work at the fleet in September 2013 it will herald a new era that will, as did the early z-drive harbor tugs, create a whole new set of performance standards.
Designed by the noted naval architect firm of Townsend Marine Designs in South Portland, Maine there are more than the Z-drives to catch the attention of the industry. The octagonal wheelhouse, with its 360-degree windows, is also reminiscent of a harbor tug. The wheelhouse sits atop a deck cabin with sloped sidewalls to provide optimum visibility to the working deck fore and aft. Unlike other fleet boats, the new vessel will have push knees both fore and aft. On deck there will be two Win-Tech 65-ton winches for face wires and a single Win-Tech Capstan. A Palfinger PK-12000 crane will be mounted foreward on the first deck level.
Main propulsion will be provided by a pair of Tier III compliant Cummins QSK19-M engines each delivering 750 HP through Twin Disc HPTO366 gears to the Z-drives. These drives will be Thrustmaster 750 Azimuth Thruster- TH750 MZ. A pair of Cummins QSB7-powered 150 kW generators will provide auxiliary power. In anticipation of the new Subchapter M regulations for inland towboats, Carline and their design team have worked to aproximate the, as yet unconfirmed, guidelines.
As with most fleet towboats this will be a "day boat" with a galley but no need for overnight accommodation. Tankage will include 16,000 gallons of fuel, 3,000 gallons of water and 400 gallons of lube oil.
"The M/V USS Cairo's z-drive propulsion system is the first of its kind on a dedicated fleet boat working on the Mississippi River," says Lew Parks, CEO of Carline Management Company Inc. in Gonzales, Louisiana, "The increased speed, safety and efficiency were specifically sought out by Carline to meet the service demands anticipated at the Impala's new Continuous Barge Unloading dock. Carline anticipates that the volume demands, coupled with environmental limitations due to river current, will exceed the capabilities of a conventional fleet boat."
For further information:
Lew Parks, Esq.
Chief Executive Officer
Carline Management Company, Inc. ?
1414 N. Burnside Avenue ?Suite C, PMB 16 ?
Gonzales, LA 70737 ?
Fleet office: 225 473 4310
Corp. Office: 225 474 5438
Fax: 225 473 6676
Townsend Marine Design, Inc.
16 Ocean Street,
South Portland, Maine 04106
Calvin Klotz
Vice-President Marine Division
Cummins Mid-South, Inc.
110 Airline Hwy
Kenner, LA 70062
Phone: 504 468 3535