New ASD Tug: Brazil Design and Brazil Built
Cummins Vessel Reference #609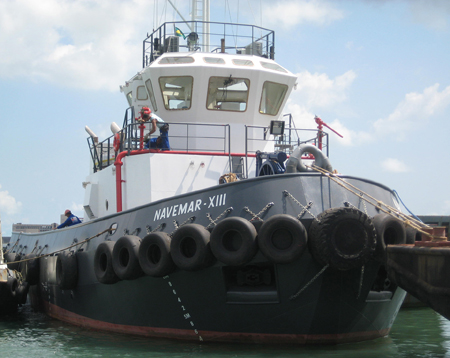 The Brazilian Port of Recife/Pernambuco is served by a powerful new ship-handling tug. The owners, Navemar Transportes e Comércio Marítimo, took delivery of the vessel, named Navemar XIII, this past September 2010.
The 30-meter azimuthing stern drive tug carries a 9.8-meter beam with a depth of 4.65 meters. The Z-drives are a pair of HRP-Series 7000 each powered by a 2200 HP (1641 kW) at 1800-RPM Cummins QSK60 engines. The tug, which is fitted with a bow-mounted hawser winch and a deck-mounted towing winch, has a 55-ton bollard pull.
Designed and built by Corema Indústria e Comércio Ltda the tug features a double chine hull that allows for good lateral movement and a raked stern profile for good backing, both of which make for improved ship handling. Electrical power is provided by a Scania-powered generator. Tankage is provided for 18000 liters of fuel and accommodation is provided for up to eight crew members.
Photos and video of the Navemar XIII are courtesy of Corema Indústria e Comércio Ltd
For further information:
Corema Indústria e Comércio Ltda
Travessa Domingos Rabelo 78, Ribeira. Salvador – Bahia
Phone: 55 11 3312-2034
Web: www.estaleirocorema.com.br
Antonio C. Colares orAline Barros
Cummins Distribuidora de Motores e Equipamentos Salvador branch
Brazil
Phone: 55 21 21963131
Waldemar Marchetti
Marine Business Manager
South Americo and Mexico
Rua Jai,
Guarulhos SP 07180-900
Brazil
Phone: 55 11 2186 4778
E-mail: [email protected]