Muir Milach: Trawling Alaska Pollock
Cummins Vessel Reference #755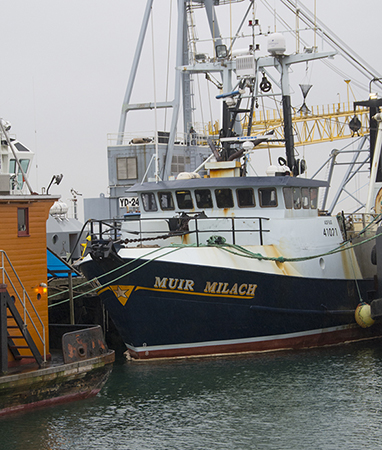 The Muir Milatch alongside at the shipyard in January 2015.
Built in 1979 at the Mid Coast Marine shipyard, the 103 by 26-foot F/V Muir Milach has earned a fine reputation amongst the mid-water trawl fleet. An early adapter in the Alaska Pollock and cod quota fishery, the vessel has been a consistent producer.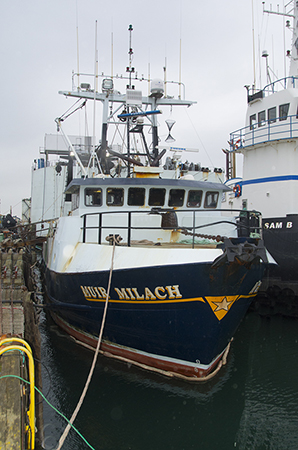 The Muir Milach alongside at Bellingham WA
Currently an important component of the family-owned Aleutian Spray Fisheries fleet she has been well maintained. In January 2014 she was fitted with updated sonar equipment. In January 2015 an extensive repower of both main genset and main engines was completed.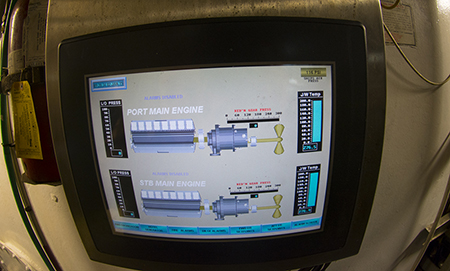 The engine room C-Command panel.
Pair of US EPA Tier 2 certified six-cylinder Cummins QSK19-M engines each generating 750 HP at 1800 RPM replaced a pair of high-hour engines. The engines turn 60″ by 56″ propellers through ZF gears with 4.3:1 reduction. The twin engines are installed along with a 24-volt Quatum System to monitor operating parameters, while providing diagnostics, prognostics and complete engine protection. Wheelhouse and engine room digital displays feature C Command panels.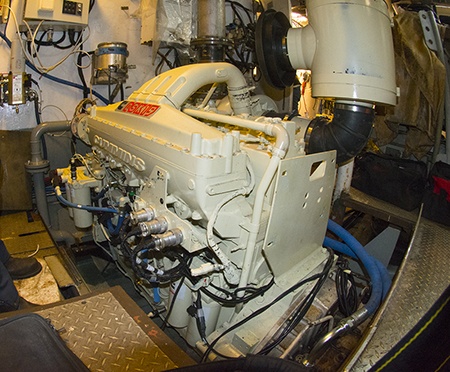 The starboard side Cummins QSK19-M main engine.
The Muri MIlach typically tows a mid-water trawl with an 800-foot head rope and 7m doors. The new engines can be expected to give the boat about 25,000 pounds of bollard pull.
Captain David Willmore managed the engine installation and took the Muir Milach to fish the Bering Sea and Aleutian Islands in mid-January.
Haig-Brown photos courtesy of Cummins Marine
For further information:
Geoff Conrad
Director of Marine Business
Cummins Northwest
811 SW Grady Way
Renton, WA 98067 2944
Phone: 425 235 3400 | Extension: 2944
Mobile: 206 549 4689
E-mail: [email protected]