Mainport: People and Business from Ireland to Malaysia
Cummins Vessel Reference #706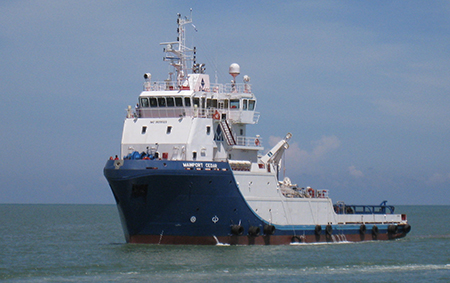 The Mainport Cedar ready for work.
On their web site, Mainport says, "All business is about interaction between people". The firm, based in Cork Ireland, has demonstrated this throughout their business. These include a range of subsidiaries in diverse marine fields and diverse locations from South Africa to the Caspian and at home in Ireland.
The recognition of the importance of interaction between people is continued to their community work with an annual cleanup of the river that runs into the Port of Cork, to participation in an on line schools program that introduces students to the importance of the maritime economy. The innovative program allows students to follow and interact with Mainport and other Irish vessels worldwide. (http://www.imdo.ie/followthefleet/index.asp)
Recently Mainport extended the concept of "interaction between people" to Malaysia where they are having two new seismic support vessels built at the Shin Yang Shipyard in Miri, Sarawak. The firm sponsored teams to a futsal tournament composed of the shipyard crews building the Mainport Cedar and Mainport Pine. In this manner the firm brought the workers into the global community that is represented by the innovative firm.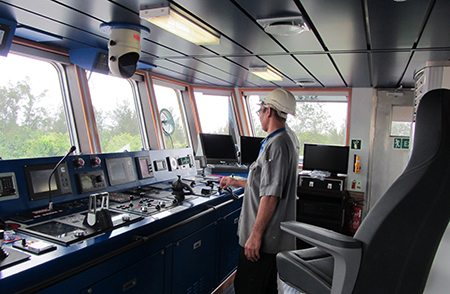 The bridge on the Mainport Cedar.
The first of the two vessels, the Mainport Cedar, has now been delivered while the sister-ship Mainport Pine will deliver later this year. Wartsila Ship Design of Singapore designed the 54.6 by 13.8-meter seismic support vessels.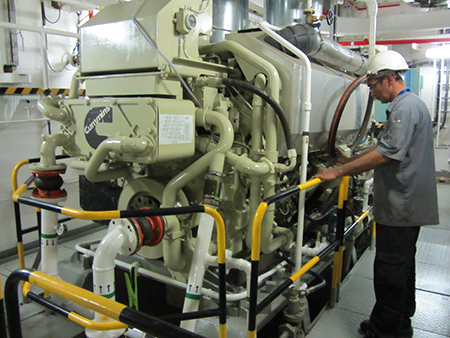 One of the Cummins QSK60-M main engines.
Main engines for the vessels are a pair of Cummins QSK60M-MCRS IMO Tier II. Each engine produces 2200 BHP at 1800 RPM and turns a four-blade Berg Propulsion controllable pitch propeller through a Twin Disc MGRP1817VC gear with a 7.59:1 ratio. This power will give the vessels a speed of 12 knots and a 53 ton bollard pull.
Each vessel is fitted with three 360eKW, 50 Hz main gensets that are powered by three Cummins KTA19D(M) engines. A Cummins 6CTA8.3DM engine powers a 135eKW emergency genset. A 300eKW 50 Hz shaft alternator driven by a PTO on the gearbox can generate additional electric power. All engines were supplied by Scott and English Malaysia. Each vessel is also fitted with an electric bow thruster.
The vessels each have accommodation for 50 crew and passengers. Tankage includes an 80 cubic meter urea tank and a 20 m3 sludge tank. Ship's total fuel capacity is approximately 1100 MT. The Mainport Cedar and the Mainport Pine are built to BV class. Both vessels will work with one of the major seismic acquisition companies for the next seven years.
Photos courtesy of Scott and English
For further information:
Capt. Dave Hopkins FNI., HMM
Irish Mainport Holdings Ltd.
Mainport, Monahan Road,
Cork, Ireland
Phone switch: 353 21 5004200
Phone direct: 353 21 5004220
E-mail: [email protected]
Web: www.mainport.ie/
Capt. Ting Hien Liong
Chief Executive Officer
Shin Yang Shipyard SDN, BHD,
Sub Lot 153 (Parent Lot 70)
Jalan Kuala Baram
Kuala Baram,
98100 Miri, Seawak,
Malaysia
Phone: 6085 428399
E-mail: [email protected]
Web: www.shinyang.com.my/
MT Chong
Sales Manager- Engine Business Unit
Scott & English (M) Sdn Bhd
Lot 1450 & 1451, Block 3, M.C.L.D.,
Piasau Industrial Estate,
98000 Miri, Sarawak, Malaysia.
Phone: 6085 – 654984
E-mail: [email protected]
Web: www.sne.com.my/