Lugger Tug from Alabama Yard
Cummins Vessel Reference #630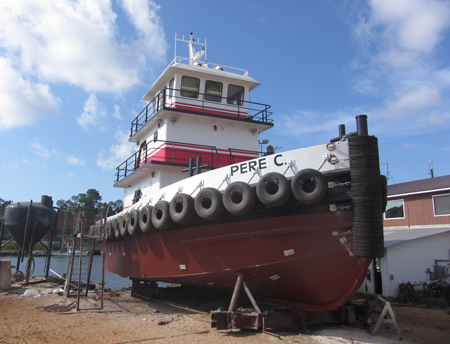 Ready for launch at the Rodriguez yard.
The "Lugger" designation traces back to days when a small handy coastal vessel often carried lug-rigged sails. A modern day lugger, as used on the US Gulf of Mexico coast, is still a handy boat for working in near shore waters. On a version of the tug, designed by and currently finishing up at Rodriguez Boat Builders, a pair of Cummins Tier 2 compliant QSK19-M diesels turning four-blade stainless steel props has replaced the lugsails for propulsion.
The 67.5 by 26-foot Pere C. has a molded depth of 8.5 feet. Fitted with a pair of Pullmaster M-30-86-51 25-ton electric deck winches the model-bow tug can push a barge with the aide of a well-fendered bow-post. Typically this sort of vessel is used to service production rigs in relatively shallow waters. In addition to barged cargo, the tug has tankage for 14,000 gallons of fuel and 16,000 gallons of water. Accommodation for a crew of six is in the triple-deck aft-mounted house.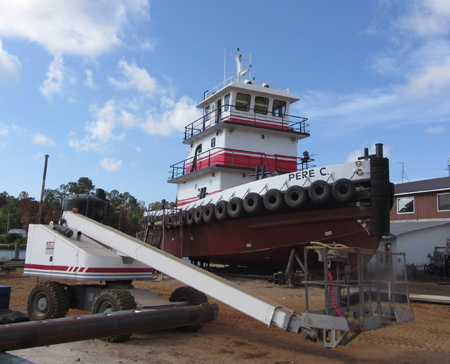 Owner of the lugger tug Pere C., Stan Cvitanocic, will take delivery of the vessel in July and it will be home ported in Venice, Louisiana.
Photos courtesy of April Harrel & Rodriguez Boat Builders
For further information:
April (Rodriguez) Harrel
Rodriguez Boat Builders
14843 Alba Ave.
Coden, Alabama 36523
Phone: 251 824 4067
E-mail: April Harrell [email protected]
Mr. Larry Neff
Cummins Mid-South Inc.
1924 E I-65 Rd N
Mobile AL 36617
USA
Phone: 251 895 1590
E-mail: [email protected]