Kilimanjaro VII: Quality In Design, Construction and Power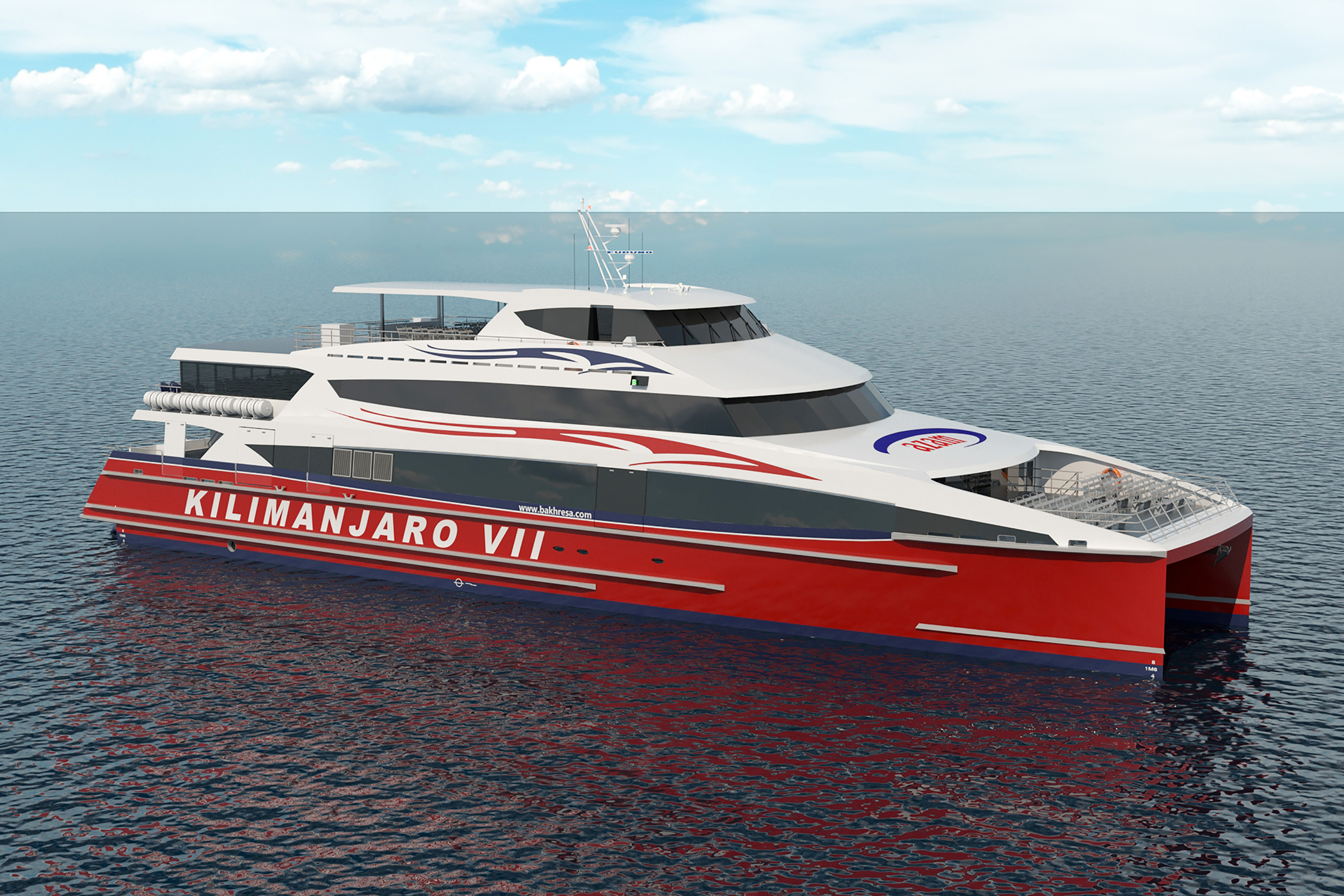 Cummins Vessel Reference #830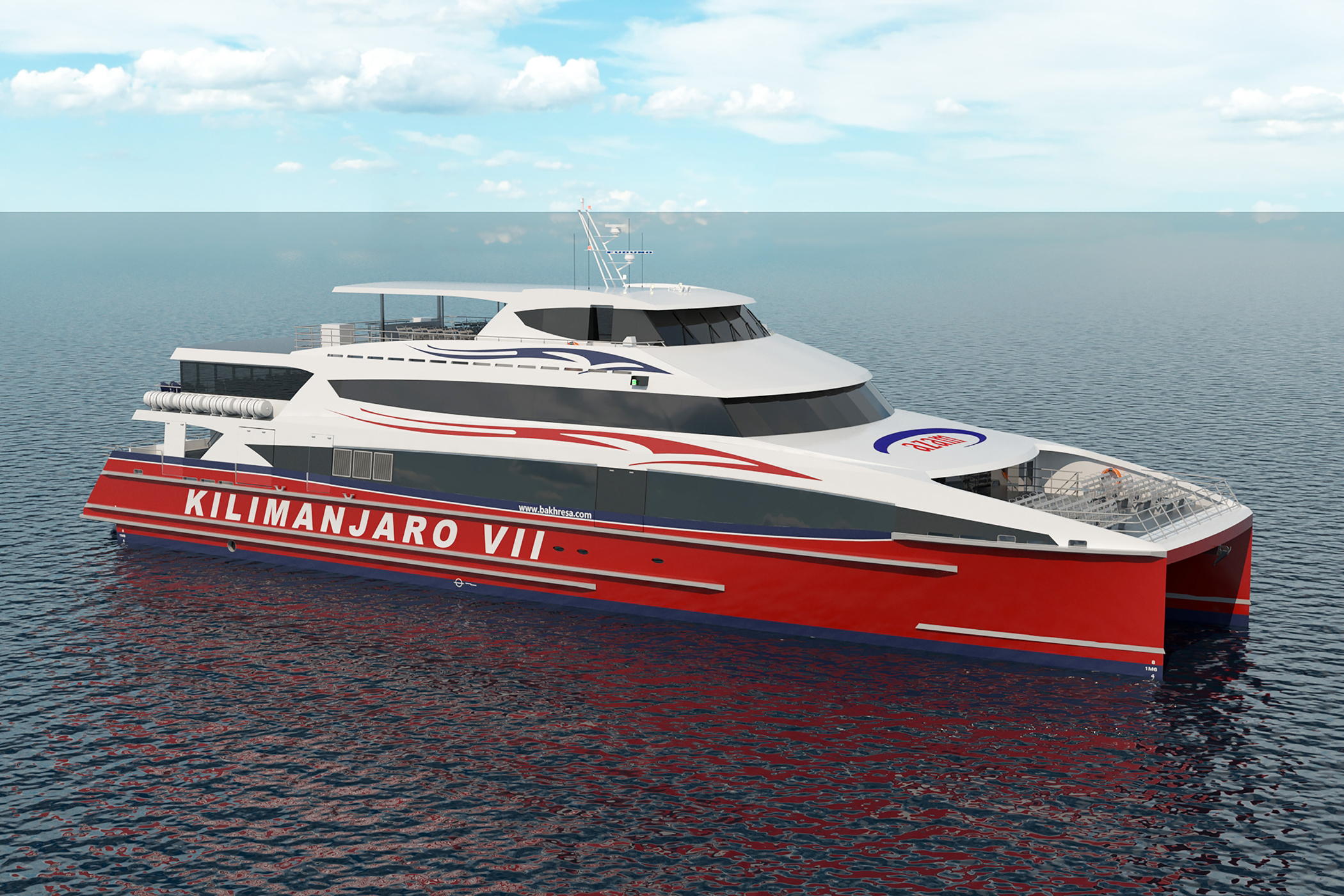 The Island of Zanzibar and others in the group are located just off the coast of Tanzania and have, for thousands of years, been a destination for adventure, beauty and trade. The earliest Arab traders brought the skills of dhow building and, along with this, a great appreciation of quality boats.
While dhows are still built in Zanzibar, the owners of Azam Marine have travelled across the Indian Ocean to Australia to find the best of the best in aluminum ferry design and construction. The firm operates a scheduled ferry service between the Tanzanian mainland and the Islands of Zanzibar and Pemba. In addition to a RIB passenger speedboat, they operate several large Cummins-powered, high-speed and high-capacity catamarans.
A company spokesperson has explained that, "As international tourists discover the magnificent destination of Tanzania, Azam Marine and Coastal Fast Ferries are moving with the times to provide them with swift and comfortable ferry services. The Tanzanian companies are pursuing a vigorous policy of modernizing and maintaining its fleet in line with fast-moving developments in the world of water transport."

This commitment naturally has led to Incat-Crowther design, Australian boat building and Cummins Power. Most recently, in early 2016, they took delivery of a 32-knot, 566-passenger, 39 by 11-meter, aluminum catamaran from Tasmania's Richardson Devine Marine shipyard. Named Kilimanjaro VI, this prop-driven boat, the sixth from the yard to this owner, has proven itself with a pair of Cummins 1715 kW QSK60 engines. This vessel also has two Cummins-powered 170 kVA electrical generators.
In 2018 construction begins on a still larger and faster catamaran to be named Kilimanjaro VII. The new boat, also being built at Richardson Devine Marine to an Incat-Crowther design, will, at 45 by 11.5-meters be slightly larger. It will also be much more powerful with a pair of Cummins Marine's QSK95 engines each delivering a hefty 2684 kW (3600 HP) at 1700 RPM through ZF marine gears to Kamewa 80-S4 waterjets. This will give the larger and heavier boat a 35-knot design speed.
These 95-liter Cummins engines are the same models that were installed in two large Incat-Crowther designed crew/supply boats built in Spain in 2016/17. They have proven themselves in extensive global operations.
The new catamaran's interior design, together with a crew of ten, will give emphasis to passenger luxury in all classes for the voyage. Company literature explains, "Kilimanjaro VII(7) offers an extravagant level of comfort and luxury. Her "Royal Class" area is of a similar standard to an Emirates Airlines First Class cabin and even the economy passengers on the main deck luxuriate in their comfortable seats. Stewards will serve passengers from airline style food and beverage trolleys. The mid-deck Royal and First Class passengers also get the benefit of their own entertainment monitor."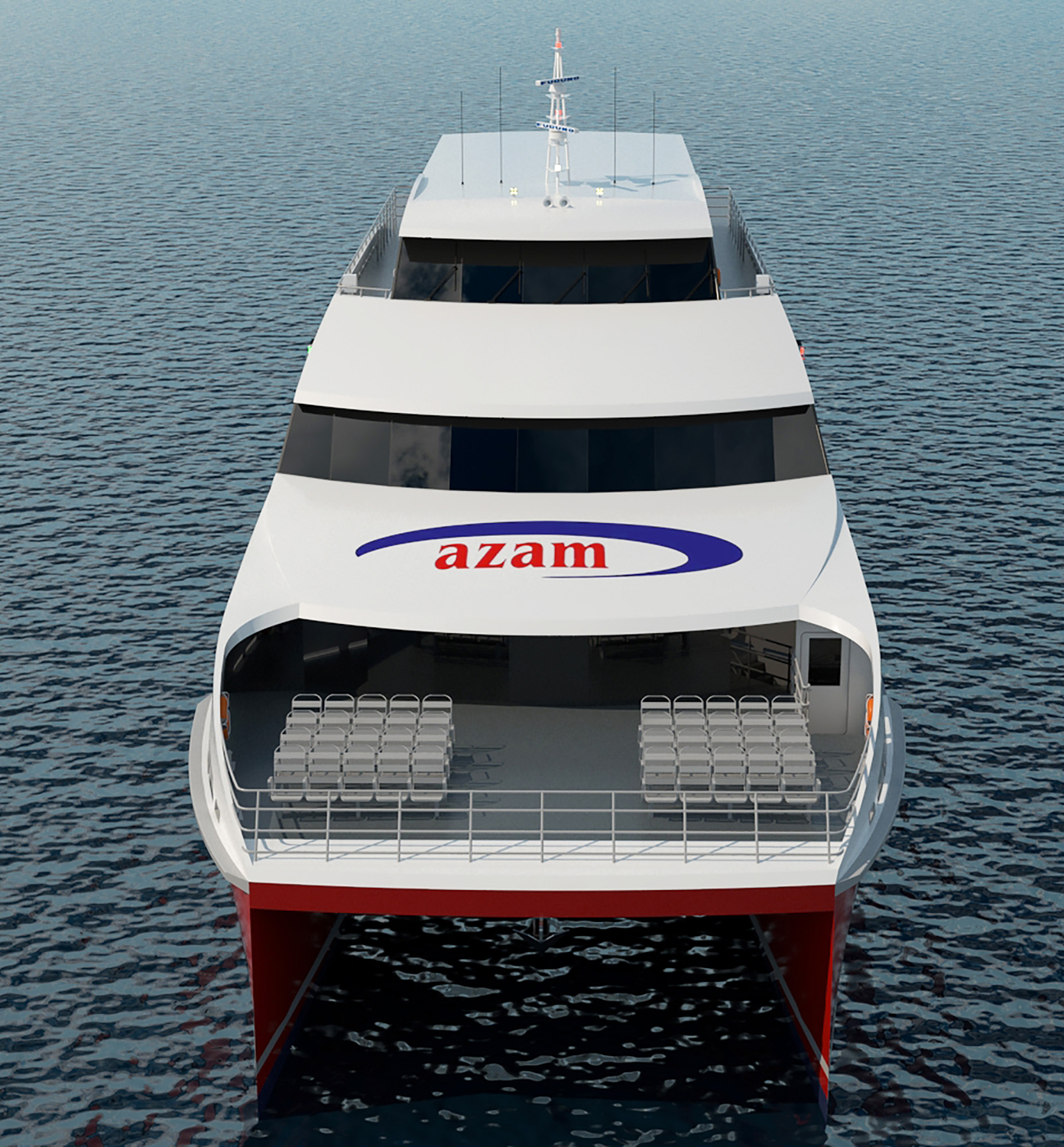 For ease in boarding and disembarkation of up to 500 passengers on three decks, the vessel is equipped with three hinged boarding ramps. An additional ramp will be used by the crew to discharge passenger baggage, from a separate onboard baggage room, for pick-up in the terminal.
A pair of Cummins 6CTA-powered 136 kWE generators will meet the Kilimanjaro VII's electrical needs. Tankage for fuel is provided in two 7500-liter fuel tanks and two 2000-liter day tanks. Additional tankage is provided for 1500 liters of water.
Early voyagers brought maritime technology to the island of Zanzibar on trading dhows. Today state-of-the-art maritime technology, in the Kilimanjaro fleet, is bringing international visitors and tourists to the stunning beaches and culture of these islands off Tanzania.
Renderings courtesy of Incat Crowther
For further information:
Sam Jones
Sales Executive – Industrial, Marine and Automotive
Cummins Engines,
191-195 Boundary Road
Laverton North
Victoria 3026
Australia
Phone: 61 3 8368 0800
Fax: 61 3 8368 0888
Mobile: 61 417 574 144
E-mail: [email protected]
Azam Marine
P.O.Box 2517
Dar Es Salaam
Tanzania
Phone: 255 22 2123324
Richardson Devine Marine
20-22 Negara Cres,
Goodwood TAS 7010
Australia
INCAT CROWTHER
Unit 15/9 Narabang Way,
Belrose NSW 2085
Australia