Jemison Builds Sterling Marine-Design Trawler
Cummins Vessel Reference #684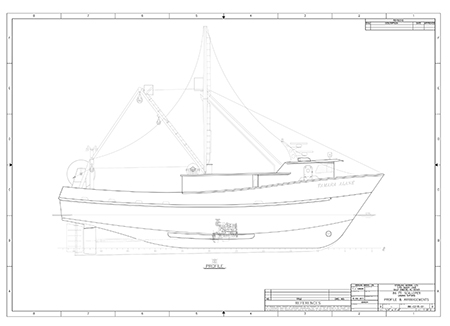 There were keels laid for several fishing boats in US yards over the summer. With the Cummins main engine installed and work well underway on building the house in early December, Jemison Marine of Bayou LaBatre is looking to a mid-April 2013 launch for their latest vessel. This will be an 86 by 24-foot scalloper. The vessel is being built for a northeast US client to a design by Travis Carver of Sterling Marine Ltd.
The new 86 by 24 foot vessel with a 12-foot molded depth is being built at Jemison Marine in Bayou LaBatre Alabama. Main propulsion for the new vessel will be a Cummins QSK19-M engine producing 600 HP at 1800 RPM. The engine will turn a 5.5-inch shaft to a 73.25 X 74-inch propeller in a nozzle.
General Arrangements
The main deck house will include a separate galley and mess with heads and showers for the crew. Accommodation will be provided with a single cabin, a four-person cabin and an additional six bunks in the fo'c'sle. The elevated bridge deck includes a skipper's cabin. Between the wheelhouse door and the end of the main deck house, wings extend to the bulwarks to create a shelter deck that continues for several feet past the end of the deckhouse. This provides a large covered area with three shucking stations.
The winch controls are also located aft in the shelter deck with a pair of Pullmaster winches mounted on the deck above. This gives the warp lines a straight line aft to the gallows-mounted blocks over the net drum.
Profile and Arrangements courtesy of Sterling Marine
For further information:
Tim Jemison
Jemison Marine
9315 Little River Rd.
Bayou LaBatre, AL 36500
Phone: 251 824 7878
E-mail: [email protected]
Larry E. Neff
Marine Territory Sales Manager
1924 East I-65 Service Rd. North
AL36617
Phone: 251 706 2754
Travis Carver
Sterling Marine Ltd.
1150 Shady Lane
Gulf Breeze, FL 32563
Phone: 850 916 0002
E-mail: [email protected]