Hy-Line Cruises powers high-speed passenger ferry with Cummins engines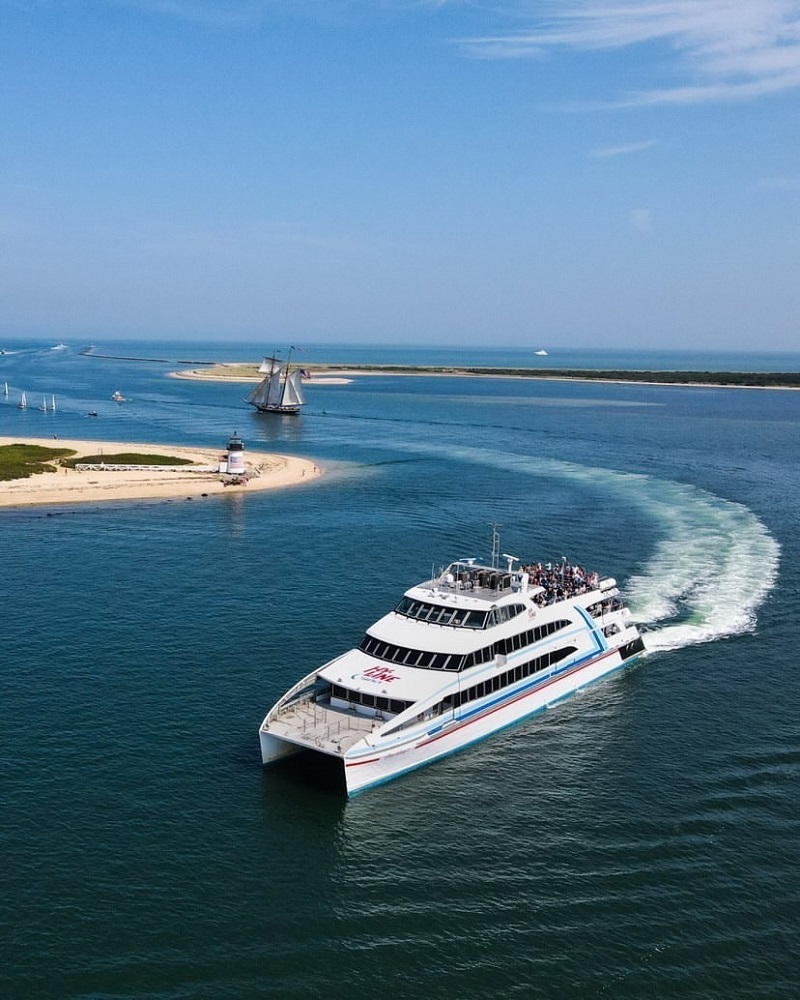 High-speed ferries need powerful engines day-in and day-out
With high-transit networks converging on both sides, ferries built for high-speed travel must be well-built, stout and powerful.
As a super volume commuter service for tourism operations, the vessel layout, speed, seakeeping ability and interior must be optimized for the mission.
Such is the case of M/V Grey Lady IV, a 151-foot aluminum catamaran ferry built by Gladding-Hearn Shipbuilding in 2016. Operated by Hy-Line Cruises, she plies the waters of Nantucket Sound throughout the year.
With a capacity of nearly 500 passengers, Grey Lady IV navigates six round trips daily between the mainland Hyannis and Nantucket Islands. Concentrated on customer service and amenities, Grey Lady IV cuts traditional travel time to the islands in half, accomplishing the 22-mile route in an hour.

Passenger vessel spec'd with Cummins KTA50 and QSK60 engines to achieve 30 knots
Cruising at 30 knots, this passenger vessel was spec'd by the builder with four Cummins KTA50's . Hy-Line counts on Cummins, choosing to repower her with Cummins QSK60's, designed to withstand New England's weather and challenging conditions.
QSK60 engines are engineered for commercial marine operators requiring strong, dependable, workhorses. With improved idle stability and reduced noise and vibration resulting from Cummins Modular Common Rail fuel system, the QSK60 is a platform for future emissions in the United States and the world, with in-cylinder technology meeting IMO Tier 2/3 standards.

Cummins' service network keeps Hy-Line Cruises moving
The Cummins comprehensive one-year warranty backed by a global service network matters to commercial operators like Hy-Line Cruises. While cruise cancellations are expected based upon wind and sea conditions, mechanical issues must be minimized for working vessels in continuous operation.
"Cummins met the horsepower/performance specification for the original design and application," said Dick Moore, maintenance manager for Hy-Line Cruises. "Overall, we had good prior experience with Cummins on other vessels," he said, adding "Cummins dependability, service and parts availability has been the best of all the engine manufacturers we use."

Specifications for M/V Grey Lady IV
| | |
| --- | --- |
| Builder | Gladding-Hearn Shipbuilding |
| Operator | Hy-Line Cruises |
| LOA | 151.4' |
| Construction | Aluminum |
| Draft | 7' |
| Beam | 34.33' |
| Speed | 30K |
| Power | (4) KTA-50 Cummins |
| Repower | (2) KTA-70 Cummins |
| Total hp | 8800 |
| Passenger Cap | 493 |