Henriques Yachts builds maneuverable, canyon-capable fishing machines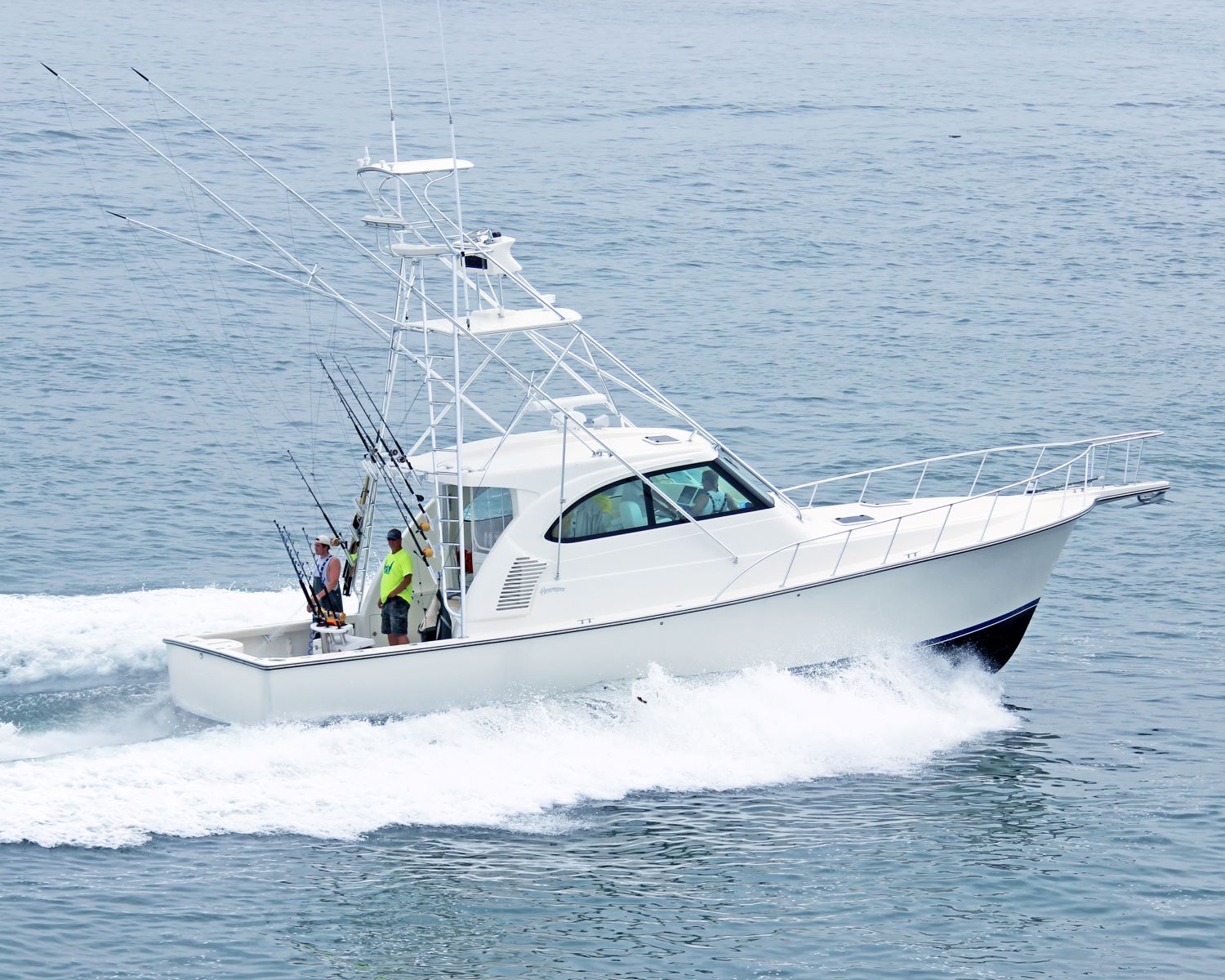 Custom built for offshore tournaments
With large cockpits and custom configurations, Henriques Yachts produces canyon-capable fishing machines with the muscle and seakeeping capability of a real, rough-water boat. 
Capable of venturing out safely in the chop over 100 miles to reel in a big trophy tournament fish, the strong and solid Henriques hull is strategically designed to endure harsh weather conditions at sea. 
With a progressive and innovative approach creating an offshore class all its own, Henriques Yachts is not a production-line builder where customers simply order a boat from a dealer. Rather, the client works directly with the manufacturer from the beginning, stylizing their boat with form following function. Featuring hand-laid fiberglass construction, most customers watch the entire build process executing individual specifications for their custom vessel. 
"Combining aesthetics and functionality, we believe in constructing a product that is an armor shield for passengers," said Maria Henriques-DeMers, vice president. "Our hull is designed to keep you in control on the water. Each individual boat leaving our facility is made for a specific customer, original and unlike the one before."
Each individual boat leaving our facility is made for a specific customer, original and unlike the one before.
Henriques 35
With over 1,000 vessels to their credit since 1977, Henriques has built numerous body styles in each size range, including express, sportfish, hardtop and trawler.
About 120 vessels were built as the 35-foot express style. With a one-cabin stateroom forward, accommodating either a full berth or twin bunks with an ensuite head and fully-equipped galley, the convertible table/settee arrangement accommodates additional anglers without sacrificing comfort.
Featuring a huge, 100 square-foot cockpit with a walk though transom door, two 100-gallon insulated transom live wells to keep catch fresh, ample storage for rods and tackle and an optional cockpit freezer, the lift-up deck hatch provides easy engine access for maintenance with true walk-in access. 
Powering the Henriques 35 through challenging terrain is no mean task. It requires a reliable, proven engine in the marine industry, and twin Cummins QSB6.7 mains are the ideal fit for the job at hand.
"About 90-percent of the 35-foot Henriques vessels built over the last 20 years have Cummins engines," said Henriques-DeMers. "The hull design is derived from the time-proven soft, dry-riding 38-foot Henriques, which has won many top tournaments. With a solid ride, you're not afraid to go out 100 miles on our boat."
Specifications of Henriques 35 Express

Length Overall (without pulpit)
35'4" 
Length Overall (with pulpit)
38'3"
Overall Beam
13'
Displacement
21,000 lbs
Draft
42"
Fuel Capacity
365 gallons
Freshwater Capacity
65 gallons
Engines
Twin Cummins 425HP QSB6.7
Genset
Westerbeke
Henriques 42
With about 50 vessels built as a 42-foot boat, several versions of the custom one-offs became so popular with other boaters that Henriques now offer multiple models in this size, each customized for the individual boat owner.
The express base model comes as a hardtop enclosed with no canvas, and is also available as a hardtop with a flying bridge or sportfish version, in addition to a stripped-down charter version and a cruiser-trawler layout. 
The 42 layout provides two cabins and a convertible table for extra berths. Clean sight lines, a neat helm console to flush mount electronics and a front bench seat complement solid, beefy construction with a hand-laid, fiberglass hull below the water line. A huge foredeck and wide side decks accommodate anglers fighting fish. Sacrificing some interior space for easy fishability, the 42 still boasts beautiful amenities, with either a teak wood or ash interior and an attractive galley.
With over 1,000 vessels dotting the east coast of the Unites States from Maine to Florida, many Henriques yachts are located in Oregon, California, Texas and Hawaii. This is coupled with an ever-growing international fleet of private owners and charter fisherman in fishing hotspots like Costa Rica, Australia, England, Cape Verde and Kuwait – a testament to these quality, semi-custom fishing boats. Dependability is paramount, with the Cummins Onan network benefitting anglers worldwide who expect to fish without interruption.
"About 90-percent of our Henriques 42s have Cummins engines, 715 QSMs," said Maria Henriques-DeMers, adding, "All 40 of the 42-foot Henriques are outfitted with Cummins Onan generators."
Specifications of Henriques 42 Express

Length Overall (without pulpit)
42'
Overall Beam
13' 9"
Displacement
36,500 lbs
Draft
45"
Fuel Capacity
660 gallons
Freshwater Capacity
120 gallons
Engines
Twin Cummins 350HP QSM 715
Genset
Cummins Onan