Gulf of Mexico Crewboats Keep On Going
Cummins Vessel Reference #709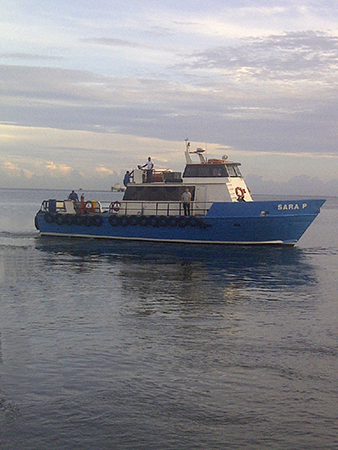 The Sarah P back in the water.
Shipyards along the coast of Louisiana have been turning out high-speed aluminum crew boats for several decades now. While ever larger and faster new vessels are being launched, many of the smaller older vessels continue to give good service in other waters.
Trinidad Mooring & Launch has a fleet of vessels providing a range of services including pilot transfers, chandlery, mooring, dive support, off shore transportation and seismic support. The firm recently arranged with local San Juan, Trinidad Cummins engine dealer FT Farfan, to have two of their vessels, the 65-foot Sara P and the 74-foot Mr. Bud, repowered with a pair of Cummins KTA19-M4 engines each. This was not a "like-for-like" repower so the old V-configuration two-stroke Detroit engines had to be removed along with their gears, shafts, controls, and instrumentation.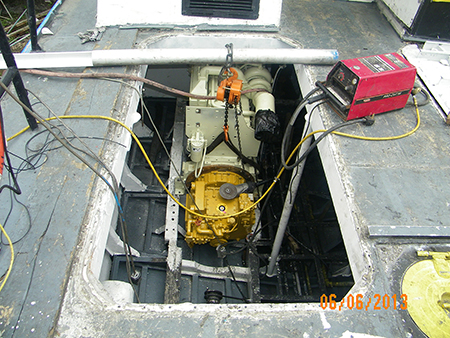 Fitting the port engine in the Sarah P.
The Sarah P, built in 1965at Swift Ships in Morgan City, Louisiana, was the first of the two vessels to be repowered. She had been refurbished in 2005 but now she would get new engines. Fitting the new in-line six-cylinder engines into the 18-foot wide aluminum hull of the Sara P was a collaborative effort of a team of skilled technicians together with the TML vessel engineer and Cummins Marine Applications engineer for FT Farfan – Andre Khan.
As MAE, Khan guided the team to ensure that the engine installation was performed in accordance with the Cummins Marine Installation Review. Although space within the vessel's hull was very limited; temperatures inside the hull in the tropical environment were hot and humid, the team persevered, installing both engines in a little less than 3 weeks.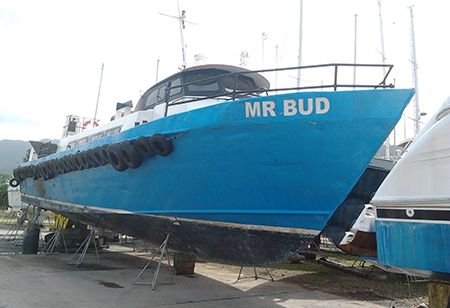 Mr. Bud on the hard.
The team experienced challenges in physically fitting the two in-line 6-cyliner Cummins KTA19M4 engine into the hull with its 5.5-foot molded depth. After the engines were fully installed all piping for fuel, cooling & exhaust was routed and resized accordingly.
On the 74-foot Mr. Bud, built in 1973 and refurbished in 2008, the experience was similar, although each vessel is unique and no two installations are the same. In addition to the new engines the Mr. Bud was virtually rebuilt. The customer had several issues which delayed the completion of the install however the sea trial proved not only the expertise of the FT Farfan technicians and MAE but the power and reliability of these Cummins KTA19-M4 engines delivering 700 HP each to 36×36-inch props through ZF BW1900 gears with 2.5:1 ratios.
With the new engines and a general refurbishment the pair of crew boats can be expected to deliver many more years of dependable service.
Photos courtesy of FT Farfan Ltd.
For further information:
Amanda Ayoung-Mc Kenzie
Marketing Manager – Industrial Group
FT Farfan Ltd.
3 – 5 Ibis Avenue, Ibis Acres
San Juan, Trinidad
E-mail: [email protected]
Web: www.ftfarfan.com
Tel: 868 638 4784 | 674 7896
Cell: 868 744 2799
Fax: 868 674 7695