Guangdong Bonny Fair Heavy Industry Ltd.
Cummins Vessel Reference #760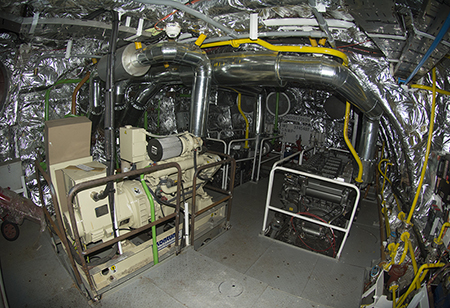 Cummins genset in one of the FastCat hulls.
With an array of about 20 boats building, in assembly line like manner, the Guangdong Bonny Fair Heavy Industry shipyard (formerly known as Guangdong New China Shipyard) is a model of efficiency. Three impressive ferries are fitting out alongside. Designed by the Australian firm Sea Transport Solutions, the 50 by 17.5-meter catamarans are each powered by four 485 kW diesels with two in each hull. A pair of Cummins 6BT 5.9-liter diesels powering a 55 kW generator in each hull meet electric needs.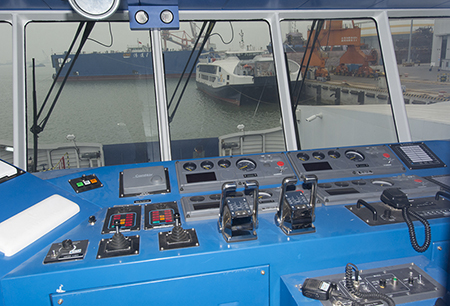 One of the ferries fitting out as seen from the bridge of a sistership.
Shortly to be delivered to owners in Batangas, Philippines, the three ferries, part of a ten-vessel order, are designated FastCat M7, M8 and M10. Capacities include 275 passengers, 16 crew and 130 meters of vehicle lanes. They all bear the common logo of a Cat and the proud designation: "Fast Cat: FerrySafe, FerryFast, Ferry Convenient. "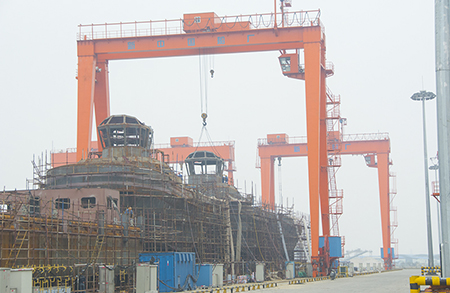 One of the two assembly lines.
The yard builds its efficiency on a large area with overhead cranes for construction of modules. In another area, three railway lines with overhead cranes allow step by stem assembly of the modules. These rails continue onto at a floating dry dock that can be shifted from one line to the other as required. This highly efficient dry dock is 89.8 meters long with a beam of 34 meters and a 27-meter clearance between the walls.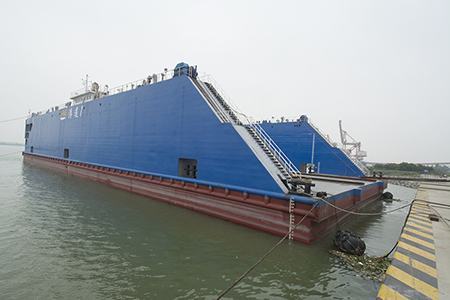 The Cummins-powered drydock contributes to the yards efficiency
The efficient operation of this dry dock and its ease of pumping out is dependent on a pair of Cummins NT855 powered 245 kW generators. The Guangdong Bonny Fair shipyard is designed not only for efficiency but also to support ever more sophisticated vessels.
Haig-Brown photos courtesy of Cummins Marine
For further information:
Huang Hai Bo
Customs Affairs Director
Guangdong Bonny Fair Heavy Industry Ltd.
The north of Xiaohu Island, Huangge Town
Nansha District, Guangdong, China.
Mobile: 136 6020 6585
E-mail: [email protected]
Archipelago Philippine Ferries Corp.
Unit 5B, 5th Floor
Unioil Center Bldg.,
Commerce Avenue,
Business Park, Alabang,
Muntinlupa City, 1780
Philippines,
Phone: 632 842 9341/42
Web: http://fastcat.com.ph/index.html
Weney Lee ???
Customer Support
Cummins Dealer
Yinpeng Group
No.5, Yihengxi Road,
Dongsha, Panyu,
Guangzhou,
Guangdong, China
Phone: 86 20 84872872
Mobile: 1371 940 5000
URL: www.yinpeng.com
E-mail: [email protected]
Linda Zhang
Manager: Southern China
Cummins Inc., East Asia Marine
Phone: 86 20 3998 2999
Mobile: 86 136 0004 0695
E-mail: [email protected]