Greek Ferry: Four Legs for Power
Cummins Vessel Reference #608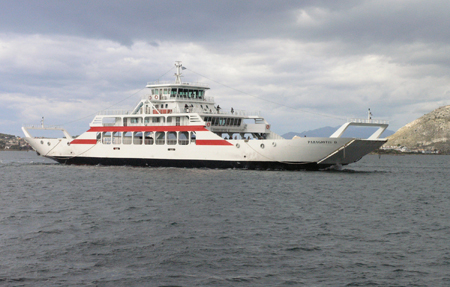 In the near future some marine passengers in Greece will be driving their cars aboard a handy size and handy maneuvering double-ender car ferry. The 88 by 17.6-meter vessel is undergoing final fitting out at the Sidironaftiki Epe-Atsalakis shipyard in Piraeus. The owners, Agios Athanasios A Shipping had the vessel designed by naval architect Nikos Petichakis.
Capacities include 130 cars on the main deck and 36 cars on a lower deck as well as 500 passengers. Tankage for fuel includes 65 tons with a 10-ton day tank in addition to 120 tons of water.
Propulsion for the ferry, named Panagiotis D, includes four Veth Z-Drive 400 (RR 4.1/1) drive "legs". Each leg is powered by a Cummins KTA19-M3 engine generating 600 BHP at 1800 RPM. The four Z-drives, mounted one in each corner of the vessel, carry 1250 m/m propellers for a design speed just over 14 knots.
For further information:
Mr. Spyros Athanasioy
Agios Athanasios A Shipping
Greece
Phone: 302 1046 51006
Sidironaftiki Epe-Atsalakis
38 Dimokratias Ave Str
Perama Pireaus, Greece
Phone: +302 1044 15921
Nikos Petichakis
Naval Architect
Sotiros 13-15
Pireaus
Phone: 302 1041 78152
Antonis Petridis
Sales Engineer Marine Engines
ERGOTRAK SA
Phone: 210 629 3482
E-mail: [email protected]