Cummins Vessel Reference #637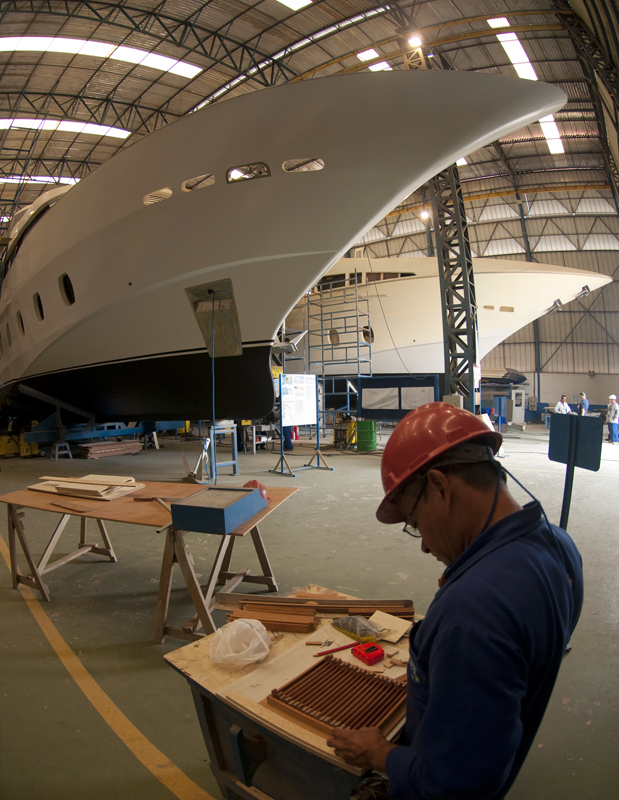 A craftsman and a yacht.
There are literally thousands of boats calling Manaus their homeport. The majority are tugs and ferries, but there is also a sizable number of pleasure boats. Then there are the serious yachts. It seems that those who can afford it like to get away from the city to cruise in the seemingly infinite river channels nearby.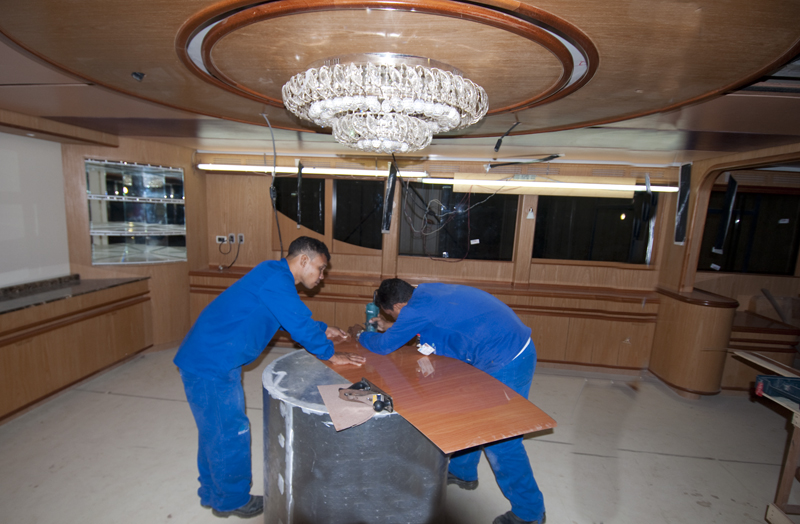 Finishing the grand salon.
One of the finest vessels currently under construction is for Irani Bertolini who owns an extensive transport network centered in Manaus. The M/Y Eugenio, is one of two large yachts currently being built at Bertolini's own Beconal Shipyard. Designed by Renato G. Carievatis, the 35 by 7.3-meter vessel will be fitted out as a base for sport fishing in the waters around the city. Some considerations that had to be included in the design are the nature of the three primary rivers that the boat will cruise, While the currents in the Rio Negro are usually less than two knots and those of the Solimões under four knots, the Rio Madeira can produce seven and eight knot currents.
As the owner of a fleet of towboats, Bertolini understands the need for adequate power to cope with river currents. Drawing on this knowledge he chose a pair of Cummins KTA19-M main engines each developing 700 HP at 1900 RPM. These engines will drive the aluminum boat through the water at 17 knots; more than enough to cope with the river currents. This much power will also get the big vessel into remote stretches of the Amazonian waterways. To safe guard the props in the event of shallow water encounters, Carievaris has incorporated a pair of heavy skegs ahead of the propellers while maintaining a draft of only 1.8 meters.
The interior design is equally well planned. Two crew cabins are incorporated in a space aft of the engine room. The main deck level includes a restaurant size galley for preparing the catch and a grand lounge for dinning on the days take. A huge owner's stateroom includes en-suite plumbing and the same luxurious wood paneling with Cedro wood trim that is used throughout the vessel. Four guest cabins are smaller but equally well appointed.
Above the well-equipped wheelhouse a flying bridge will be a great spot for lounging and watching the passing jungle. When finished the boat will be equipped with a small sport fishing boat and launching crane.
Haig-Brown photos courtesy of Cummins Marine
For further information on the vessel design:
Mr. Renato G. Carlevaris
Manaus, Brazil
E-mail: [email protected]
For further information on Cummins Marine in Brazil:
Waldemar Marchetti
Marine Business Manager
South America and Mexico
São Paulo, Brazil
Phone: 5511 2186 4778
E-mail: mailto:[email protected]
And for Cummins Marine in Manaus:
João M. N. Mendonça
Marine Business Manager
Powertech Comercial Ltda.
Av. Efigênio Sales, 1717-P.10
Manaus, Amazonas
69.060-020, Brazil
Phone: 55 92 2121 8000
Cell: 55 92 8116 5613
E-mail: [email protected]
Web: www.powertech-am.com.br