Cummins Vessel Reference #674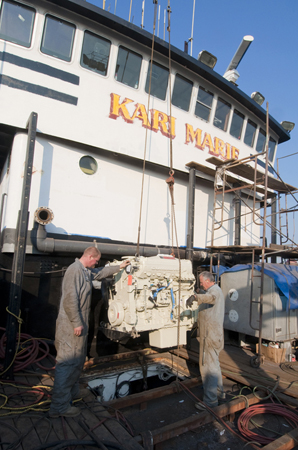 The second of two QSK19s is lowered into the crabber's hull.
We'll go from being the slowest boat in the fleet to one of the fastest," enthuses Bearing Sea crab fisherman Jon Forsythe. We were sitting at one of the mess room tables on the 123 x30-foot boat at on the drydock at Hansens Boat Company in Everett Washington, The second of two new engines had just been lowered into the hull.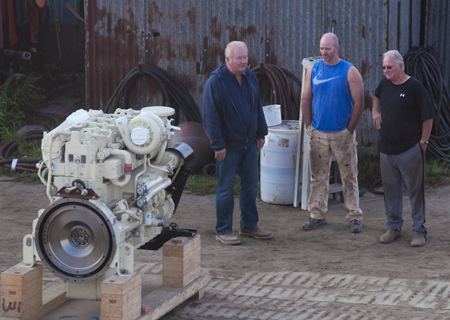 In this pic on the left is Gary Hansen, skpper & owner Jon Forsythe with Father-in-law partner Alf Forde.
With us was Jon's father-in-law and partner Alf Forde who had a career as a noted Ketchikan-based fisherman before switching to crab. Alf now manages the company's three boats. Travel time is important for Washington State based fishermen who make the long journey north to the Bering Sea each year. In addition to four months of crabbing, Jon takes his boat, the Kari Marie, tendering salmon from the gillnet fleet in Bristol Bay Alaska on the east coast of the Bering Sea for a month each summer. From there he relocates down through the Aleutian Islands and on down to Southeast Alaskan to tender more salmon for the seiners in that area. "With the old Detroit 12/71s, it would take us ten days from Bristol Bay to Southeast," Jon explained, "With these two Cummins QSK19s, each making 660 hp, we will be able to make the trip in six or seven days.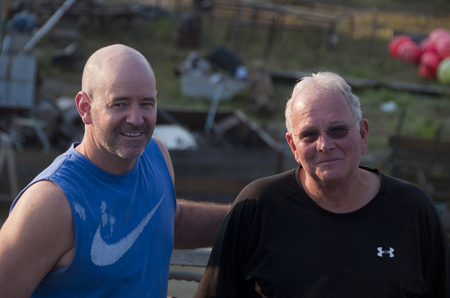 Jon Forsythe with Father-in-Law Alf Forde
It is not only speed that Jon is looking forward to with the new electronically controlled Tier 2 engines. There will be fuel savings as well. The repower involved a lot more than the usual engine bed modifications. The more powerful engines required a 5-inch by 18-foot shafts, The engineers at Hansen's designed new stern tubes and installed them so that the largest possible propellers could be fitted. "We went from 58-inch 3-blade bronze props to 66-inch four blade stainless," Jon said.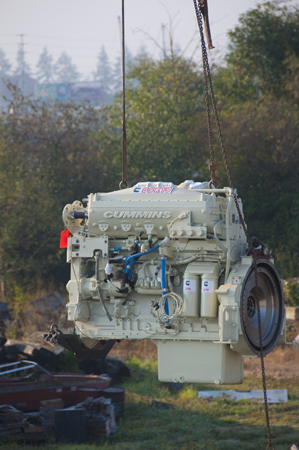 A new Cummins QSK19-M ready for work.
The W2450 marine gears with 5:1 reduction were supplied by ZF who also have fitted shaft brakes. The shaft brakes are a significant improvement. "We do a lot of maneuvering and this allows me to shift more quickly from ahead to astern" said Jon, "In Bristol Bay it can be difficult to avoid gillnets and this will allow me to stop the props faster if we run over one."
As the engines were being installed the Kari Marie was getting a full overhaul from the crew at Hansen Boat Company with new paint and various upgrades. Built at Charleston Oregon by Giddings Shipyard in 1980 the crabber is part of the Forde-family three-boat fleet that includes the Kirsten Marie and the Royal Pacific in addition to the refurbished Kari Marie.
For further information:
Gary W. Hansen
President
Hansen Boat Company
4124 34th Ave. NE
Everett, WA 98201
E-mail: [email protected]
Jon Forsythe
Capt. Of the Kari Marie
E-mail: [email protected]
Tony Thomas
Marine Regional Sales Manager
Cummins Northwest, LLC
811 SW Grady Way
Renton, WA 98057 2944
E-mail: [email protected]