An Efficent Addition to a Strong Fleet
Cummins Vessel Reference #743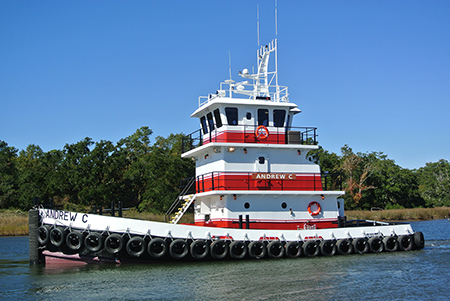 Andrew C ready for work in coastal waters.
Cvitanovic towing of Belle Chasse, Louisiana has taken delivery of a fourth vessel for their fleet of highly efficient Lugger-style tugs. Built by Rodriguez Shipyard, Inc. in Bayou LaBatre, Alabama, the 65 by 26-foot, Andrew C, is slightly smaller than the 67.5 by 26-foot Pere C (2011) and George C (2012). Cummins QSK19-M mains power the two larger vessels. The smaller size permitted the Andrew C to take advantage of a pair of Cummins 355 HP QSM11-M main engines for a total of 710 HP. The sturdy engines deliver their propulsion power to Kahlenberg 51×49-inch four-blade propellers through ZF 325 gears with 2.95:1 ratios.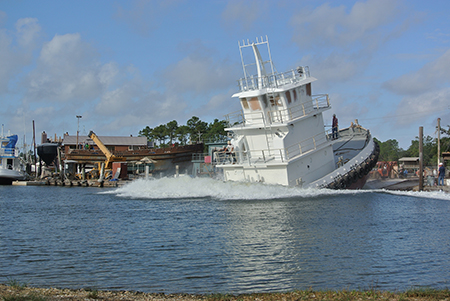 Launch of the Andrew C at Rodriguez Shipbuilding yard.
To service rigs in the extensive delta area of the Mississippi River, the tug is designed with a 5.5-foot shallow-draft. At the same time it has capacities for 10,600 US gallons of fuel oil and 24,300 gallons of water. For cargo transfer there is a Veeder Root discharge meter. A 400 square foot deck space allows for transport of smaller pieces of equipment.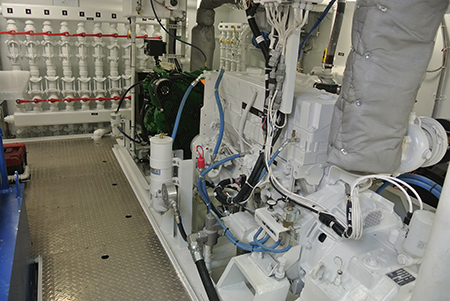 One of the pair of Cummins QSK11-M mains in the Andrew C.
On the company web page, the Cvitanovic family, proudly declare that they serve Plaquemines Parish and coastal Louisiana from the Venice Port Complex just up river from the Head of the Passes. With the addition of the Andrew C to the fleet they have expanded the efficiency of operations.
Photos courtesy of Rodriguez Boat Builders
For further information:
Stan Cvitanovic.
Cvitanovic Towing, LLC.
130 Woodchase St.
Belle Chasse, La. 70037
Phone: 504 460 8165
E-mail: [email protected]
Web: http://www.cvitanovictowing.com/AndrewC/
Joseph Rodriguez Rodriguez Shipbuilding, Inc.
14843 Alba Avenue.
Coden, AL 36523.
Phone: 251 824 4067
E-mail: [email protected]