Cummins Vessel Reference #652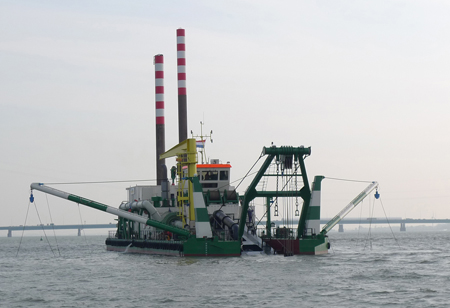 IHC Beaver 7522 discharges via a 750 mm diameter pipeline and works to depths of 22 meters.This 66.3 by 14-meter dredge, the Imai Delima, was delivered to Inai Kiara Sdn Bhd in 2008.
To call IHC Merwede a global manufacturer of dredges would be an understatement. With decades of research and development behind them the Netherlands-based firm is a global presence in the manufacture of dredges. They are well known for their innovation and quality leadership in their market. Their dredges are to be seen working whereever there is a need to deepen water depths. The firm has over 3,000 employees worldwide including: The Netherlands, China, Croatia, France, Nigeria, Serbia, the Middle East, Indian, Singapore, South Africa, Slovakia, the UK and the United States.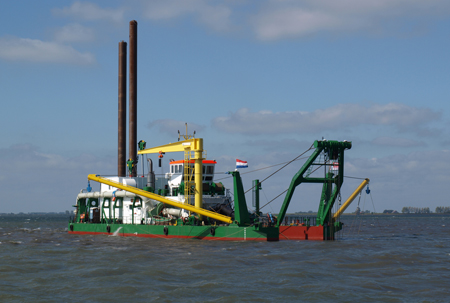 Beaver 7525 also discharges via a 750 mm pipeline but works to 25-meter depths. The 71.5 by 14-meter Shanti Sagar X was delivered to PMC Projects (India) Pvt. Ltd. in 2010.
The launch of one of the huge trailing suction hopper dredges always gains public attention. But it is the countless cutter suction dredges that keep the world's waterways navigable over time. These ubiquitous floating dredges, often with a discharge pipe for sending sand and dredgate to shore-side storage, serve a primary role in harbour maintenance.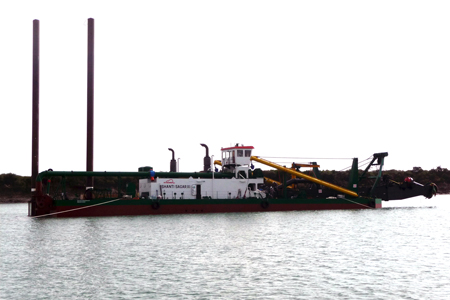 Beaver 6522 discharges via a 65 mm pipe and works to 22 meter depths. This dredge was built and delivered to an Indian dredging contractor in 2009.
The IHC Beaver® range of dredgers have been particularly successful in applications worldwide. Models range from those capable of dredging up to six meters to those that can work depths up to 29 meters. As with their design, the numbered name designations for the various Beaver dredgers is strait forward. For example, the dredge carrying the type designation Beaver® 7522, has a delivery pipeline with a 750 mm diameter, The final two digits, 22, designate the depth in meters to which the dredge can work. Dredgers fitted with cutter heads have a "c" designation.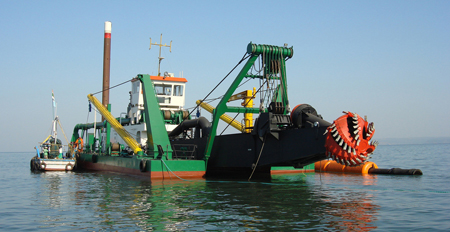 Several Beaver 6518 dredges were delivered to owners in Brazil, India and the UAE.
A number of the larger size Beaver® dredgers, working depths of 18 to 25 meters, feature Cummins QSK60 main engines delivering 1641 kW @ 1860 RPM. Auxiliary generator power is provided by Cummins QSM11-D or Cummings KTA38 (D)M1 on the dredgers illustrated here. All dredgers illustrated here were designed and built in the Netherlands by IHC Beaver Dredgers.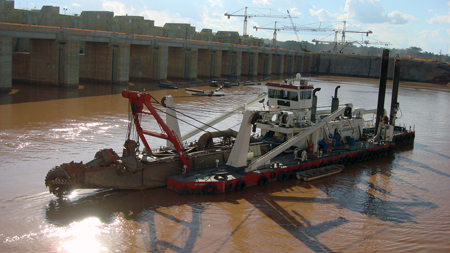 Beaver 6518c
All photos courtesy of IHC Beaver Dredgers B.V.
Sergio Ooijens
Marketing Manager
HC Beaver Dredgers B.V.
P.O. Box 3, 3360 AA Sliedrecht
Molendijk 94, 3361 EP Sliedrecht
Mobile: 31 6 24 24 32 37
Email: [email protected]
Web: www.ihcbeaverdredgers.com
Sjoerd Spronck
Advertisement & Promotion
Scandinavia & Benelux
Cummins Holland B.V.
Olivijn 800, 3316 KH Dordrecht
Postbus 520, 3300 AM Dordrecht
Tel: 31 0 78 618 12 00
Fax: 31 0 78 617 65 79