The Dordrecht Fleet Continues Growth
Cummins Vessel Reference #616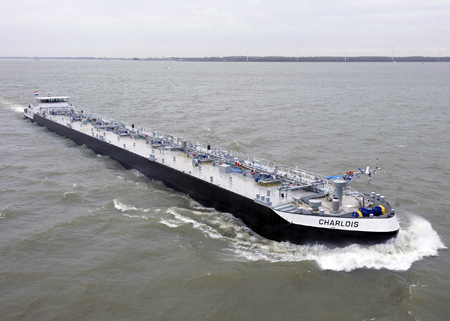 The Dutch town of Dordrecht was granted city rights in 1220 as its importance as a trading port continued to grow. Goods from the Dutch empire were transferred to river vessels here and the city grew wealthy. Later, much of the deep-sea trade moved to the nearby port of Rotterdam which resulted in heavy bombing during World War II with the destruction of many historical buildings. Spared such destruction, Dordrecht continues to have many fine buildings dating from the prosperous centuries.
Today the city retains an important role as a base for river trading companies and as a home for many of the inland vessel's crews. It is also the location of the De Groot Scheepstechniek. This shipyard recently delivered one of their typically high quality tank vessels to the Dordrecht-based Trendco Shipping Company who will operate the ship for her owners Charlois Shipping CV.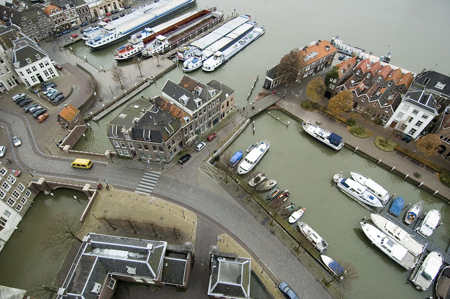 Part of the Dordrecht waterfront.
The new tanker vessel, MTS Charlois, named for an area of Rotterdam Harbour, is 135 by 11.5-meters with a load capacity of 4300 tons in 5000 cubic meters of hold space. Capable of transporting a variety of petroleum based cargos, the tanker also has the capability to blend cargos onboard through a single pipe system. Heavy oils can be kept at 80 degrees Celsius to facilitate pumping. The ship's double-skinned hull earns it a Type C (Chemical) rating permitting it to transport dangerous liquids throughout the European Inland Waterway system.
The ship's hull was built in Guangzhou China through a partnership involving Csaintly Marine Corp. Ltd. and Oosse Maritiem. The hull was transported to the Netherlands by barge and then completed at the De Groot yard. The De Groot Shipyard is also a Cummins Marine Dealer and a full suite of Cummins engines were installed in the vessel. Main propulsion is a pair of Cummins QSK38-M diesels generating 1400 HP ( 1044 kW) each at 1800 RPM. A Cummins QSK19-M does dual duty as a bow-thruster and cargo pump engine. The MTS Charlois has three Cummins-powered generator sets including a QSB6.7, a QSB4.5 and a 4BT3.9 model. In each designation, the numbers refer to liters of displacement.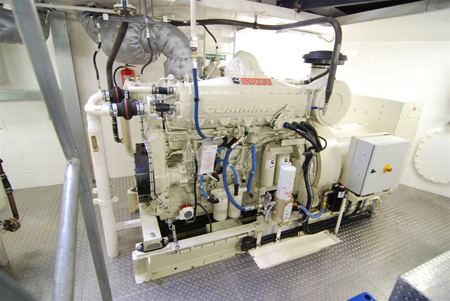 The QSK19M-powered generator for the bowthruster and cargo pump.
From time to time, when in the area, vessels of the Trendco fleet moor along the river wall in front of the company offices at Merwekade 77 in Dordrecht. In doing so the MTS Charlois will be continuing a centuries old tradition by which ships have brought prosperity to this river city.
For further information:
De Groot Scheepstechniek BV
Grevelingenweg 23
3313 LB Dordrecht
Tel: 078 6165599
E-mail: [email protected]
Trendco BV
Merwekade 77
3311 TH Dordrecht