DongGuan Nanxiang Shipbuilding
Cummins Vessel Reference #758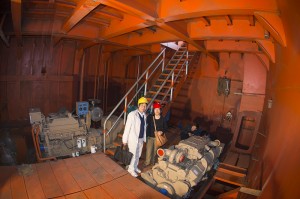 Liang Zhong De, Deputy General Manager, Guang Zhou Shun Fung Engineering Ltd. with Cummins' Southern Manager Linda Zhang, in the starboard side engine room of the crane barge. The KTA19-DM gen set is to the left and the KT38-M propulsion engine is to the right.
Chairman Zhu Fu Lin welcomes guests with excellent fresh brewed local tea and explains the range of work at the DongGuan Nanxiang shipyard. From a large fishing boat building for a Hong Kong customer to a variety of heavy lifting crane-vessels of various sizes for a range of customers.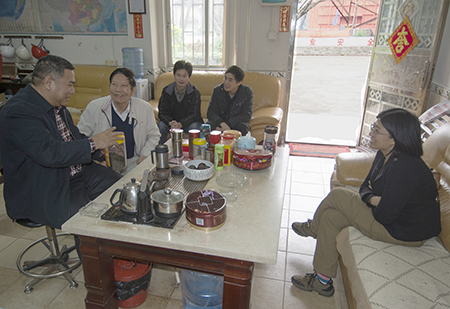 DongGuan Nanxiang Shipbuilding's Chairman Zhu Fu Lin prepares tea for Linda Zang, Cummins' South China Manager.
Although not the largest, the 400-ton capacity 62.2 by 26.2-meter crane barge that the yard had under construction in mid-March was a good representation. A pair of Cummins KT38 mains, generating 780 KW each, powers the 4.8-meter deep barge. The two main engines are located in separate port and starboard engine rooms. Each engine room also has a Cummins KTA19 powered 350 KW generator. This significant electrical power is required to run the electric and hydraulic systems for the three-drum winch and pedestal-mounted crane. A smaller hotel generator is provided for that deckhouse and running lights.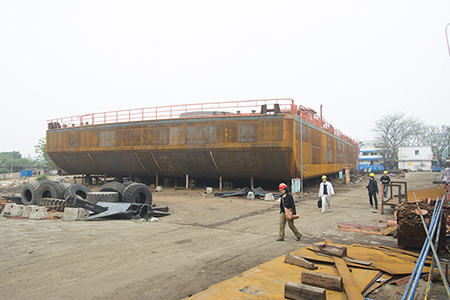 A view of the 26-meter wide bow of the crane barge.
Accommodation is provided in the aft-mounted deckhouse for a crew of up to 20 in eight, two-person staterooms and two, two-person rooms. Designed and built in China for a domestic China customer, the crane barge is a reminder of the importance of the domestic market to Guangdong Province's shipyards. Delivery is anticipated for later this year.
For further information:
Zhu Fu Lin
Chairman
DongGuan Nanxiang Shipbuilding Company Ltd.
Wei Yuan Island Human
DongGuan City
Post: 523909
Phone: 0769 8552 2783
Mobile: 1390 238 4512
E-mail: [email protected]
Linda Zhang
Manager: Southern China
Cummins Inc., East Asia Marine
Phone: 86 20 3998 2999
Mobile: 86 136 0004 0695
E-mail: [email protected]