Dann Marine's Sea Coast Repowers With Tier 3 Engines
Cummins Vessel Reference #739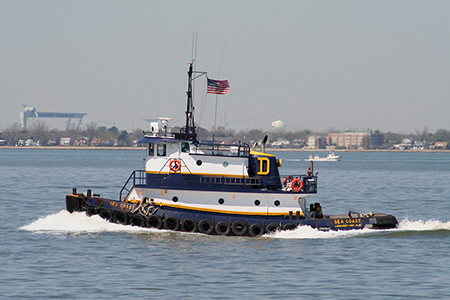 Dann Marine Towing, LC., is a fifth generation family owned and operated tugboat company based in Chesapeake City, MD. The model-bow twin-screw tug Sea Coast was built at Rayco Shipbuilders in 1980 and is one of Dann Marine's 18-tug fleet. She is 65 feet overall with a 24-foot beam and an 8.9-foot draft. She carries 16,000 gallon fuel and 5,000 gallons of water.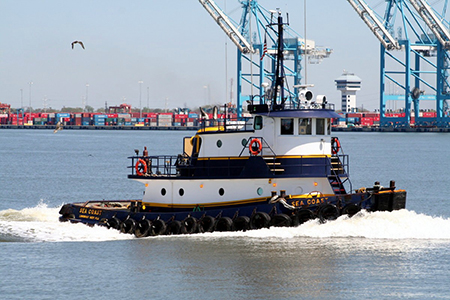 One of many versatile tugs working in US waters of this class, she is registered for Coastwide Unrestricted. She can operate in push-mode with a pair of 20-ton Nabrico deck winches, each loaded with 110 feet of one-inch cable. She can also tow and has a Markey TTC-18 towing winch fitted with 1000 feet of one-inch cable.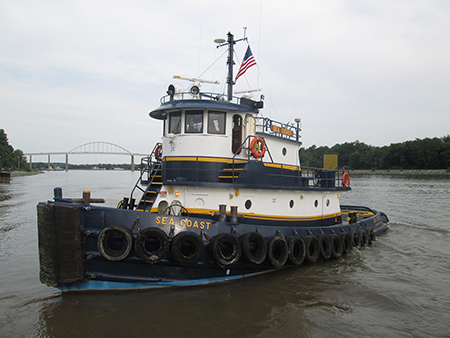 Until recently she was powered by a pair of 700-HP Cats turning into ZF TF4587 gears with 6.458:1 reduction. This May she has undergone a repower with the Cats out and a pair of Tier 3 compliant Cummins QSK19-Ms installed. These modern six-cylinder engines each produce 750 HP at 1800 RPM with a continuous-duty rating. The boat also got new gears with a pair of Reintjes WAF374 having 6.417:1 reduction. The same four-blade 63×76-inch stainless steel Rice propellers were maintained.
Photos courtesy of Dann Marine
For more information:
Richard Sutton
Marine Territory Manager
Cummins Power Systems LLC
106 Wells Cove Rd.
Grasonville, Md. 21638
Phone: 410 690 3612
Mobile: 443 690 2986
Fax: 410 590 8731
E-mail: [email protected]
Christopher Dann
Dann Marine Towing
299 Boat Yard Rd.
Chesapeak City, MD 21915
USA
Phone: 410 885 5055
E-mail: [email protected]