Cummins QSB's power high-performance, commercial jetboat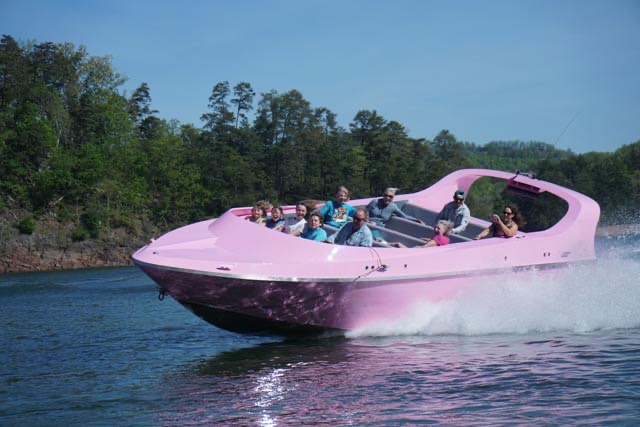 "The QSB6.7's are tried, true and exceptionally reliable. There is extra strain on a high-speed vessel... That's why we use Cummins. Their marination is simply better."

- Nick Williams of SMJB
---
Thrills and water adventures
Smoking hot! Powered by twin 350HP Cummins QSB6.7's with 274 Hamilton Jets, this Subchapter-T passenger vessel for Miami WaterSports is built to fly, spinning excited cruisers through Key Biscayne and the Atlantic Ocean. A work of welding art with 11 rolls of aluminum wire, this sleek 30-foot jetboat is built by Smoky Mountain Jetboat Builders (SMJB) in Bryson City, NC. 
With a 15° hull dead rise, the Smoky Mountain Jetboat carries 25 passengers and is USCG-certified for limited coastwise conditions. Quick to plane, this jet boat performs safely in a variety of shallow conditions, requiring about eight inches draft for shallow waters. Excelling in lakes and rivers, the hull's seakeeping characteristics perform in waves with a signature Hamilton-spin maneuver which rotates the boat 360° on its axis, throwing a head-high wall of water into the air. 
The Hamilton turn or jet spin, high-speed maneuver cuts the boat's engine throttle while turning the steering sharply, and then reopening the throttle, causing the boat to spin around quickly with a large spray. Unlike a powerboat with an external propeller in the water below or behind the boat, a jetboat draws the water from under the boat through an intake and into a pump-jet inside the boat, before expelling it through a nozzle at the stern. Exciting right-angle turns at accelerated speeds, a jetboat is propelled by a jet of water ejected from the back of the craft.
Originally designed by Sir William Hamilton in 1954 to run up fast-flowing rivers in New Zealand deemed too shallow for propellers, this jetboat is also designed by a New Zealand-based firm, Hall Mariner Design, which provides engineering for SMJB's commercial jet boat fleet, ensuring maximum safety during a breathtaking ride.
A maneuverable, clean, dependable power package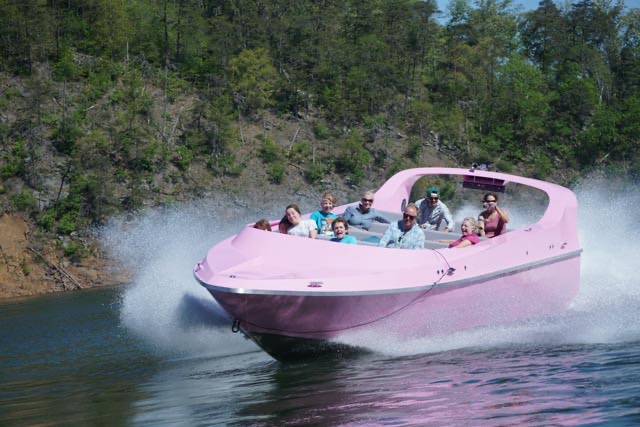 Exceptionally strong in welded, corrosion-resistant aluminum, this one-off, custom-built boat is stylized with curves and powered with the best combination of jets and engines.
"Using the industry standard Hamilton Jet, we couple with either a diesel or gas motor - and have had fabulous performance with Cummins proven reliability," said Nick Williams, owner of SMJB. 
"Adhering to the highest EPA and carbon emission standards, we continually update systems to maintain efficient, clean-running crafts complying with all environmental regulations," he said, adding, "Reliability is paramount and we've had no issues with boats with Cummins engines. "Cummins is the most reliable of the engines with great service networks."
As a passenger for hire vessel on navigable waters of the United States, SMJB is regulated as a Small Passenger Vessel, subject to rigorous inspection and approval during and after construction by the Marine Safety Center and United States Coast Guard, built to ABS (American Bureau of Shipping) standards.
"This it is not about speed, but maneuverability," said Williams, adding, "What our boat can do just makes the Coast Guard's head explode. These top-speed, light boats are 30-feet long, cruising 30 knots and designed to do a flat, Hamilton-spin at 40 knots. The front is a like roller-coaster and the back is smooth. We're a wet ride and use the right equipment and assembly to shield the connections." 
Having built about 25 commercial jet boats now operating around the world from Cancun to China and Hawaii to Miami, Nick Williams counts on Cummins. 
"The QSB6.7's are tried, true and exceptionally reliable," said Williams. "There is extra strain on a high-speed vessel. Everything has a cost, not just the boat itself. There is a maintenance cost to keep it running and operational: That's why we use Cummins. Their marination is simply better."
Specifications

LOA
30'
Deadrise
15°
Draft
4"
Capacity
23 + 2
Beam
10'6"
Top Speed
40K
Cruising Speed
30K
Weight Light
8,000 lbs
Weight Heavy
12,500 lbs
Engines

Twin Cummins QSB6.7 350HP

Hamilton Jet HJ241 WaterJet Turbo Impeller