Cummins Power Generation delivers critical protection power for Digital Realty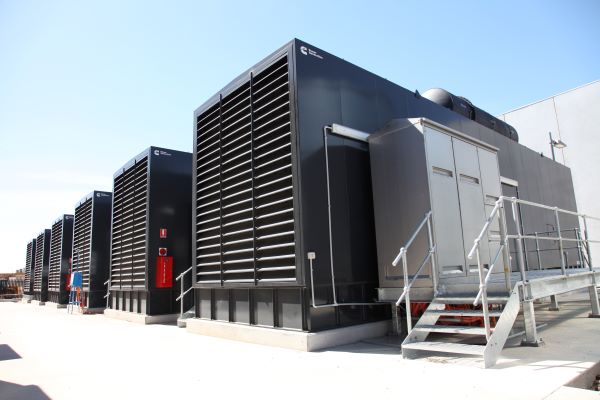 | | |
| --- | --- |
| Challenge:  | To install a reliable critical protection power system for Digital Realty to meet stringent Tier 3 certification requirements, as defined by Uptime Institute. |
| Solution: | Cummins Power Generation delivered six roof mounted C2250D5 diesel generator sets powered by QSK60-G4 engines, together with custom-built acoustic enclosures and fuel systems to provide 9.6 MW of reliable prime power. |
| Result: | Cummins Power Generation was able to provide a complete power system that conformed to the industry's highest standards of design consistency, manufacturing process control and field reliability in addition to meeting timelines and budget. |
Erskine Park is the first data center in Australia owned and operated by Digital Realty, the world's largest data center provider and wholesaler. Digital Realty currently operates more than 110 data centers in 32 markets around the world, including a second Australia-based data center in Melbourne. Through the company's 'Turn-Key Flex' technology, customers are able to lease fully-equipped electrical and mechanical data centers that are move-in-ready. 
A data center's massed racks of servers draw significant power whilst also generating a lot of heat, placing considerable demand on power supply and air conditioning systems. Emergency standby power is thus critical to ensure integrity and functionality of the computer environment.
The Cummins Power Generation team in Sydney has worked closely to meet Digital Realty's requirements for consistency and a seamless process of supply, installation, and commissioning from its suppliers.
Complete power system accountability
After evaluating various solutions in the market, Digital Realty selected Cummins Power Generation due to its leadership and well-established track record in supplying high-performance and reliable power systems. As a global manufacturer that develops, designs, and manufactures the main components of the generator set, including the engine, alternator and control systems, Cummins Power Generation was able to provide a complete power system that conforms to the industry's highest standards of design consistency, manufacturing process control and field reliability.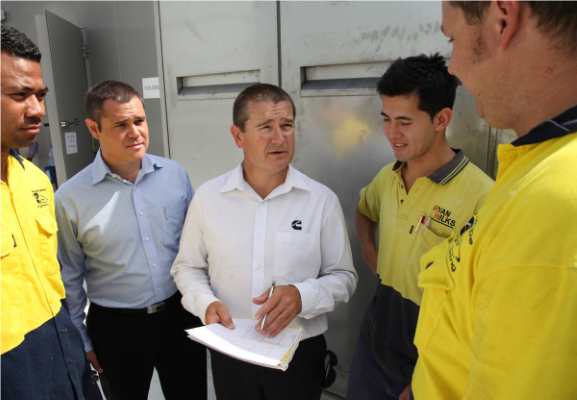 This data center is Tier 3 certified, as defined by the Uptime Institute, ensuring that maintenance can be performed on any part of the mechanical or electrical plant in the facility without impacting the computer equipment. Tier 3 certification requires the generator power to be regarded as prime power for the data center. Generator sets must therefore be rated for continuous operation and are part of the N+1 redundancy at the data center.  
Cummins diesel generator sets work in conjunction with an Uninterruptible Power Supply (UPS) system of batteries. In the event of a mains failure, the UPS system maintains power supply until the generator sets come online and take over within 10 seconds. A total of 80,000 liters of underground diesel storage capacity in the Erskine Park facility guarantees the roof-mounted generator sets can run a minimum of 24 hours at full load.  
To meet Digital Realty's requirements, Cummins Power Generation delivered six roof mounted C2250D5 diesel generator sets powered by QSK60G4 engines, together with custom-built acoustic enclosures and fuel systems to provide 9.6 MW of reliable prime power. Strict criteria were set for the pre-commissioning and commissioning of the generators, including an eight-hour load test on each generator set, as well as full integrated system testing at the completion of commissioning to prove the operation of the generator system.
Consistency and seamless solutions integration
Despite a tight delivery timeframe, Cummins Power Generation's experience in providing high-performance power systems for data centers, in addition to its outstanding service and support, ensured that the project was completed on time and on budget.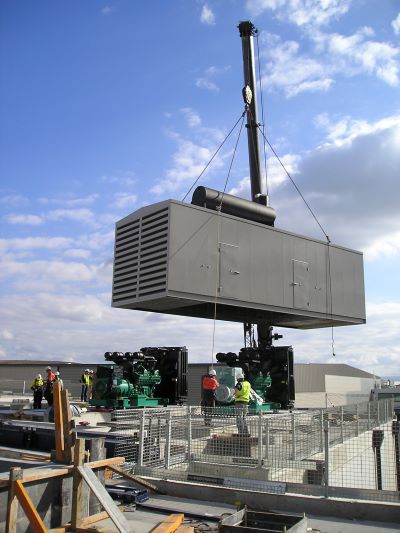 "Cummins Power Generation is a global supplier to Digital Realty because of its proven track record in providing critical protection solutions to the data center market," said David Van Brussel, Cummins Project Manager, South Pacific. "In Australia, our ability to work to a very tight time schedule and ensure ongoing product support was the other key factor behind our partnering with Digital Realty."
"Digital Realty wants consistency and a seamless process of supply, installation and commissioning from its suppliers and Cummins Power Generation has provided that for us," said Denis Larkan, Engineering Design Manager – Australia, Digital Realty Trust. "We are extremely satisfied with the partnership between Cummins Power Generation and Digital Realty and look forward to working closely in the long run."
For more information about Cummins Power Generation integrated power systems, contact your local Cummins Power Generation distributor or visit power.cummins.com.