Cummins KTA19s power TUG Richard B through Atchafalaya Basin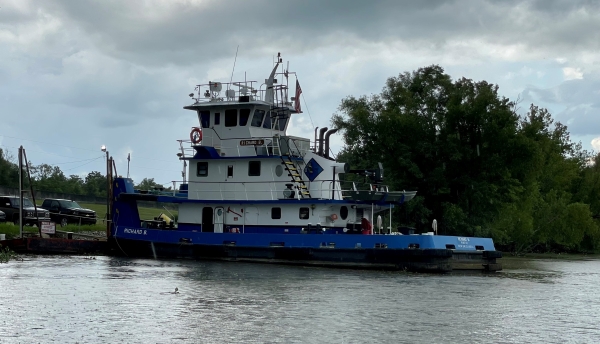 "The Cummins KTA19s provide the perfect amount of power to do our job."
— Brennan Templet, mate and pilot of Richard B
---
Scream all you want in the swamp, no one will ever hear you - or help you.
Down on the bayou, autonomy and self-preservation is key, because in a remote area, you're on your own, in the elements. Having an engine like the Cummins KTA19 with torque, power and maneuverability leverages your safety and productivity. 
Businelle Towing's newly christened TUG Richard B powers tows through the Bayou Sorrel Locks. Bayou Sorrel is in Plaquemine, LA on the Port Allen - Morgan City route, a well-known shortcut that decreases the voyage between New Orleans and Baton Rouge by hours and literal days. Time is money in the commercial marine industry for barge operators who prefer not to transit the Mississippi River, the nation's busiest in-land waterway.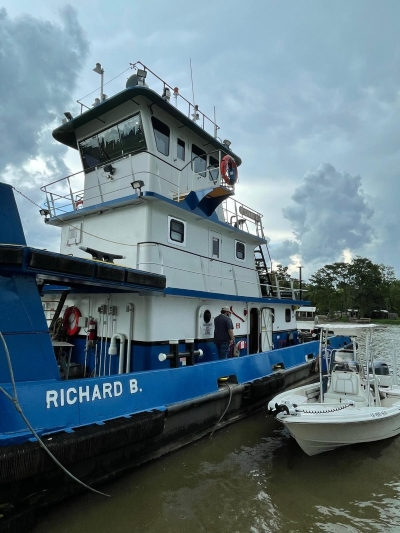 Turning on a dime and maneuvering into position to push two and three barge tows, takes a towboat with incredible propulsion. It requires an engine with horsepower for constant operation in a workboat environment.
"So far, I love the way the boat handles," said Brennan Templet, the mate and pilot of Richard B. "The Cummins KTA19s provide the perfect amount of power to do our job, which is assisting tows through the Bayou Sorrel Locks. So far, no matter the tow, the Richard B handles them like a dream. Shoves and backs real hard, and at the same time, steers really quick."
Templet is a fifth generation towboater shepherding barges through the Bayou Sorrell Locks; he was also a finalist in the Maritime Throwdown industrial athlete competition. 
"Also new to me are four flanking or backing rudders, two per shaft, which have come in real handy a few times since I started running this vessel," said Templet. "All in all, the horsepower and maneuverability are terrific. The KTA19s are some of the mechanical engines made by Cummins, and they are easy to maintain. I am very satisfied with how she handles and this boat will fit in well in the Businelle Fleet."
 
Richard B specifications

LOA x Beam
60' x 22'
Power
Cummins KTA-19M3 Diesels
Repower 2016
Horsepower
1200 HP
Eye level
22'
Generators
Twin John Deere
Fuel cap
10,000 gal
Lube cap
300 gal
Slop oil cap
300 gal
Rudders

4 flanking, 2 steering

Wheels
TWIN 4-blade stainless steel wheels
Richard B vessel history
1975 Houma Shipbuilding launches Virgie R for MR Towing
1977 Acquired by Alario Towing, renamed Judy Alario
1981 Acquired by St Charles Towing Services, renamed Charmaine Alario
1984 St Charles Towing renames as The Brandon
1990 Acquired by Western Towing, renamed Buckskin
2004 Acquired by Kirby Corp. of Channelview TX
2015 Acquired by M&P Barge, renamed G.W. Dunn
2021 Acquired by Businelle Towing, renamed Richard B
Photo credit - Lisa Overing, Megayacht Media