Critical Protection: Cummins Power Generation drives power for connected cloud computing at NEXTDC Data Center
| | |
| --- | --- |
| Challenge:  | Design a backup power system tailored to meet NEXTDC's criticality level requirements and install it in an unconventional environment, but also meet the customer's rapid time to market demand without comprising the integrity of the work and equipment. |
| Solution: | 5.4 MW of standby power comprising of three C2250 QSK60 Generator Sets of CPG generator sets with three DMC1000 digital master controls. |
| Result: | With high reliability and connectivity, NEXTDC can now truly stand at the vanguard of the cloud revolution and drive cloud adoption to the next level. |
NEXTDC, an Australian-based data center operator with an impressive portfolio of enterprise-class facilities, relied on capabilities of Cummins Power Generation's backup power to run its B1 data center in Brisbane.
Established in 2010 by Bevan Slattery, one of Australia's most successful IT and Internet gurus, NEXTDC incorporated a national holding of independent data centers that drove the cloud revolution by providing high availability, connectivity and security that organizations needed in transitioning to cloud computing – the term for services delivered via the internet.
Data centers are fast becoming big business as increasing numbers of companies turn to these external experts for specialized data storage services.  As the business grows, so too will the reliance on efficient power to support the centers' machines and operations, where emergency backup power has become a critical requirement to ensure integrity and functionality of the hosted computer environment.
Safety and Reliability
NEXTDC's first setup went live in Brisbane in September 2011 and has since been operating as a high-quality Tier 3 facility guaranteeing 99.982 percent availability of data, backed by premium security.
Redundancy at the center was N+1, meaning all systems ran on at least one independent back up to provide for continuance in cases of component failures. The data center's amassed racks of servers drew on significant power and created considerable heat, which in turn generated a high demand of power supply to enable efficient cooling. Emergency backup power generation is thus a critical requirement for the data center to ensure integrity and functionality of the hosted computer environment.
The backup system at NEXTDC's Brisbane center ran on three units of Cummins Power Generation C2250 generator sets, powered by Cummins QSK60 engine, with three DMC1000 digital master control systems.
The 2250 kVA generator sets operated in tandem with an Uninterruptible Power Supply (UPS) system of batteries that maintained power supply during outages, until the three generator sets could come back online and take over within 10 seconds. 
The Cummins master control systems provided mains paralleling that delivered a seamless transfer of data center loads back to the mains supply after a power failure. This framework ensured that there will be minimal disruptions and no adverse impacts on data center services or computer systems during the transition.  In addition, the mains paralleling also benefited maintenance test runs where generator sets could be regularly exercised with true operational loads without interrupting the building power supply.
Experience is Key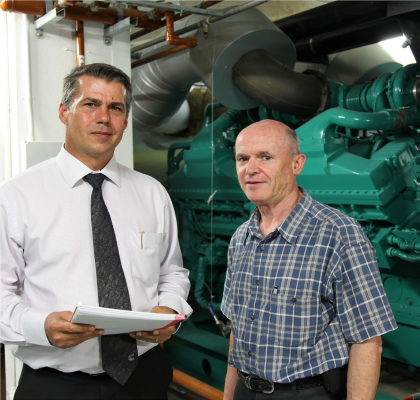 The well-established reputation of the Cummins power brand and the servicing team's ability to meet short delivery time was key to the project's success.  Limiting space and access to the basement level, where the power systems were installed, proved to be a real challenge. These difficulties, however, were eventually resolved after several meetings with consulting engineers ARUP.
To bring the project into final fruition, one of the operational techniques was to have three incoming mains supplies and have each generator set synchronize with its respective feeder supply.
The project was a success not only because of Cummins' ability to design a backup power system that is tailored to meet NEXTDC's criticality level requirements and install it in an unconventional environment, but also Cummins' servicing team's capability to meet their the customer's rapid time to market demand without comprising the integrity of their work and equipment. With high reliability and connectivity, NEXTDC can now truly stand at the vanguard of the cloud revolution and drive cloud adoption to the next level. 
For more information about Cummins Power Generation systems currently in use around the world visit power.cummins.com.