Combination Tug & Dive Support for Peruvian Navy
Cummins Vessel Reference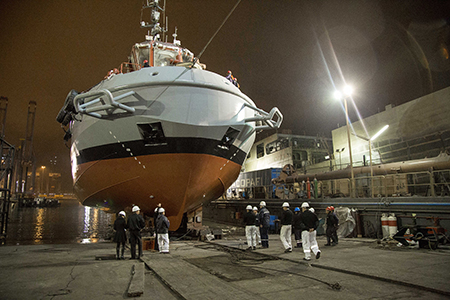 1. The PAP Moralesm's fine hull shape is evident in this image from the launching.
The Peruvian Navy has recently taken delivery of a well-equipped dive support vessel (DSV) from the shipyard Servicios Industriales de la Marina S.A. (SIMA). Designed in-house by the shipyard, the new 4400 HP vessel has significant towing capabilities and can act as a salvage tug.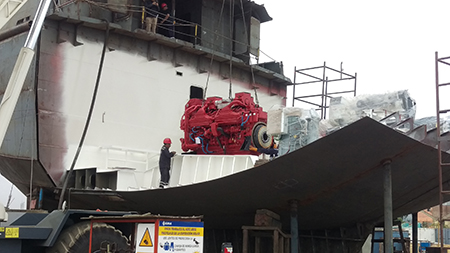 The port-side 2200 HP Cummins QSK60-M being set on the engine bed.
style="padding-left: 90px;">The 32 by 12-meter vessel has a molded depth of 4.5 meters on a finely-shaped, double chined hull. A four point anchoring system as well as a launch and recovery system for deploying an open diving bell are among the effective salvage and dive-support deck equipmet. Accommodation is provided for a crew of 20 with additional space for up to 13 divers.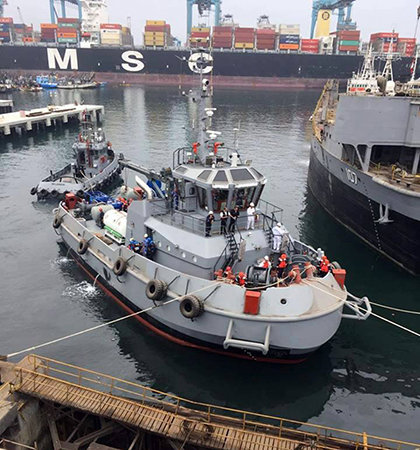 From above the tug's extensive deck equipment, including two bow-winches for the four-point anchoring system can be seen
Propulsion for the powerful tugs is provided by a pair of Cummins QSK60 MCRS main engines each developing 2200 HP at 1800 RPM. The engines turn into a ZF W11200 maine gears with 7.286:1 reduction. These turn 91.25-inch, four-blade Kaplan type propellers in nozzles mounted on 8.5-inch diameter shafts. This combination gives the tug a hefty 52-ton bollard pull as well as a free running speed of 12 knots.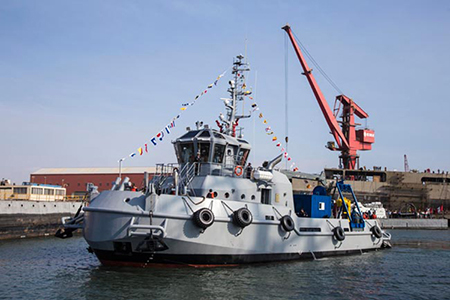 A launch and recovery system for deploying an open diving bell is mounted on the starboard stern quarter.
Tankage includes 50,000 gallons of fuel and 17,000 gallons of potable water. Delivered by the shipyard in December of 2016, the combined tug, salvage and diving support vessel, named BAP Moralesm is a welcome addition to the Salvage Group of the Peruvian Navy.
Photos courtesy of the Owners and Cummins Perú.
For further information:
Servicios Industriales de la Marina S.A. (SIMA)–
Av. Contralmirante Mora 1102,
Callao, Perú.
Phone: +511 413-1100
Carlo Mondoñedo Decena
Application Engineer
Distribuidora Cummins Perú
Teléfono: (511) 614-7979 Anexo 3109
Mobile: +51 989 064 875
E-mail: [email protected]
Web: www.cumminsperu.pe
Hugo V. Huayanca
Engine Division Manager
Distribuidora Cummins Perú S.A.C.
Av. Argentina N°4453 – Callao, Perú
Mobile: 51 997 547 811
Email: [email protected]
Web: www.cumminsperu.pe
Marcelo F. Suarez
HHP Regional Manager
Cummins Engine Business – Marine, Oil&Gas and Rail
Ruta Panamericana Km. 32,5
El Talar, Buenos Aires, Argentina
Mobile: 54 911 5597 3388
Email: [email protected]
Web: www.cumminsengines.com