Bulk Shipping and Lightering
Cummins Vessel Reference #819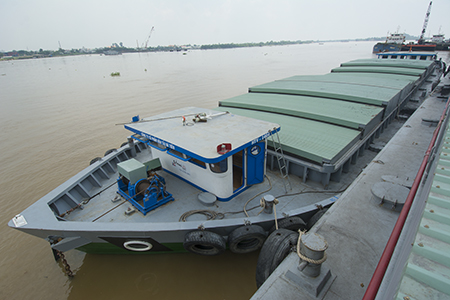 This is HTV 1404 loaded with 1520 tons of coal on the Saigon River, power is a Cummins KTA19 600 HP @ 1800 RPM.
The extensive network of rivers and channels that make up the waterways of the area around Ho Chi Minh City, gain an added complexity with the Saigon River that runs parallel to the Mekong Delta.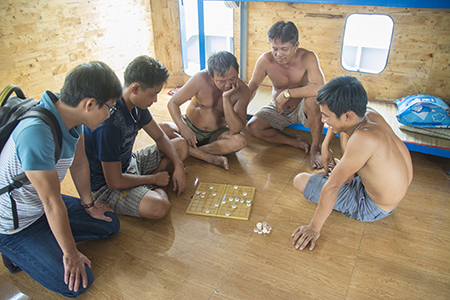 Cummins' Engineer and Technical Sales Bui Trong Dien looks on as HTV1408 engineer Nguyen Duc Thanh (black shirt) and 28-year-old Capt. Ngo Van Duc (right) play a game of checkers.
The shallower inland waters require a wide range of specialized boats. Among these are the lightering ships that bring cargo from deep draft ships, up to shallow draft inland ports. A recently delivered series of 60 by 12-meter vessels for the lightering of bulk cargos used Cummins engines.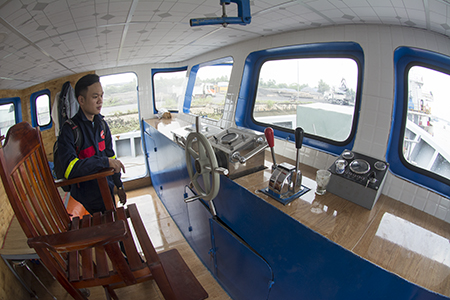 Song Long Engineering's Nguyen Van Tu checks out the pilothouse onboard the HTV1408.
The small ships carry 1,520-ton cargos, such as coal or cement, in a single large hold set between the forward pilothouse and an aft accommodation block. The single engine, a Cummins KTA19-M3, provides 600 HP to a 6:1 reduction gear. The Cummins dealer, Song Long Engineering Services Co Ltd. of Ho Chi Minh City, supplied the engines. With the Saigon River crowded with heavily laden small boats, speed is restricted so the 600 HP is more than adequate and safe for the passage.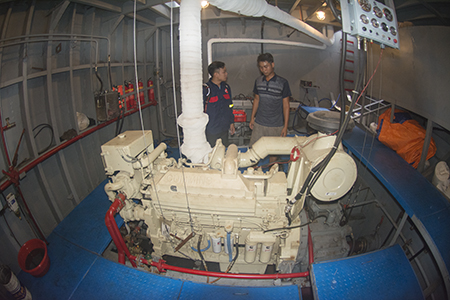 Nguyen Van Tu discuses the vessel's Cummins engine with Engineer Nguyen Duc Thanh in his immaculately clean engine room.
The boats are designed with double hulls to provide multiple ballast tanks to maintain a limited air draft on empty voyages and to clear the low bridges. These boats play an important role in developing river shipping in an effective manner.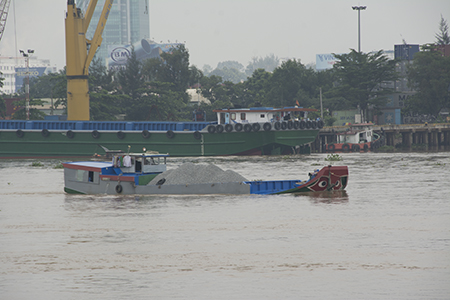 Heavily laden small craft on the Saigon River make a slow bell mandatory for all ships.
Photos courtesy of Haig-Brown/Cummins
For further information:
Mr Tu – Project Sales Engineer
Or Mr Hoang Van Si – Director
Song Long Engineering Service Co. Ltd.
No 138, DC11 Street, Son Ky Ward, Tan Phu District,
Ho Chi Minh City,
Vietnam
Mobile: 84 9 1254 1177
E-mail: [email protected]
Website: www.songlong.com.vn
Huy Hien Production & Trading Co. Ltd.
42/15 Au Co Street, Ward 9,
Tan Binh District, Ho Chi Minh City,
Vietnam
Phone: 84 8 3860 4566