Bollinger Delivers to Beemar Inc.
Cummins Vessel Reference #590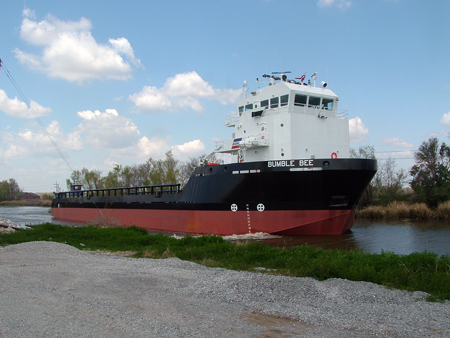 In April Bollinger Shipyard delivered the first of their 234-foot class of Cummins-powered Platform Supply Vessels (PSVs) to their sister company, Bee Mar Inc. The shipyard started building this series of vessels in 2008 and delivered the first in the series to the newly formed Bee Mar LLC in June of 2009.  A Bee Mar press release at the time said, "The company will introduce a fleet ofstate of the art, environmentally friendly Dynamic Positioning-2 (PSV's) for offshore support in the Gulf of Mexico and international markets.
"The Bee Mar new build fleet will consist of five (5) 210' and three (3) 234' American Bureau of Shipping (ABS) classed DP_2 PSV's. Each vessel has high cargo carrying capacities and meets or exceeds the customer requirements and demands for offshore marine support applications."
The five 210-foot PSVs, including the M/V Busy Bee and M/V Worker Bee, have already been delivered and put to work in the Gulf of Mexico. The newly delivered 234 by 56-foot M/V Bumble Bee will add significant cargo capabilities to the Bee Mar fleet. The new "Bee" has capacities that include 598.1 cubic meters for fuel, 1,430.9 cu. meters of liquid mud, 169.9 for dry bulk and 98.4 cu. meters for fresh water. Loaded to a draft of 14 feet 11 inches, the vessel will have a dwt of3,048.2 Mt (3000 Lt). The 53.3 by 14.3 clear deck has a maximum cargo capacity of 2,032.1 metric tons.
Main propulsion power is provided by a pair of Cummins QSK60-M engines each delivering 2000 HP at 1800 RPM through Twin Disc MG5600 gears with 5.76:1 reduction to 81×68-inch propellers. Three Cummins QSM11 engines power the three 300 kW main generators. The Bumble Bee's 85 kW generator is also Cummins powered. The two 750 BHP Schottel, controllable pitch bow thrusters each have their own Cummins KTA19 drive engines. A 350 BHP stern thruster is powered by variable speed electric motor.
For further information:
Robert Socha
Executive V-P Sales and Marketing
Bollinger Shipyard, Inc.
Lockport, Louisiana
Phone: 985 532 2554
Fax: 985 532 7225
E-mail: [email protected]
Web: www.bollingershipyards.com
Capt. Jennifer McQuilken
Marketing Communications Leader, Marine and Oil & Gas
Cummins Inc.
E-mail: [email protected]
Web: www.cummins.com