Back Cove 37: Explore your world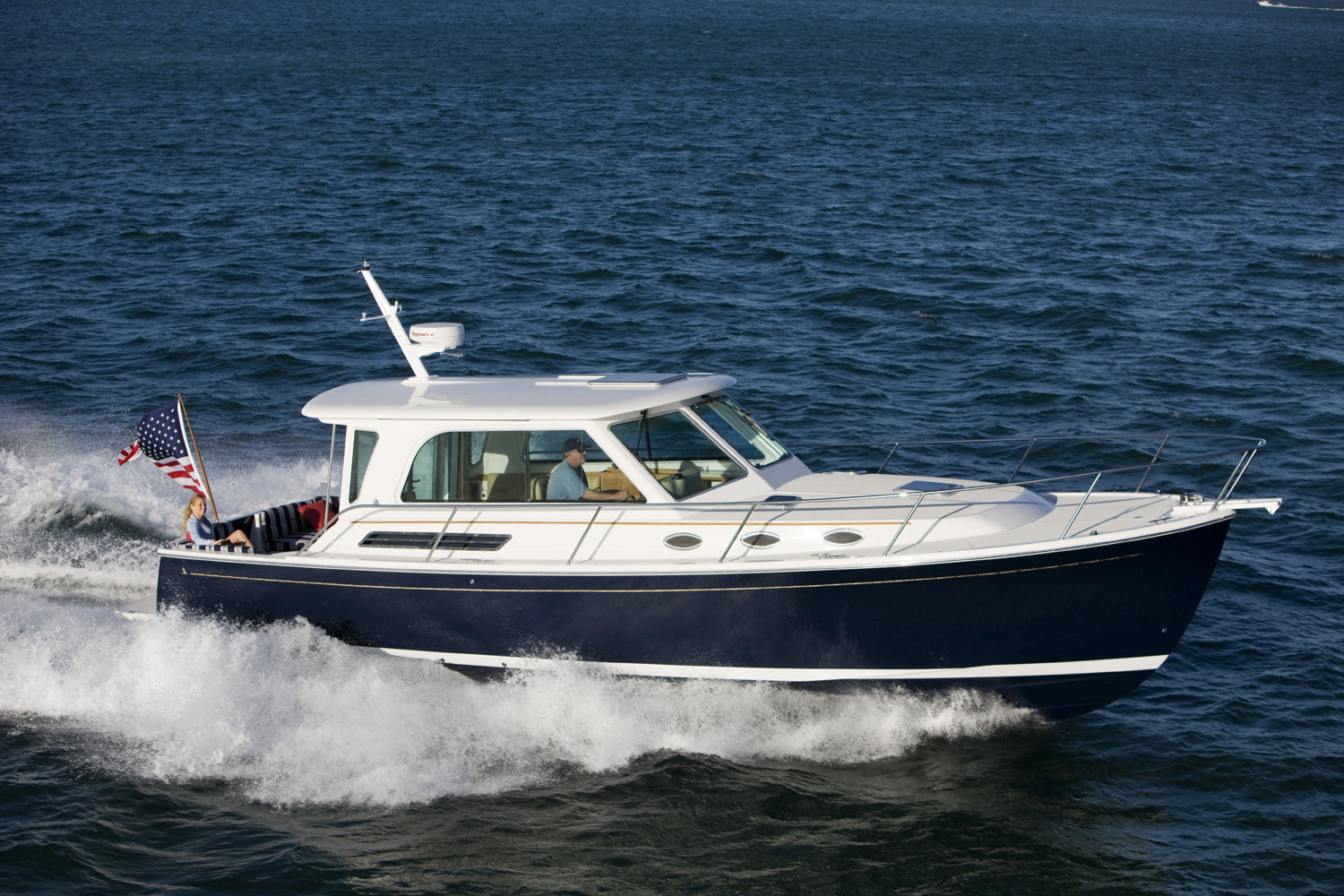 With a beautiful design, the Back Cove 37 is long-range cruiser for extended voyages that's also great for day-tripping with friends, representing excellent value and fuel economy for every boating lifestyle.
By Lisa Overing
Photos by Billy Black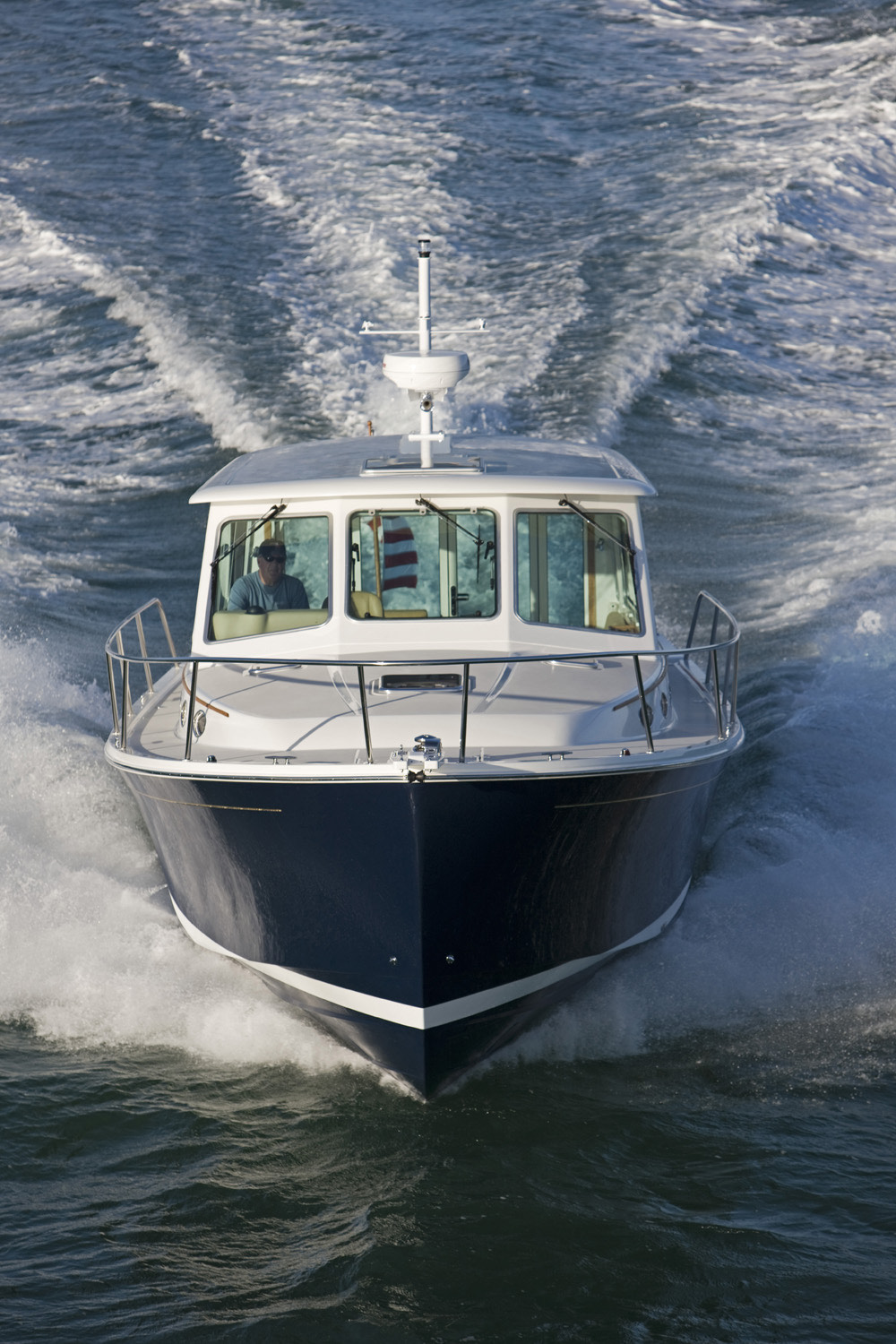 If you've ever dreamed of crossing an ocean, your quest for exploration is strong. The Back Cove 37, a usable cruising boat with a midlevel galley, satisfies adventure voyages closer to home, within a day's reach. 
The boat's unique layout enables conversation with a relaxing, comfortable ride, ideal for only two people and easily accommodating four to six. With all the action on one level, cruisers are together and connected between the cockpit and the spacious salon.
The fuel-efficient Back Cove 37 is the perfect, long-range coastal cruiser, ideal for exploring bays, islands and ports over 100 miles away. Destinations within a long day's cruise are achievable without refueling until returning to your home port. 
Powered by Cummins 600hp QSC 8.3 diesel engines, this efficient cruiser uses 22.6 gallons per hour of diesel with a range of 300 nautical miles. The 37 cruises quite happily at 16 knots, extending her range to 380 nautical miles. She tops out at 29 knots. 
As the sister company of Sabre Yachts, Back Cove will produce its 200th hull of the 37 this fall. A convenient layout with everything within reach on one level is what makes the 37 Back Cove's most popular couple's cruiser, featuring a unique mid-level galley, two staterooms and one head. The interior layout is one long, expansive runway, ideal for  socializing with easy maintenance or a romantic dance under the stars. 
Perfect, picnic-style boat
Owner-operators and couples looking for a long-range coastal cruiser that's economical, reliable, practical and elegant enjoy this picnic-style boat. In a roomy cockpit, two helm chairs provide excellent sight lines of the course ahead.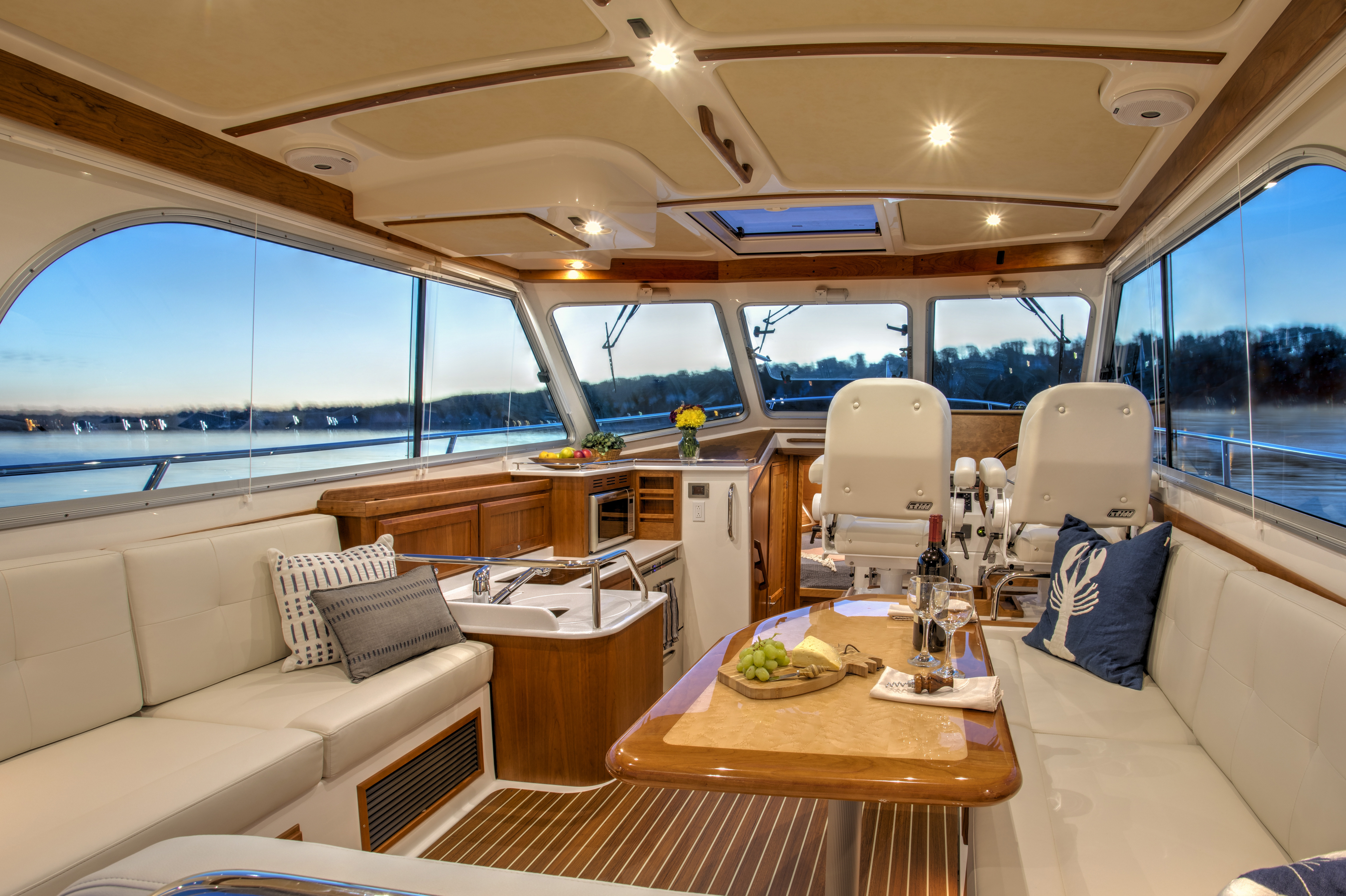 Sliding windows, a center-opening windshield and a large overhead hatch make the pilothouse airy. Standard bow thruster and optional stern thruster controls are mounted to port of the wheel for precise, control maneuvering when docking or readying lines at a fuel dock. The long run time and hold to dock feature make this a popular option on this single straight shaft diesel cruiser. 
To port of the helm station and two steps down, a stainless, modern spacious galley located mid-level keeps the chef connected with conversation in the salon, with a smooth transition to the forward master stateroom and head. The island berth is luscious cherry wood for a relaxing, comfortable retreat during overnight stays. To starboard aft of the master is a full guest cabin with a double berth opposite a spacious shower and head.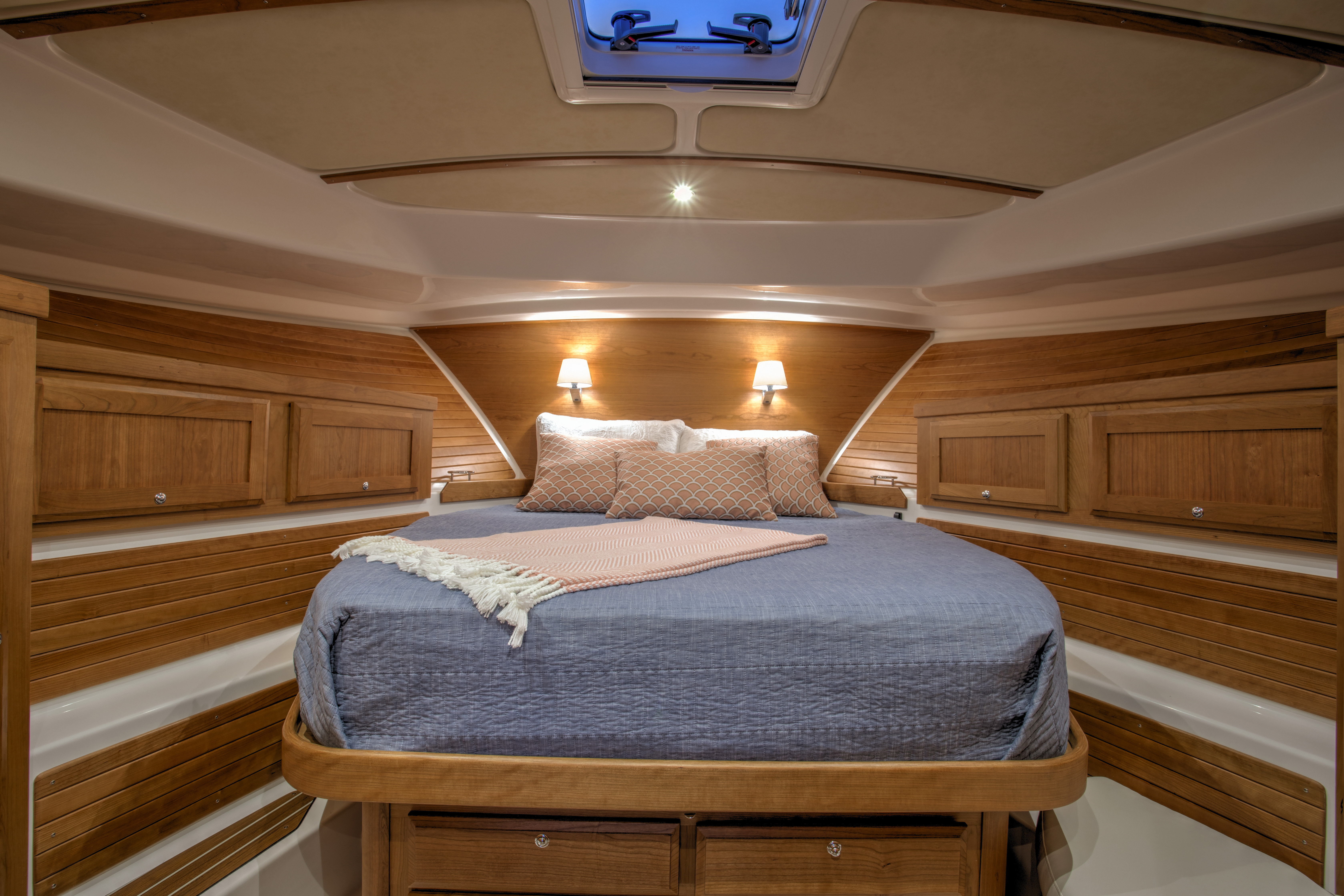 Since 2003, Back Cove has produced over 900 vessels, include the popular 37, all modern, planing hulls. These picnic boats in the downeast tradition exemplify Maine values with hearty, robust construction for lobstermen and fishermen who need a capable boat in all seas, one that is hearty, well-built and able to get into the best fishing grounds safely.
Easy-access and low maintenance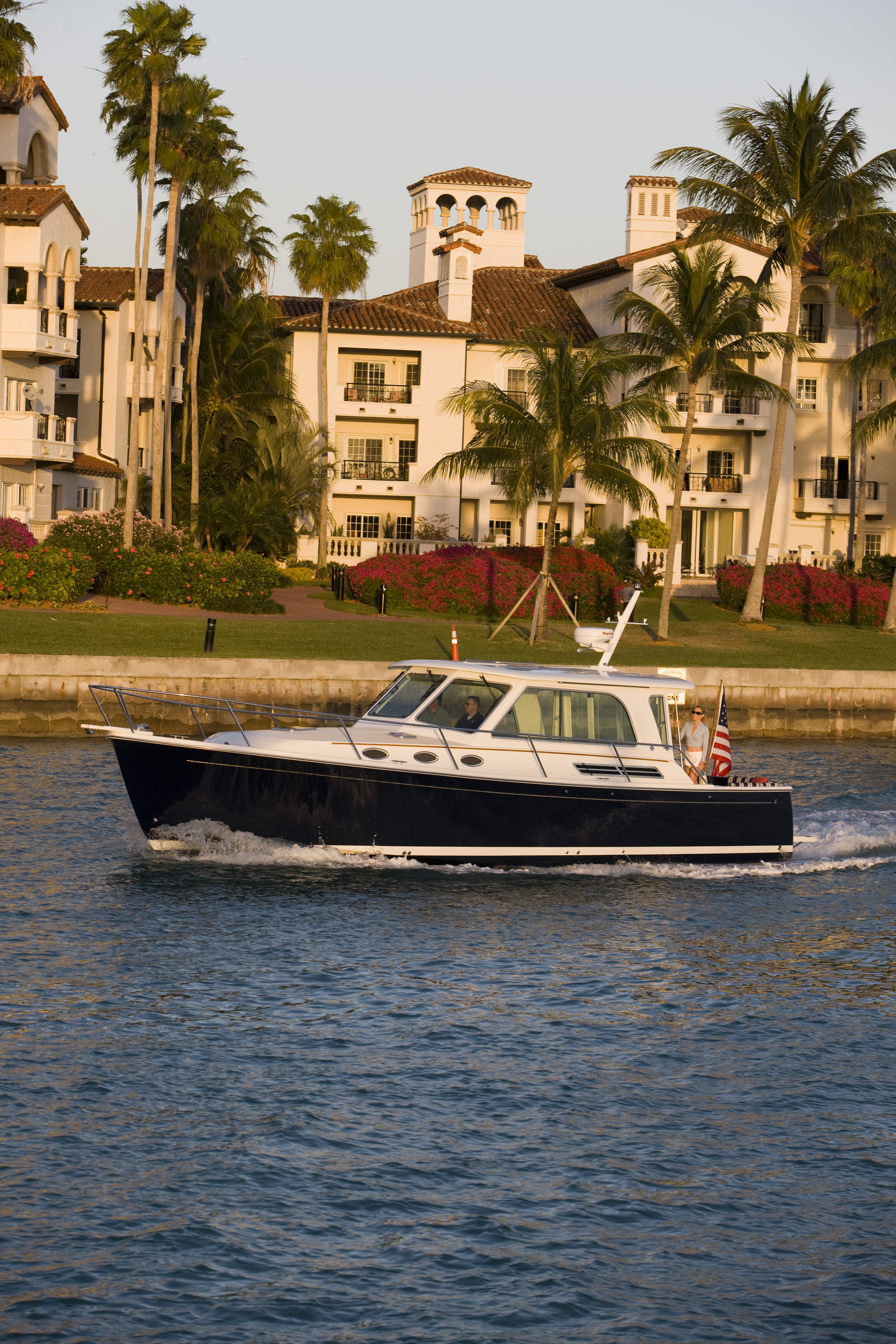 "The Back Cove 37 is a classic and Cummins has been with us every step along the way," said Jamie Bloomquist, national sales manager for Back Cove Yachts. "The QSC 8.3 Cummins 600 runs beautifully," he said, adding the engineering teams for Cummins and Back Cove work together to choose the right drive line for every Back Cove model.
"This is a great-running boat," said Bloomquist. "She performs well. At 25 knots, she can cruise all day long, with a range of 300 nautical miles, and 380 - 400 nautical miles at 16 knots."
An electric actuator raises the hatch from the salon cabin sole to access the engine compartment. The single diesel engine on center line, low in the hull, contributes to the Back Cove 37's excellent stability. Open spaces outboard of the engine make the standard 9 KW Onan genset and batteries easily accessible for maintenance, providing independence and reliability, not just comfort, for the single owner-operator.
The 37 emerged as the Back Cove's most popular model since 2009. Epitomizing traditional values of quality, ingenuity and nautical sensibility, the Back Cove 37's design never seems to go out of style.