Cummins Vessel Reference #776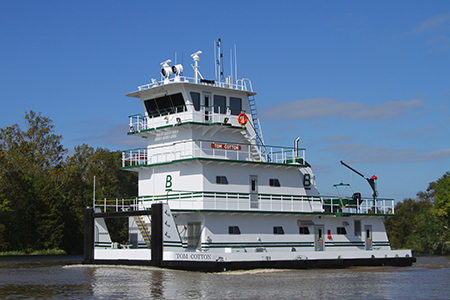 The M/V Tom Cotton ready for work.
Blessey Marine has a long history of growing one of the largest fleets of towboats and petroleum barges on American inland waterways. The majority of barges are 10, 20 and 30 thousand-barrel clean/chemical barges and 30,000 black oil/asphalt barges. In addition, the company has a number of stainless and pressure barges. To push these barges, the company has a fleet of over 85 towboats ranging from 700 to 3200 horsepower.
The owner, Walter E. Blessey, Jr., takes pride in using the naming ceremony for each new boat to honor a long time employee or an industry-supporting politician, (http://blessey.com/towboats). The newest boat in the fleet is the M/V Tom Cotton, named for recently elected Senator and military veteran from Arkansas. At 38, he is currently the youngest serving member of the Senate.
Built at Verret Shipyard in Plaquemine, Louisiana the 70 by 30-foot vessel has a molded depth of 10-feet eight-inches and a design draft of 8.5 feet. Air draft, with the radar/mast up, is 49 feet 11 inches, with the mast in the lowered position the air draft reduces to 43 feet 11 inches. The eye-level view at the design draft is 33.5 feet. Accommodation is provided for up to seven crewmembers in five staterooms.
Propulsion power is provided by two inline, six-cylinder 660 HP Cummins QSK19 main engines turning Kahlenberg four-blade 78-inch stainless steel propellers with 58-inch pitch. Reintjes WAF-374 gears provide a 7.1:1 reduction. Two Cummins QSB7-DM powered 85 kW generators provide electrical power to meet the vessel's requirements; These include dual electro-hydraulic steering system and two Patterson electric 40-ton deck winches for the facing wires.
In addition to a full range of electronics and navigational equipment, the vessel is fitted with two Furuno radars, a depth sounder, satellite compass and DeHart Swing meter. It also has a Blue Box voyage recording system and a Baton Rouge Marine Electric incapacitated wheelman alarm. The M/V Tom Cotton has joined her sister ship, the M/V Meg Kennedy Moore, working the inland waterways as a part of the ever-expanding Blessey fleet.
Photo courtesy of Robert Montero Photography
For further information:
Claude Mixon
Vice President, Boat Construction & Maintenance
Blessey Marine Services, Inc.
1515 River Oaks Rd. East,
Harahan, LA 70123
Phone: 504 734 1156
Fax: 504 648 3875
E-mail: [email protected]
Verret Ship Yard Inc.
29120 LA-75,
Plaquemine, LA 70764
USA
Phone: 225 659 2647
Michael Aufdermauer
Marine Sales & Engineer Leader
Cummins Mid-South LLC
Kenner, Louisiana, USA
E-mail: [email protected]
Office: 504 648 8601
Mobile: 504 220-0799
Fax: 504 734 3097