4000 HP Tug for Brazil Port
Cummins Vessel Reference #575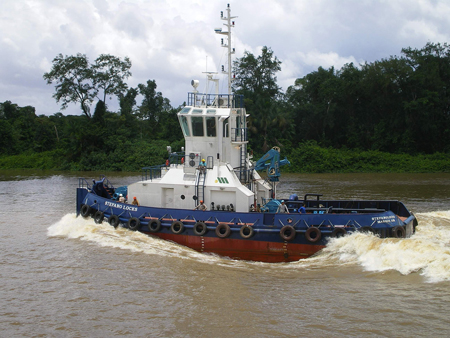 The Estaleiro Rio Maguari, a shipyard in the District of Icoaraci in Belem, the capital of the State of Para in the Amazon estuary has an extensive list of delivered barges and boats.
The yard has recently delivered a 4000 HP Z-drive harbour tug for Hermasa Navegação da Amazônia SA. The owners are a part of Hermasa a large producer of soya beans with 2.5 million tons exported in 2007.
The new tug, named Stefanolocks, is 26 by 8.9-meters with a molded depth of 4.8 meters. Propulsion power will be a pair of Cummins QSK60-M each delivering 2000 HP at 1800 RPM. The engines will turn Rolls Royce Azimuthing Thrusters model of US205/3305-MK2. A pair of Cummins 6B-powered 99 kW generator sets will provide auxiliary power.
The local Cummins distributor Powertech Comercial Ltda supplied the engines.
For further information:
Mr. Fabio Vasconcelos
Yard Director
Rio Maguari Shipyard
Estrada do Maracauera, Km 06
Distrio de Icoaraci
CEP 515 14-000
Belem, Para, Brazil
Phone: 55 91 3227 2167
E-mail: [email protected]
Web: www.riomaguari.com.br
João Mendonça
Sales and Application Manager
Powertech Comercial Ltda.
Manaus – AmazonBrazil
Phone: 5592 8116 5613
E-mail: [email protected]
Web: www.powertech-am.com.br/index.php
Waldemar Marchetti Sobrinho
Marine Business Manager – South America
& Mexico
Cummins Inc.
São Paulo, Brazil
Phone: 55 11 2186 4778
Mobile: 55 11 7609
E-mail: [email protected]