1993 Toyota 4Runner Repowered with Cummins R2.8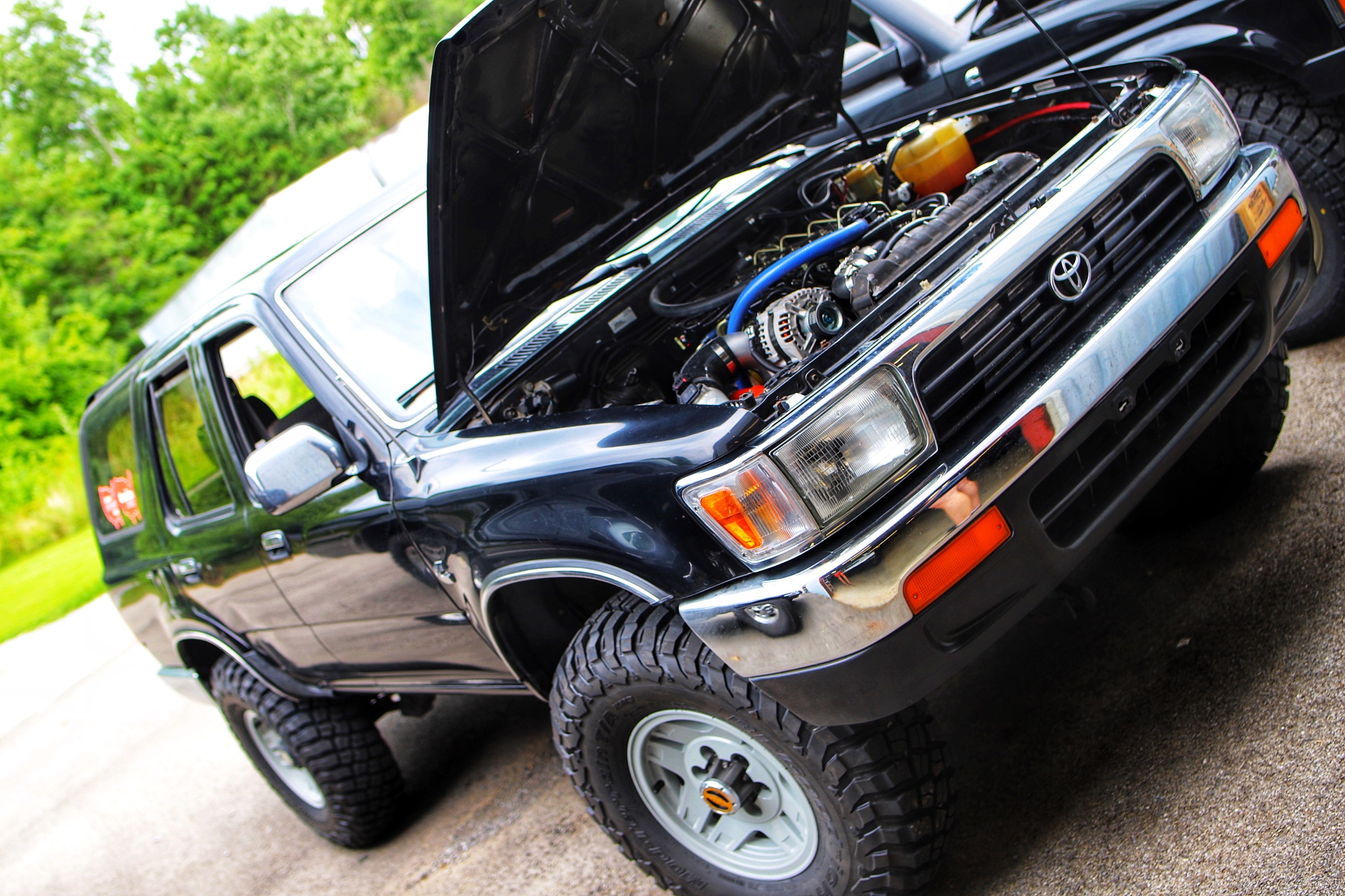 Vehicle
YEAR: 1993
MAKE: Toyota
MODEL: 4Runner
BUILDER: DIY - Brittany and Aaron Huesman
Drivetrain
Cummins Repower R2.8L Turbo Diesel Engine
Mounts: Axis Industries Universal engine side mounts and isolators (http://www.axisindustriesusa.com/r2-8-engine-side-mounts/), custom fabricated frame side mounts
Transmission: AX15 (https://www.advanceadapters.com/products/26-ax15--aisin-ax15-5-speed-transmission-new/), custom combined with the tailshaft housing (and 5th gear) of the R150 Toyota transmission in order to mate with the stock Toyota transfer case
Clutch: Master and Slave Cylinder from 1995 Jeep YJ modified to give 4runner clutch pedal enough throw to disengage the clutch
Transmission Adapter: Quickdraw R2.8 to Jeep AX15 cast bellhousing and modified flywheel (https://quickdrawbrand.com/product/2-8-r-to-jeep-ax15-or-nv3550-adapter-kit-modifying-your-flywheel-fits-cummins-2-8-copy/)
Rear End: Re-geared to 4.10 Rear Axle Ratio (stock Toyota gears, but originally came with a 4.56)
Notes: The powertrain is ~2" longer than stock, which in this case required moving the shifters back 2" in the cab as well as shortening the driveshaft. It was decided to move the trans back the 2" in order to fit a fan and cooling package, rather than retaining stock trans location and moving engine forward. Transmission/transfer case was also lifted 2" to better fit the engine and minimize oil pan modifications.
Suspension
1" Diff Drop & 1" Body lift in order to fit the engine in the engine compartment while retaining IFS Shocks and Springs: Eibach shocks and Moog stock height rear coils
Tires/Wheels
Powder coated Stock Toyota Wheels
Tires: BFG KM3's 33 x 10.5 x 15
Warn Manual Locking Hubs
Cooling System
Radiator: Stock Toyota 4Runner, core size 20"W x 19"T x 2"D
Fan: 16" Clutched mechanical fan
Fan Support Cummins PN 5270378
M24 x 1.5 RH thread Fan Hub
Fan Pulley Cummins PN 5270363
3.94" diameter compared to stock 4.83 mm – had to machine front cover for slight interference with a cast rib)
Belt: Gates K080855 (8 rib, 85.5")
Charge Air Cooler: 25"W x 12"T x 1.5"D
Miscellaneous
Cummins Aluminum Oil Pan PN 5318048, modified to fit in engine compartment around Front Diff and misc suspension components
Late 70's Ford rear fuel tank
Dual Optima Red Top batteries in custom fabricated, rear mounted battery tray
Final curb weight: 4200 lbs
(in progress) Build Thread: https://forum.ih8mud.com/threads/cummins-r2-8-in-2nd-gen-4runner.1054799/
Driving impressions
Super peppy and great acceleration performance. Gearing and tires yields 2700 rpm at 70 mph which is a little high, but was still averaging 26 mpg on Cummins Cruise (maiden voyage) and cooling package did well keeping it around 185F. Vibration in cab is minimal thanks to Axis engine mount geometry and probably some luck on the frame side. Clutch feel took some trial and error to get the combination of all the parts correct, but once it was dialed in the engagement is perfect.